Getting the most out of your photos can be a real challenge: you need to find and be able to select the right images easily, while at the same time having access to elegant, customizable slideshow templates. This is where Peakto and FotoMagico come into their own.
Peakto, a universal cataloger capable of bringing all photos together in a single interface, centralized search functionalities that exploit artificial intelligence to locate a photo from a simple description or to automatically categorize images, and FotoMagico, renowned for its elegant slideshow templates that can be customized down to the finest detail to showcase photos and videos in a unique way.
Peakto, software that simplifies the work of photographers
Peakto is an innovative photo cataloging platform that uses advanced artificial intelligence to automatically sort and organize images from a variety of formats, folders and editing applications. Thanks to its AI system, there's no longer any need to manually sort your photos: Peakto classifies them by theme, such as architecture, food, portraits and so on. What's more, with its conversational search function, all you have to do is describe an image and the AI will scan your collection and find the relevant shots.
Not only does Peakto excel at automated sorting, it also integrates easily with your favorite photo editing software, acting as a meta-cataloger. This means you can manage your photos regardless of the software you use to edit them. It lets you assign tags, flags and colors to multiple photos simultaneously. Peakto guarantees no duplicates, provides up-to-date previews of modifications and offers smart albums that group photos according to specific criteria.
For those who juggle cameras and smartphones, Peakto is the perfect tool for centralizing and optimizing the management of your images.
FotoMagico turns your memories into memorable slideshows
FotoMagico is slideshow creation software that transforms your photos and videos into stunning presentations. With an intuitive user interface, it lets users drag-and-drop their images, videos and music to compose a smooth, professional slideshow.
One of FotoMagico's special features is its ability to animate transitions between images with panoramic and zoom effects, bringing your static photos to life. It also incorporates tools for adjusting the duration, rhythm and synchronization of music with images.
What's more, users can enrich their slideshows with text, special effects and even voice narration. Whether you're a professional photographer or an amateur looking to share memories in a creative way, FotoMagico offers a complete range of tools for creating slideshows of exceptional quality.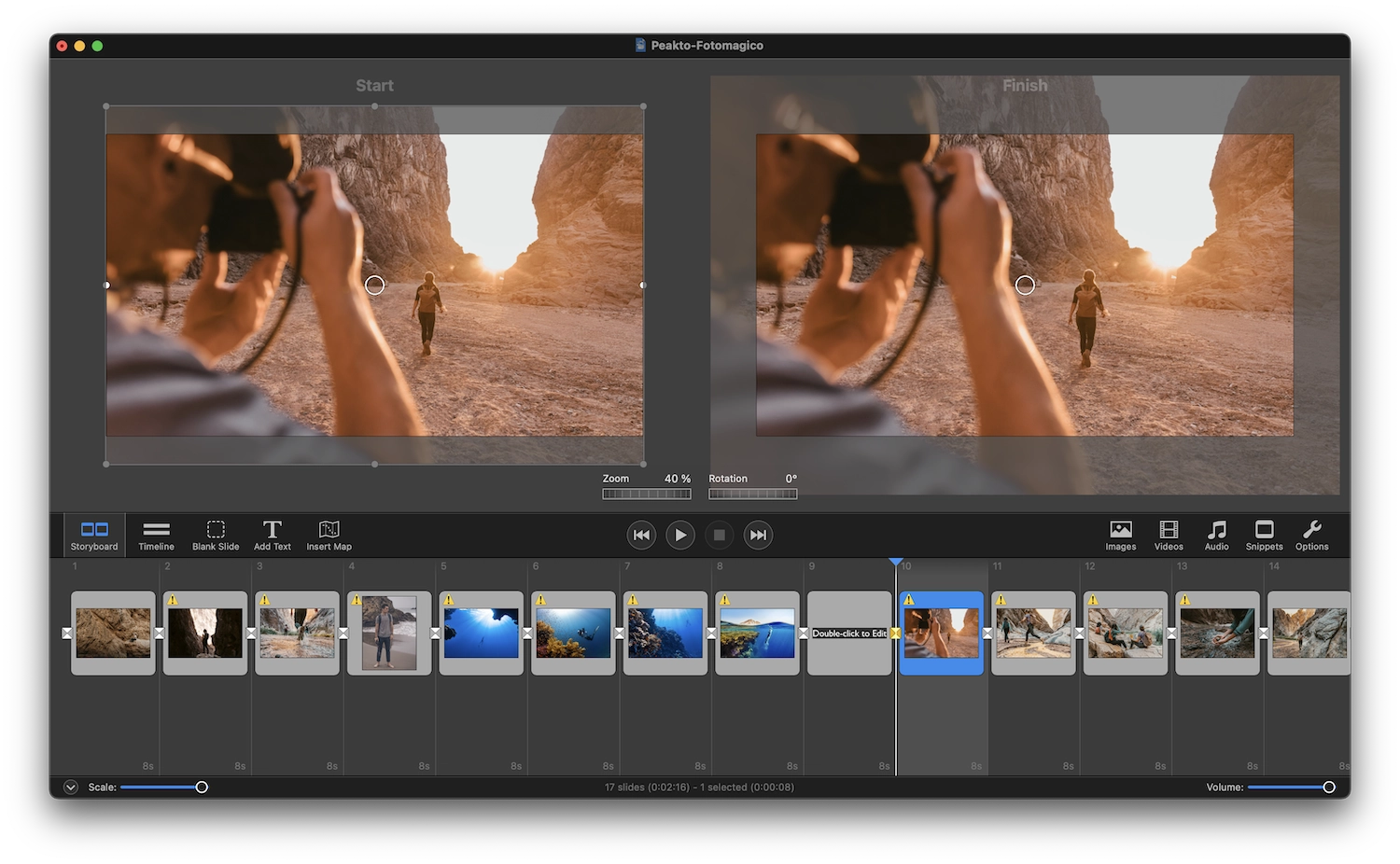 Peakto x FotoMagico: an alliance to take things a step further
The combination of Peakto and FotoMagico turns slideshow creation into a pleasant and intuitive experience. Here's how these two software interact to offer an unmatched user experience:
Simplified Selection and Import
Thanks to the synergy between the two software, it's as easy as copy-pasting your photo selection from Peakto to start creating a slideshow in FotoMagico.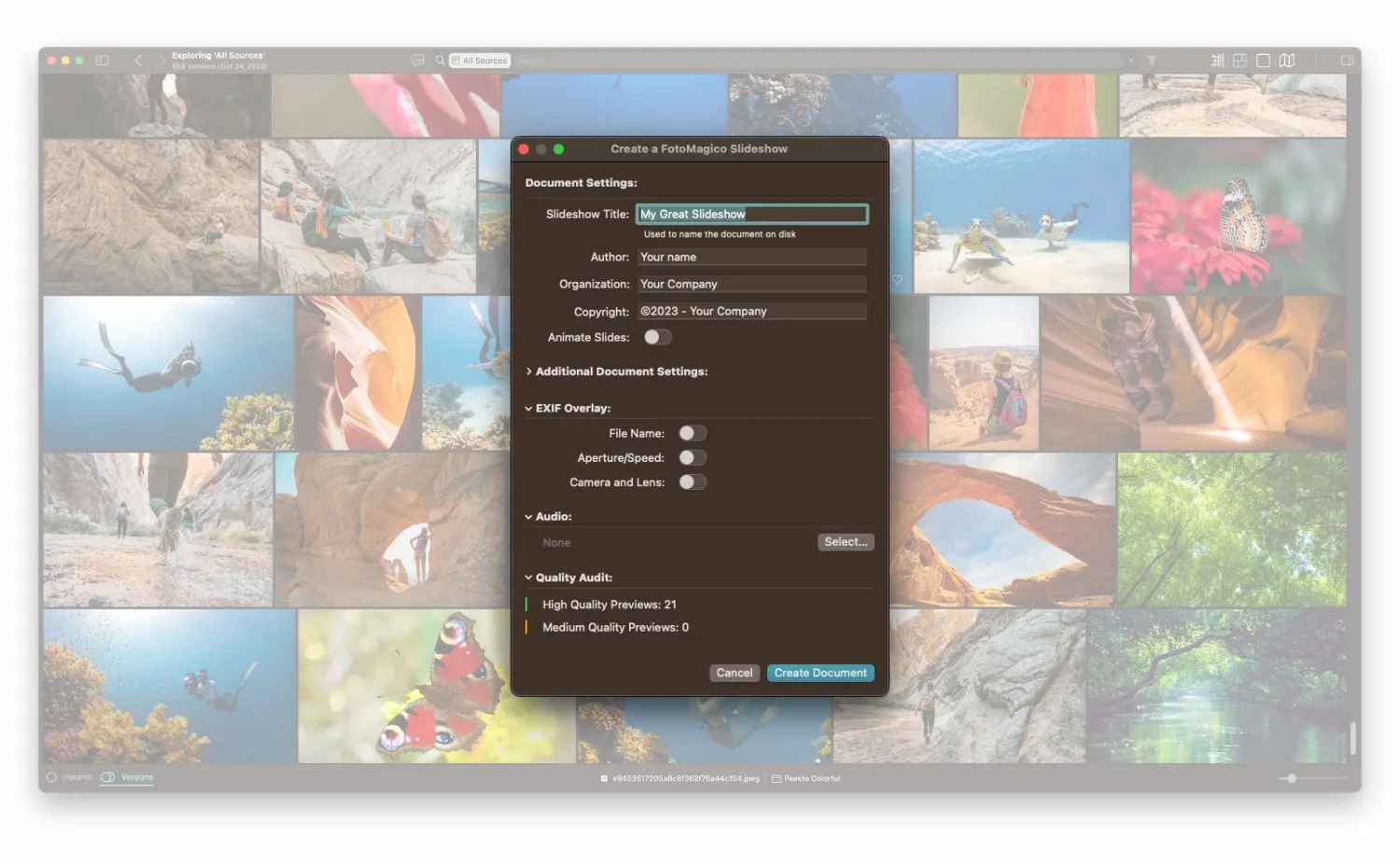 Peakto, the Ideal Partner
Selecting photos for your slideshow can be a real challenge. That's why Peakto teams up with FotoMagico! Peakto's AI makes selecting your best shots easy with its smart tools.
Advanced AI Search: Just describe the image you're looking for, and Peakto will find the closest matches in your collection. It's like having a personal assistant who understands your descriptions! For example, a text search like "Colorful Portraits" lets you quickly put together a thematic slideshow.
Centralized Search and Automatic Categorization: Whether your photos are in folders or stored in photo editing apps such as Apple Photos, Pixelmator, or Instagram, Peakto handles all your images and provides centralized search. Moreover, Peakto sorts everything for you! Whether it's food photos, animal snapshots, or portraits, you can find them in a flash.
Search by Similar Photo and Powerful Filters: Finding the best photos from similar images or using Peakto's detailed filters (sort by date, location, camera, lens, notes, etc.) is a breeze.
Stay in Control of Your Creations
Peakto carefully lists all your FotoMagico files, no matter where they're located. You can easily access each slideshow created with FotoMagico and even create new ones from any image.
Details and Customization
Choose presets in Peakto to highlight the technical details of your photos, such as ISO or the lens used. Then, add smooth transitions, captivating titles, and catchy tunes in FotoMagico to perfect your creation.
FotoMagico has detailed and customizable templates, ensuring your photos and videos shine, ready for online sharing.
In summary, the combination of Peakto and FotoMagico makes creating slideshows not only efficient, but also fun. It's the perfect solution for anyone looking to tell a story through their photos.