July 28, 2023 – Montpellier, France.
CYME is thrilled to announce a groundbreaking new feature that enhances Peakto, its macOS software designed for photo enthusiasts: AI-Powered Prompt Search. Peakto revolutionizes the way users explore their extensive photo collection by introducing a conversational search feature powered by advanced AI image analysis. With this exciting update, users can now find their photos with twice the speed and efficiency. Peakto is becoming more accessible than ever with CYME's yearly pricing plan, offering now a significant 50% discount from the monthly plan.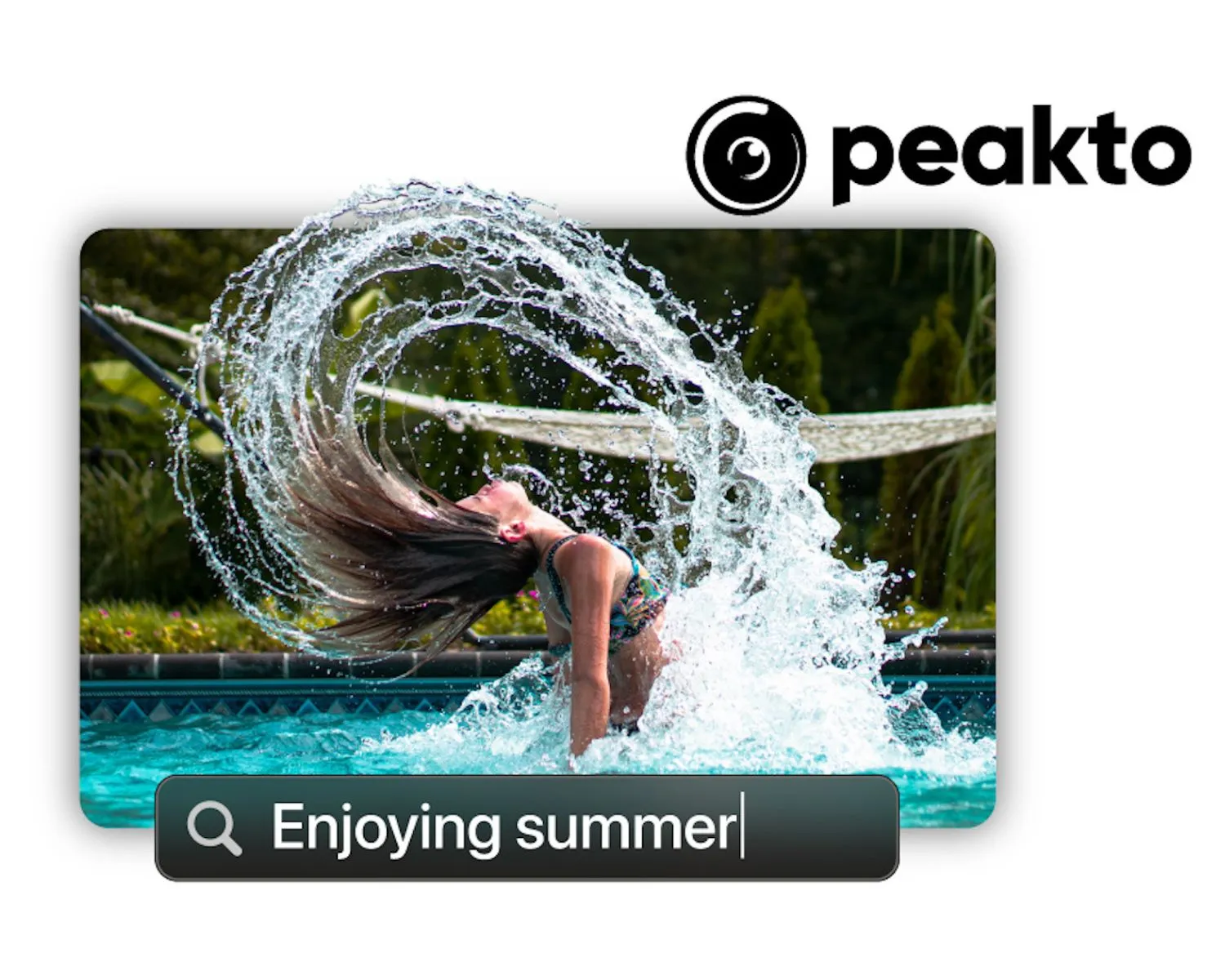 Game-changing search feature: No keywords or sorting required
Gone are the days of laborious classification, annotation, and the need for precise knowledge of photo locations. With Peakto's conversational search, users can now simply describe an image, and the AI will analyze their entire photo database to retrieve matching images (sometimes yielding original results that highlight the value of human perception 😉).
Peakto stands out for its exceptional compatibility with a wide range of photo editing software. Notably, Peakto offers powerful centralized searching across multiple image catalogs, and now it's even faster and simpler. With the latest update, prior organization is no longer necessary – a simple description is all that's needed to find images swiftly and effortlessly.
With Peakto, photo enthusiasts can now experience the future of photo search – where finding the perfect image is as simple as describing it. For once, artificial intelligence is serving photographers, rather than competing with them.
This new Conversational Search is performed locally, ensuring the privacy of users' photos. It can be conducted in English (or any language, as long as Peakto has access to an internet connection). This prompt search can be associated with Person and Place tags, making it possible, for example, to efficiently find "@Lisa eating ice cream in #Barcelona". This Conversational Search is complemented by two additional functionalities: similarity search and suggestion search. For more information on Peakto and to explore its features, please visit www.cyme.io.
Peakto now more accessible than ever
These revolutionary search options make Peakto an indispensable tool for photography enthusiasts. That's why CYME is introducing a new pricing plan to meet the needs of an ever-growing number of users. Only the annual Peakto subscription has been discounted and will now be $59.99 per year (ie $4.99 per month), a 50% reduction from the monthly plan at $9.99 per month.
Peakto for macOS is a meta-cataloger compatible with the best editing software, including Apple Photos, Lightroom Classic,
Luminar AI/Neo
, Capture One, Pixelmator Pro,
DXO PhotoLab
,
DXO PureRAW
, Aperture, and iView Media. It seamlessly integrates with all photo folders and even Instagram. With Peakto, managing and exploring vast collections of digital photos has never been easier.
Peakto is a software for macOS, available now by subscription or one-time purchase on cyme.io and on the Mac App Store.
Peakto can be tested for free for 15 days (no credit card required on cyme.io). Peakto is available on a monthly plan at $9.99/month; a NEW yearly plan at $59.99/year; or for a one-time purchase of $189.
CYME has developed Peakto and Avalanche in response to the needs and wants of photographers worldwide. Founded by serial entrepreneurs Claudia Zimmer, Matthieu Kopp and Thomas Ribreau, CYME's mission is to deploy innovative features that will both serve the photography community and help protect our planet.
CYME works continuously to enrich our software with solutions to save our best photos, in good quality and without duplication; to encourage digital sobriety by keeping only our best images; and to facilitate the sharing of our best images and memories.