EXPLORE ALL YOUR PHOTOS IN ONE PLACE
It's time to enjoy your photos
"Finally! Your entire digital catalog in one place with Peakto…"
"It's nothing short of amazing."
Instant access to your photos... all of them!
Opening Peakto is like opening all your catalogs at once and seeing all your images in ONE app. No matter what editing software you use. Peakto for macOS is the control tower that regroups your catalogs from Apple Photos, Aperture, Lightroom Classic, Luminar AI/Neo, Capture One, iView Media–and from your folders. Without creating extra copies of your images.
Once referenced in Peakto, all your familiar catalogs can be viewed, searched, filtered…. Peakto lets you easily launch them or even edit a specific image in its original catalog in just one click.
A fresh view on your photos… powered by AI
Imagine…you can find all your portraits in one click! Or all your photographed animals…all the beautiful cityscapes you've captured…. Not to mention the luscious-looking food photographs you've taken.
Imagine…you no longer need to annotate your photos–AI automatically classifies your pictures with its filters: portrait, landscape, food, wildlife (and more), or even according to the aesthetic quality of the picture.
Well…you don't have to imagine any more. Panorama, a new feature introduced in Peakto, puts the power of AI at your service. Thanks to image recognition, Panorama categorizes all your photos, whatever their format or location, and gives you a smart overview without modifying the arrangement of your catalogs. Magical!
In Peakto we introduce Instants. Instants will gather under one roof all the master files and all the modified versions of an original shot. Instants act like a magic wand, allowing you to find all versions of a shot and bring them together instantly, while giving you invaluable insight on the story of your edits.
From shutter... to file explosion
At the heart of photography, there was the negative–that unique moment, impossible to reproduce, when the shutter was pressed.
With digital technology, we now process files. Unlike the negative, they are easy to copy, and we frequently duplicate the Masters (consciously or not). We also create multiple versions, sometimes as edits in a Photo Retouching App.
Yet, tracing back the path to that original shot, that "instant" is hard or impossible…
Peakto for macOS automatically builds Instants by analyzing the image content and detecting edits of the same shots. You can also retouch your Instants manually using the merge and split tools in order to keep your shots tidy.
Discover a new way to navigate through your photos, thanks to the Peakto overview that lets you filter all your images at once.
Unveil your hidden gems and your forgotten photos without sorting them or changing your work habits! Peakto knows all the metadata that is attached to your images, regardless of their location.
As your underlying catalogs evolve with new photos being added, edited or annotated, Peakto for macOS tracks those changes to always reflect the current status of all your photo libraries.
Want to better understand how Peakto works?
Here's an introduction to Peakto by Matthieu to guide you through its main features.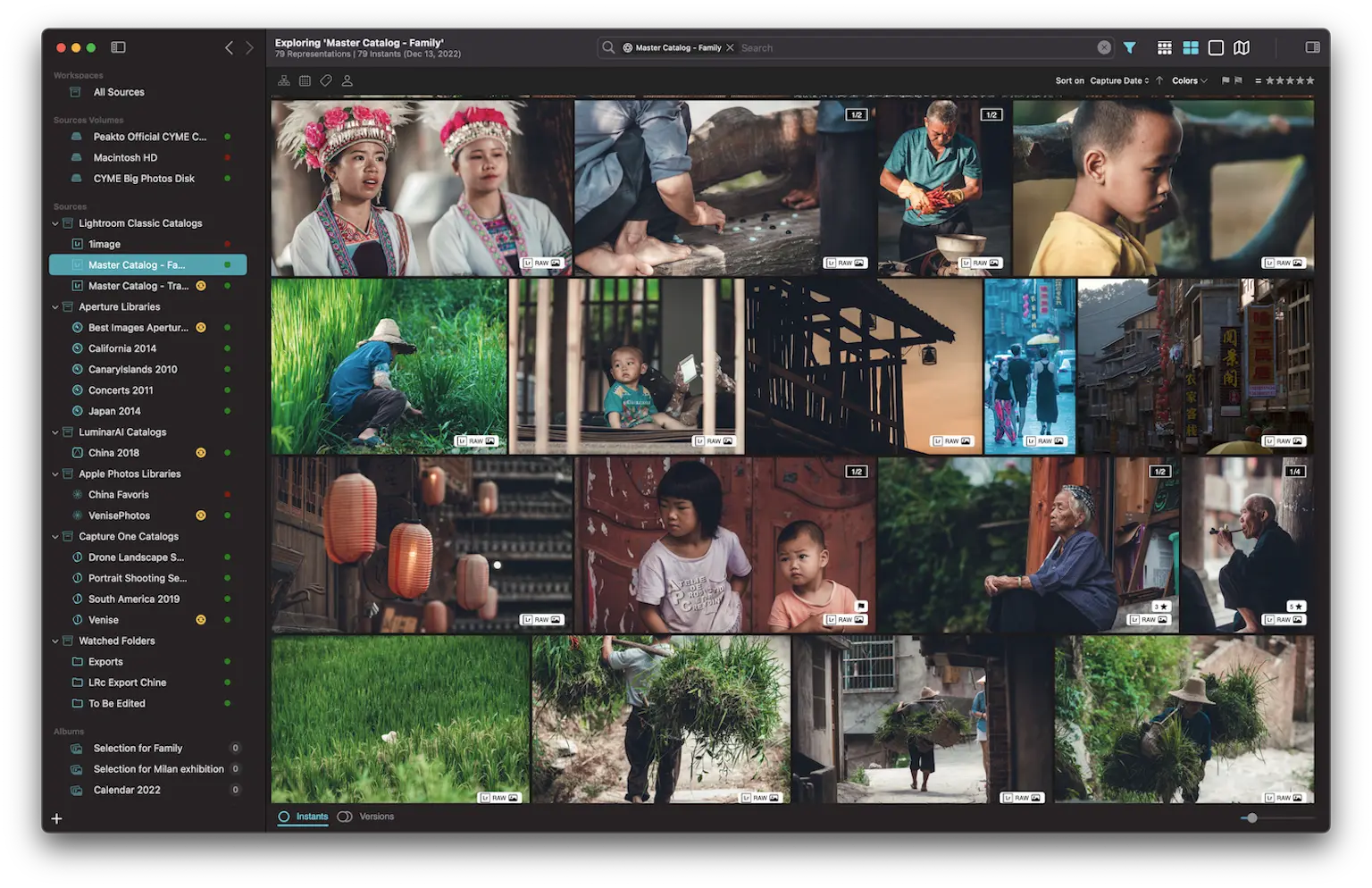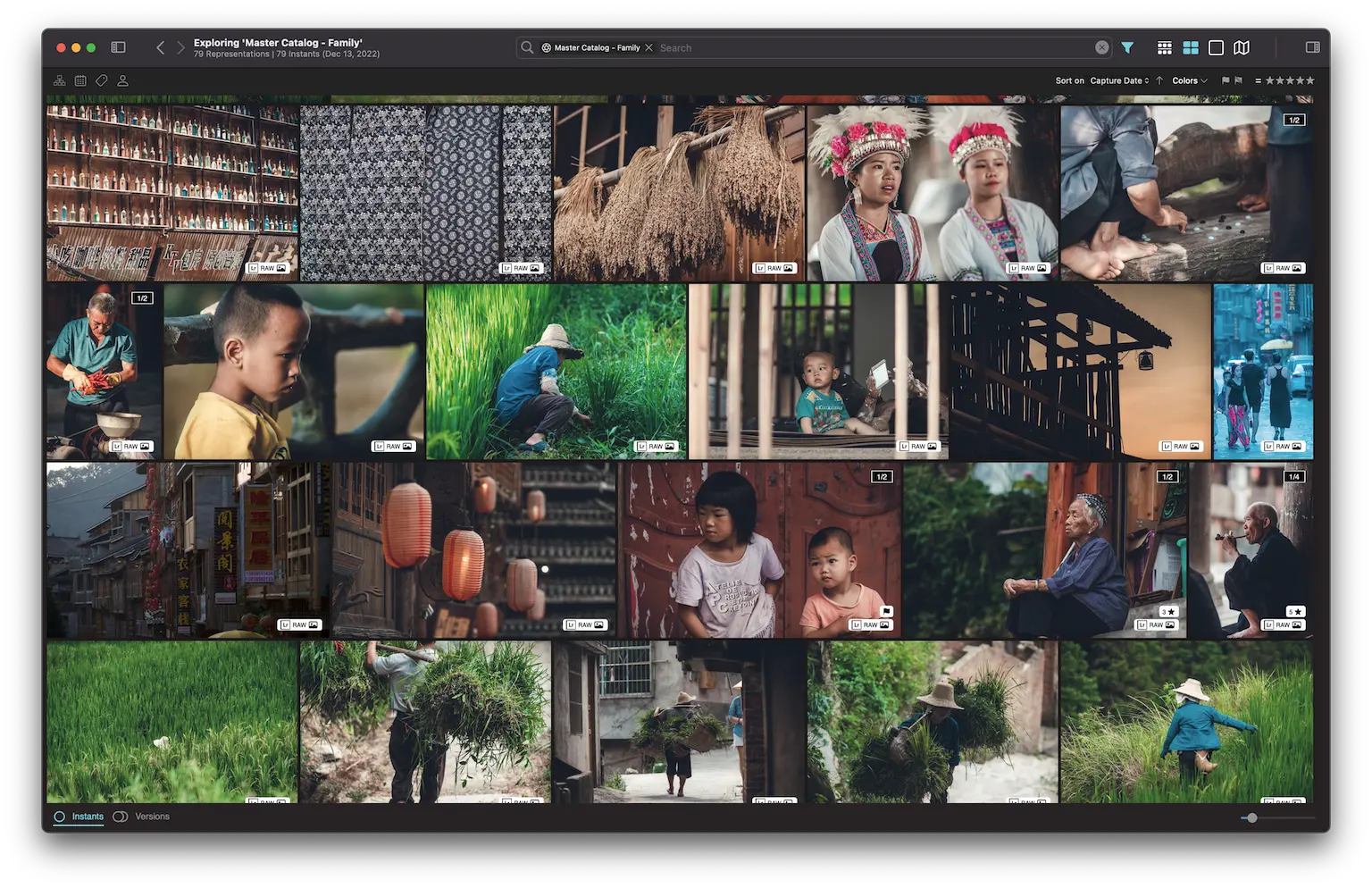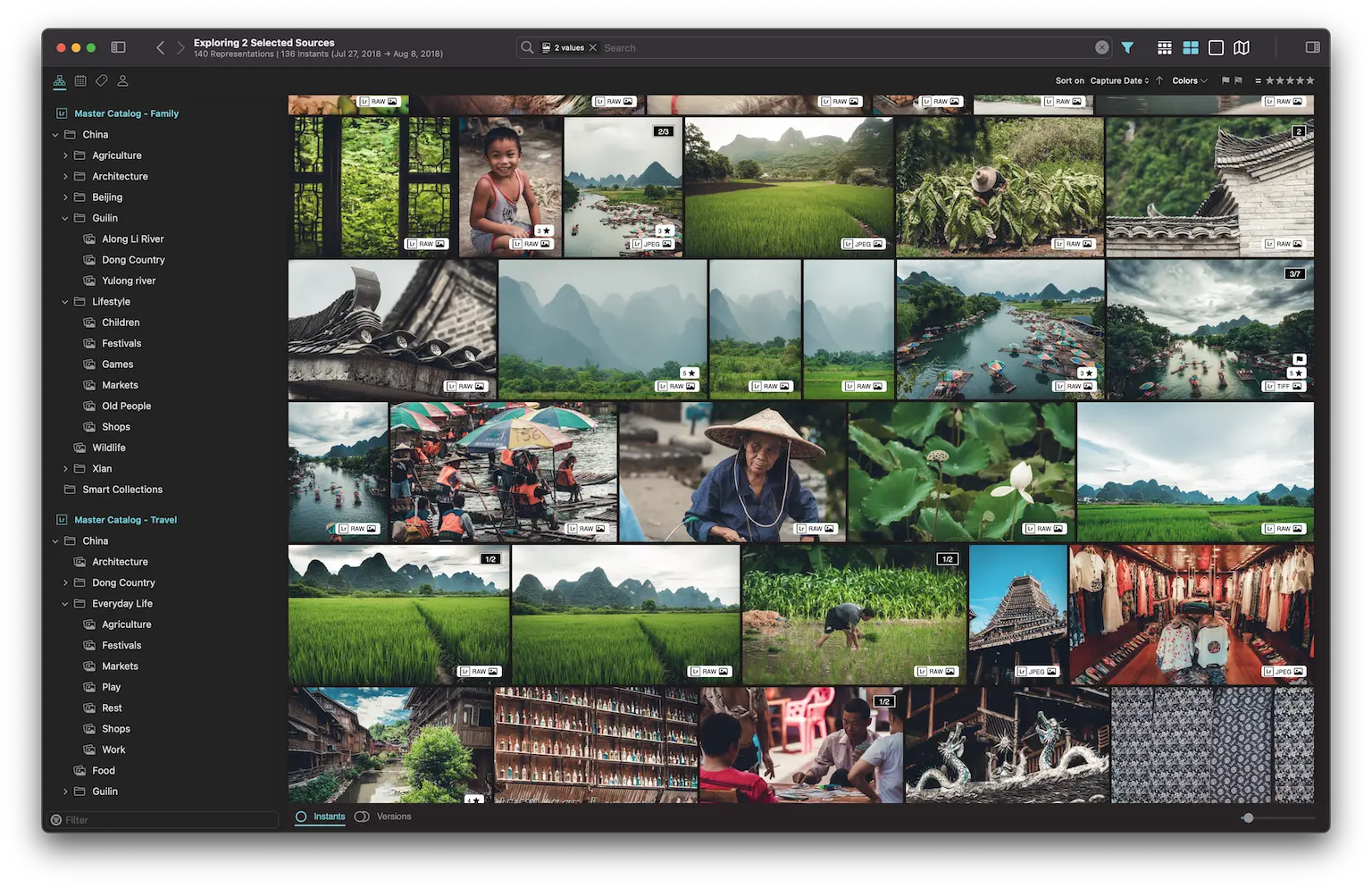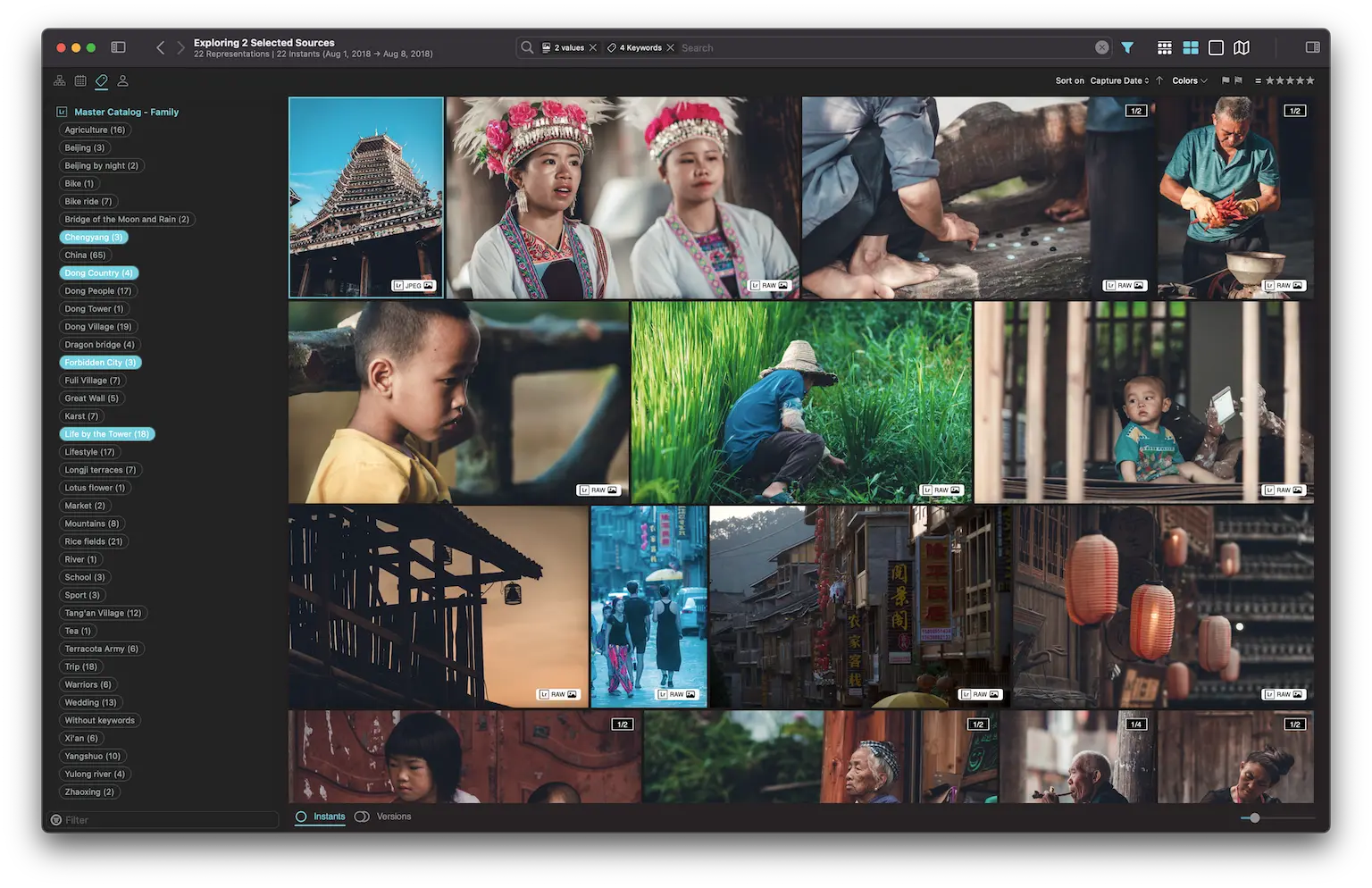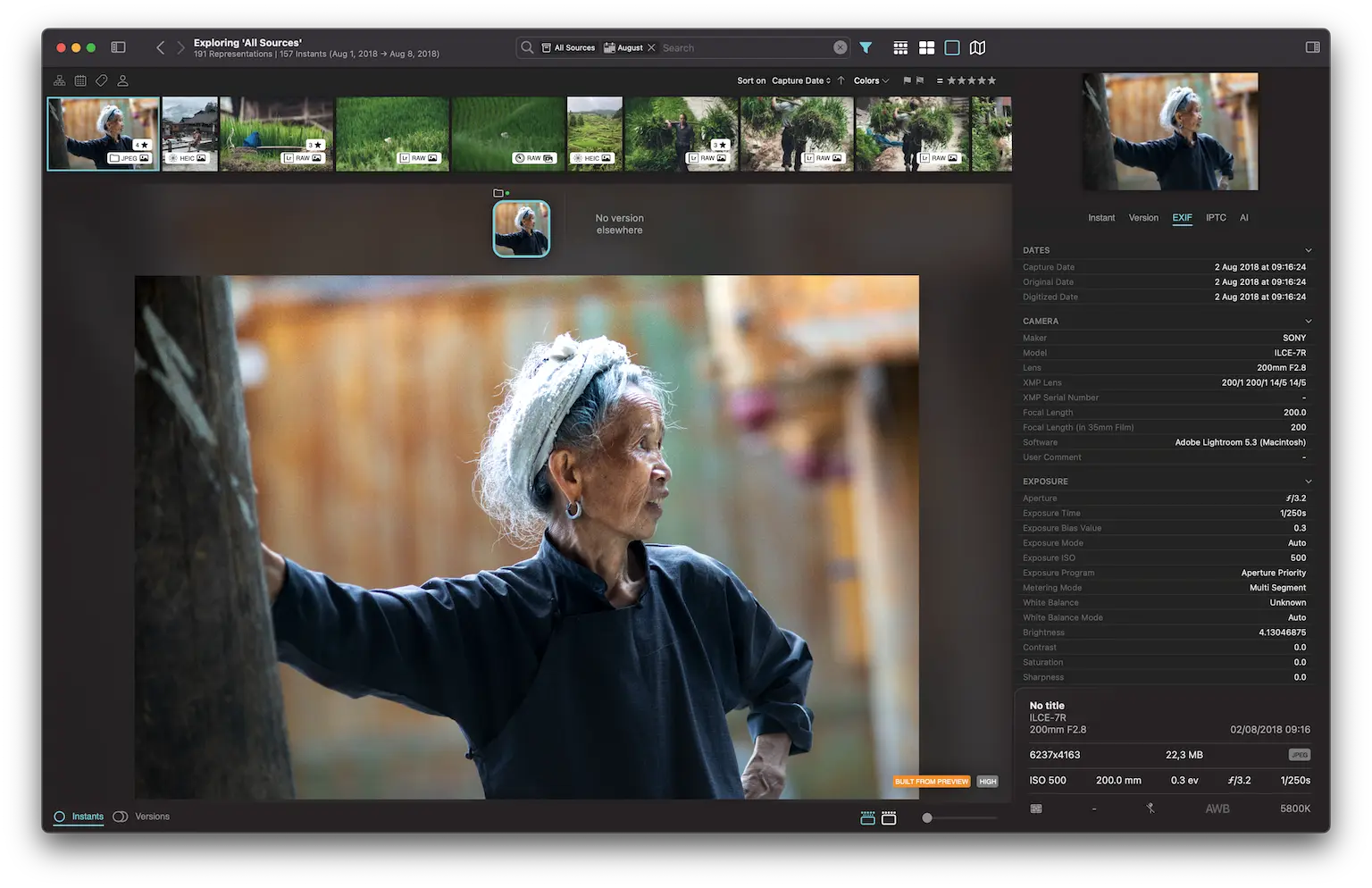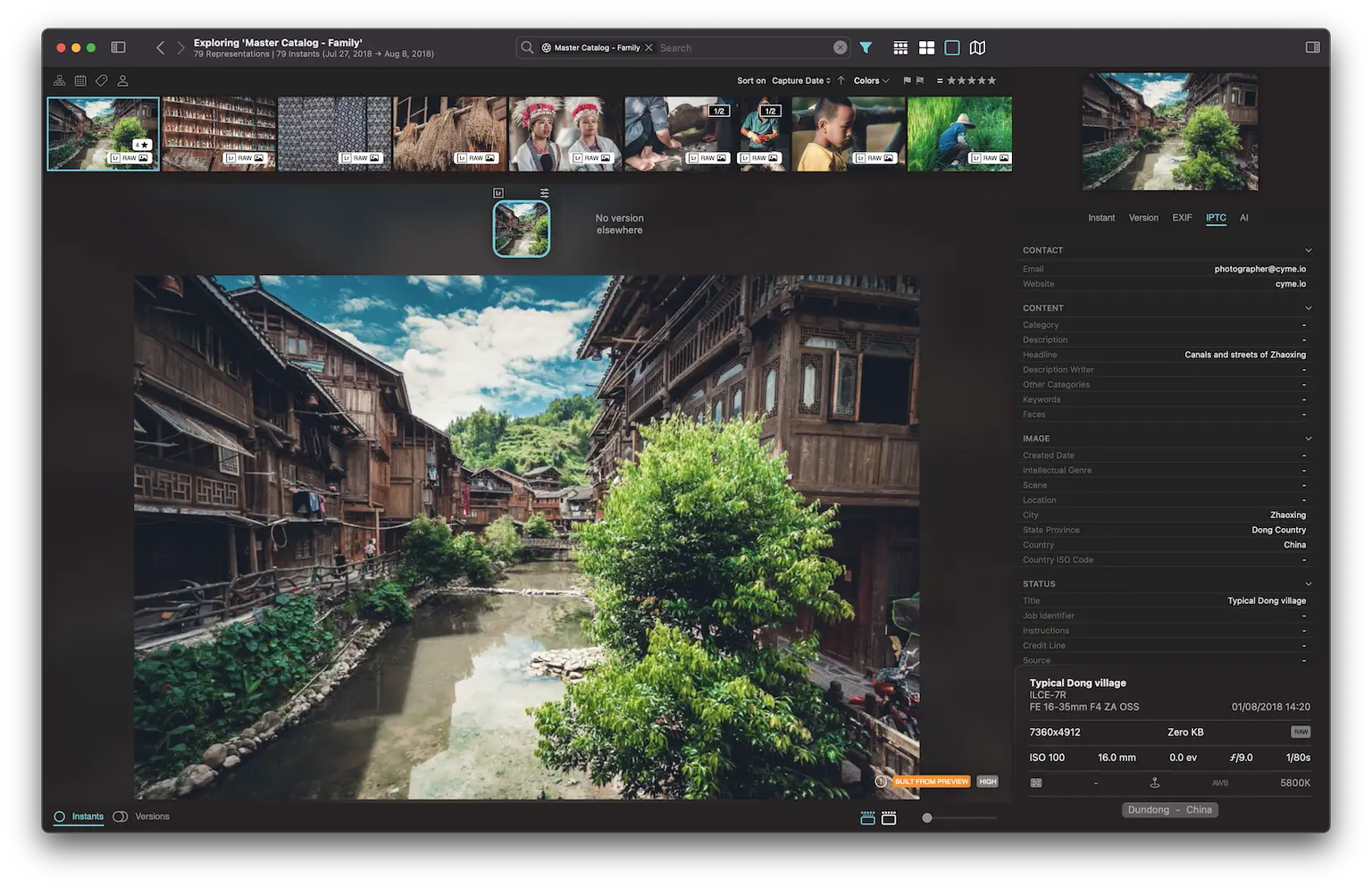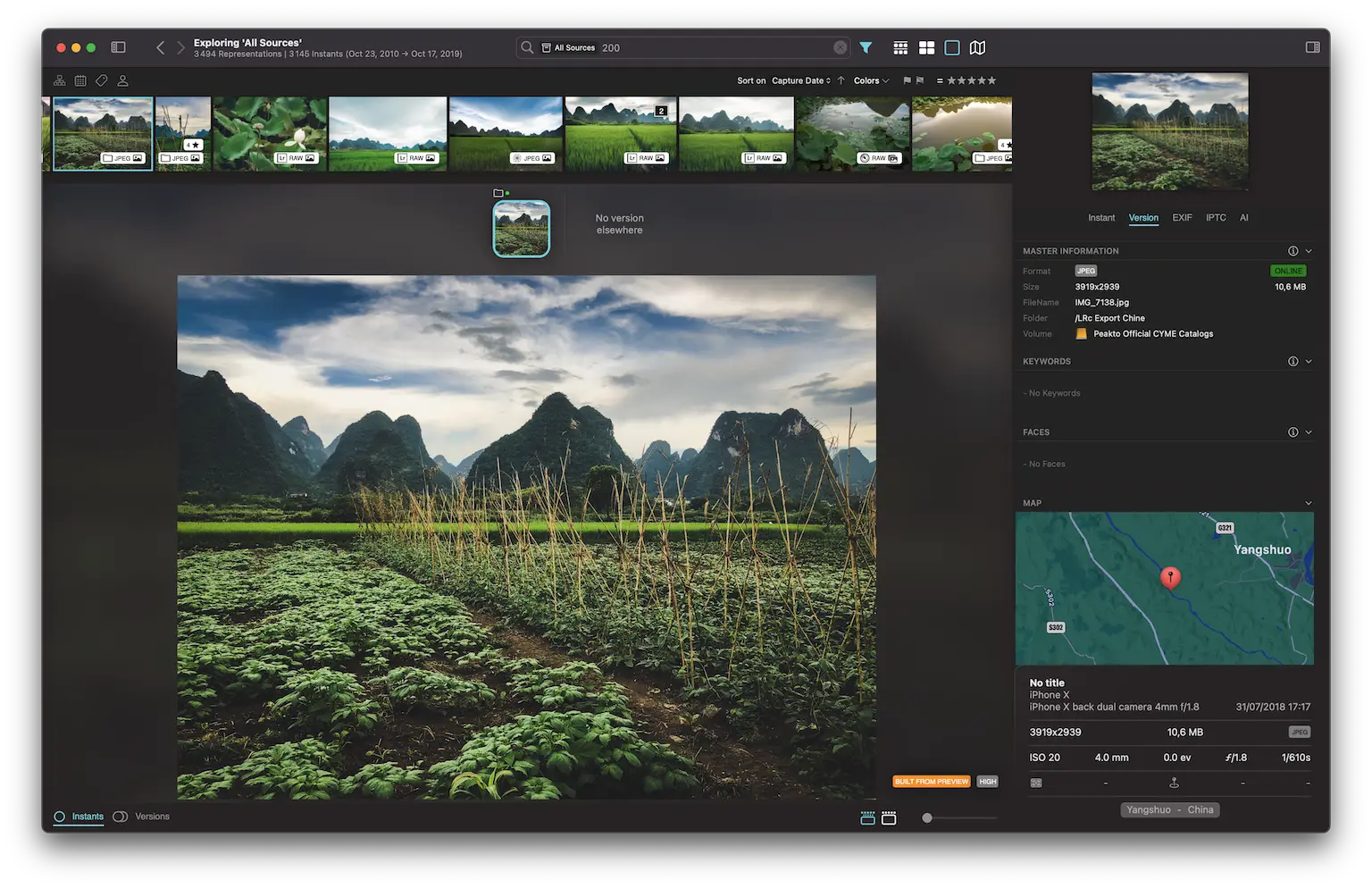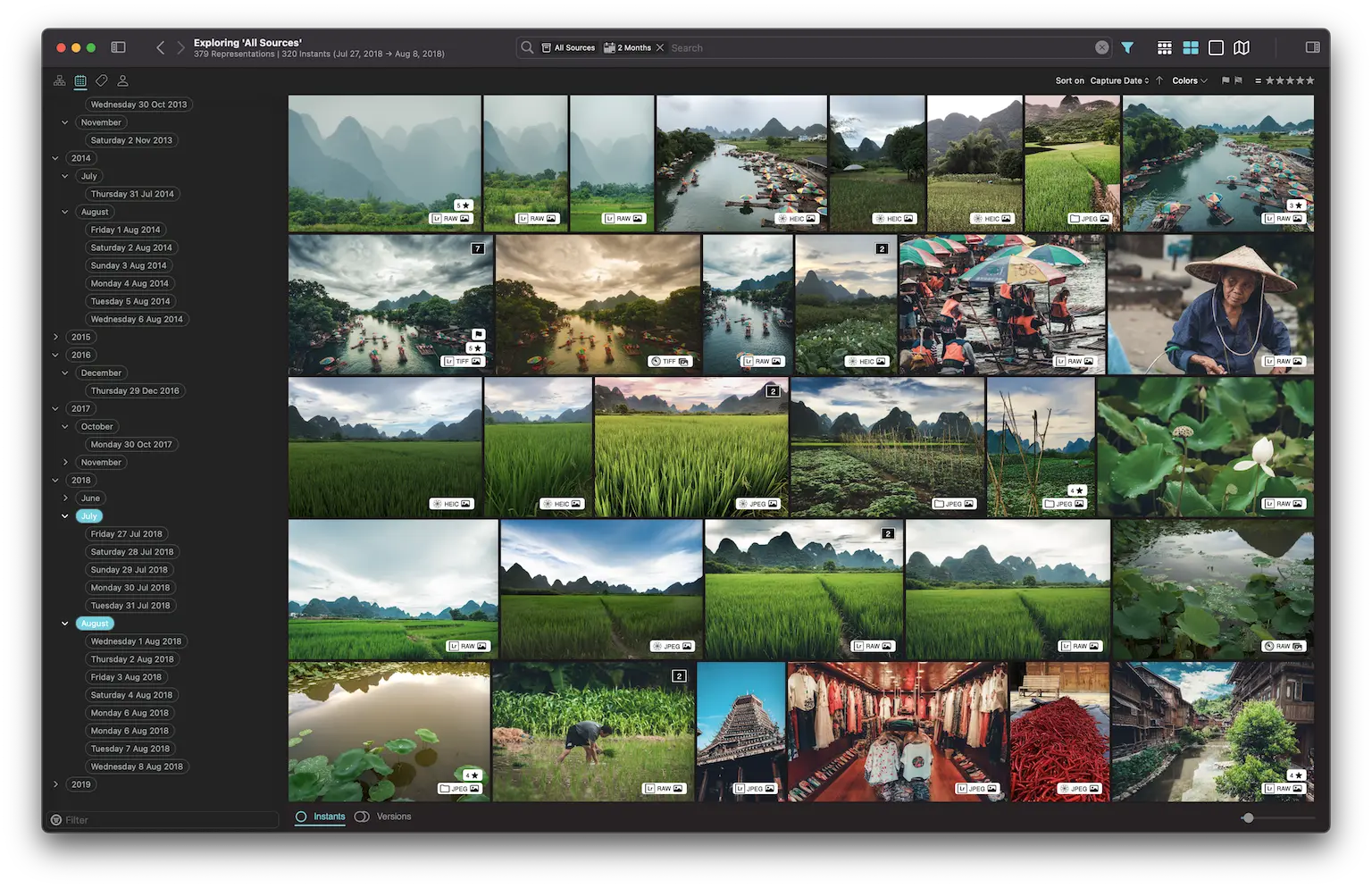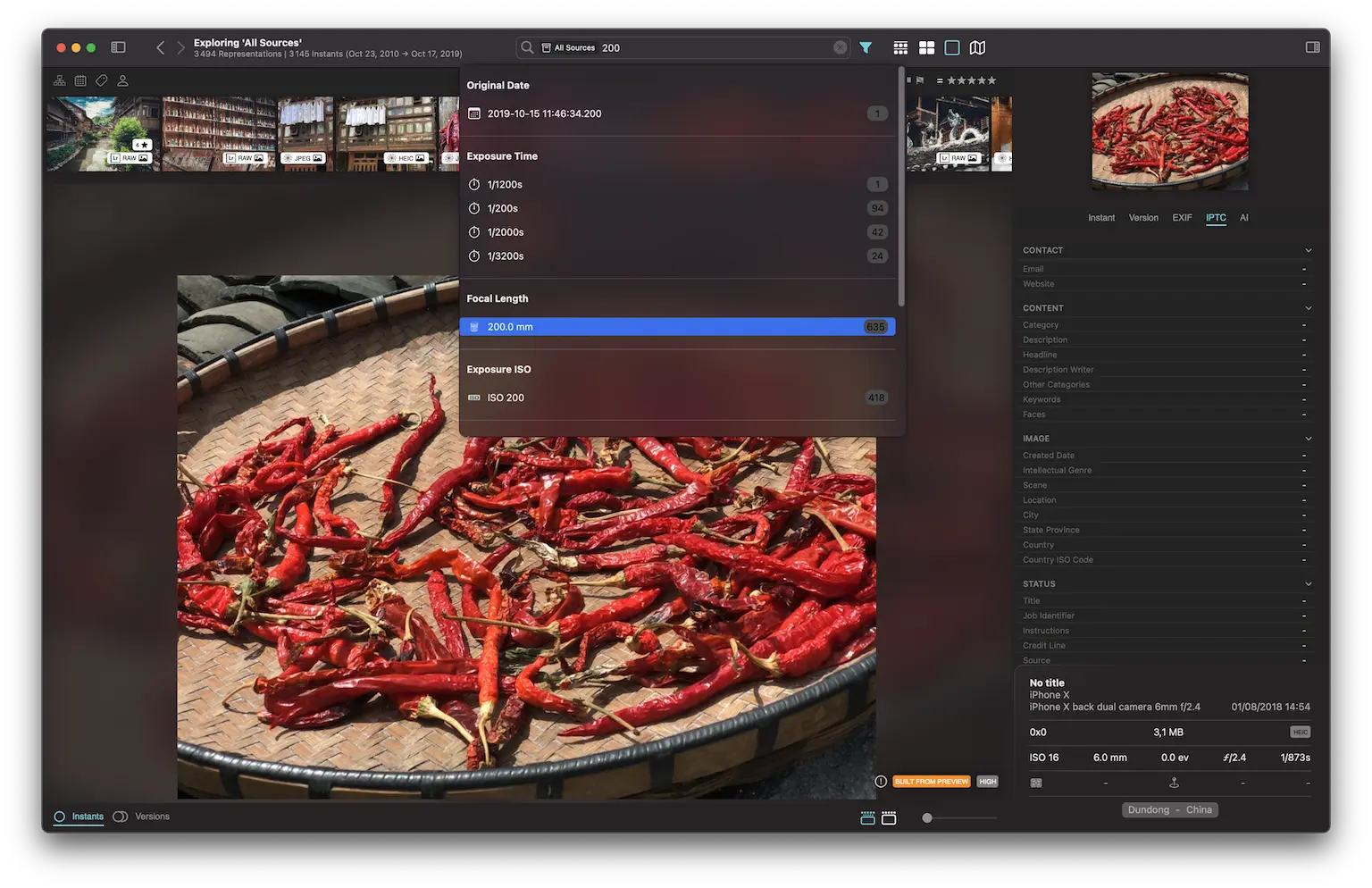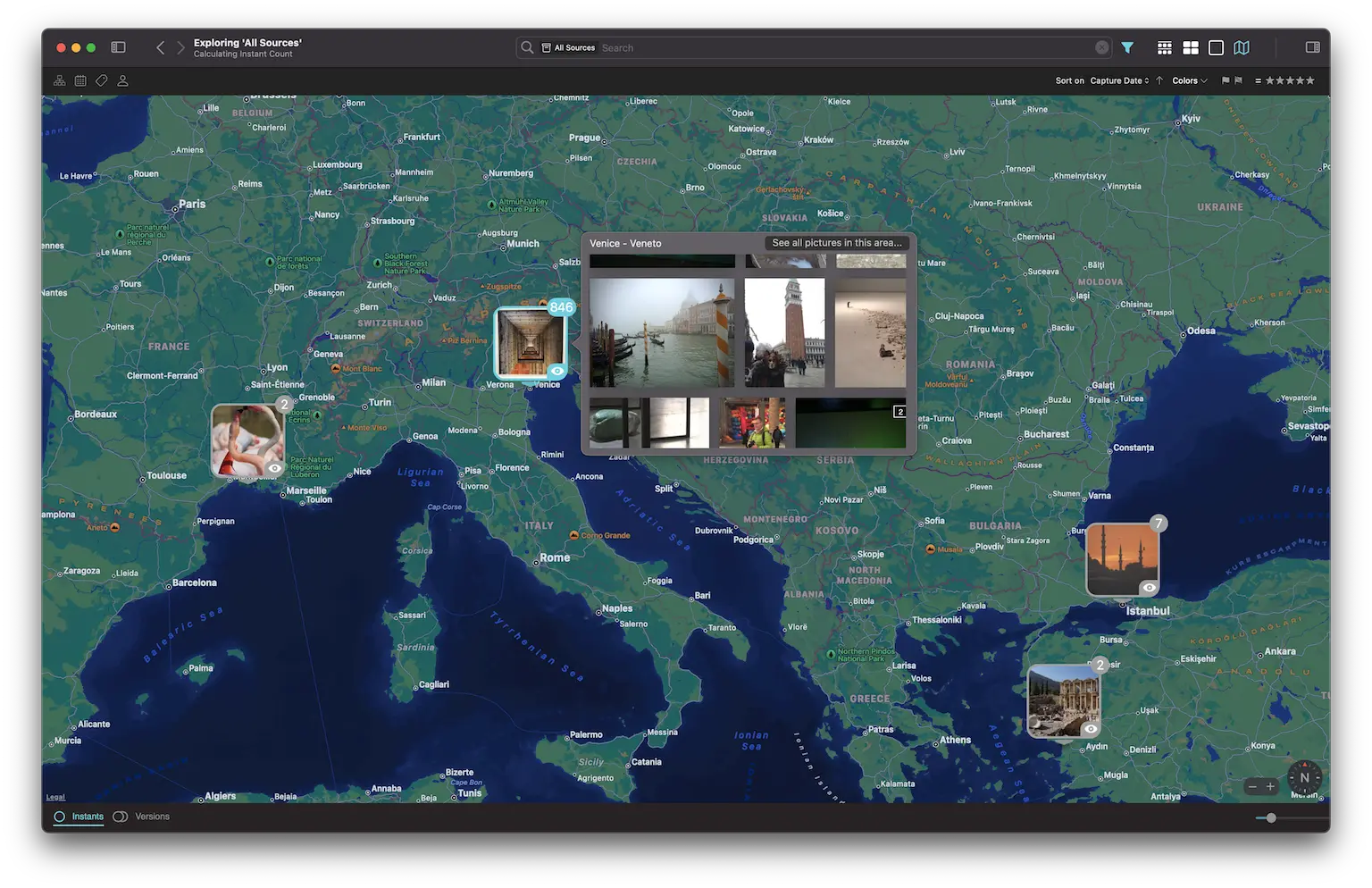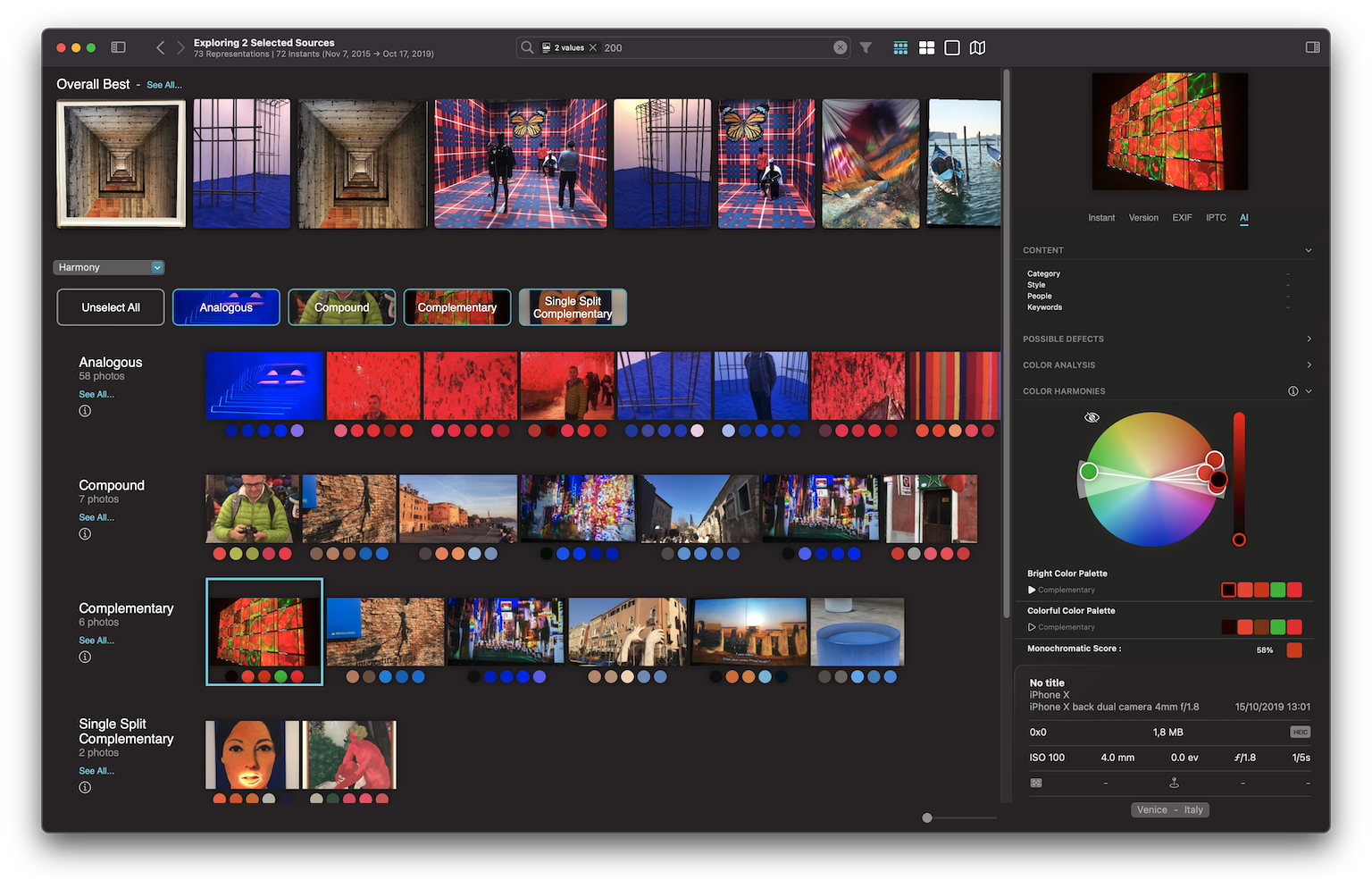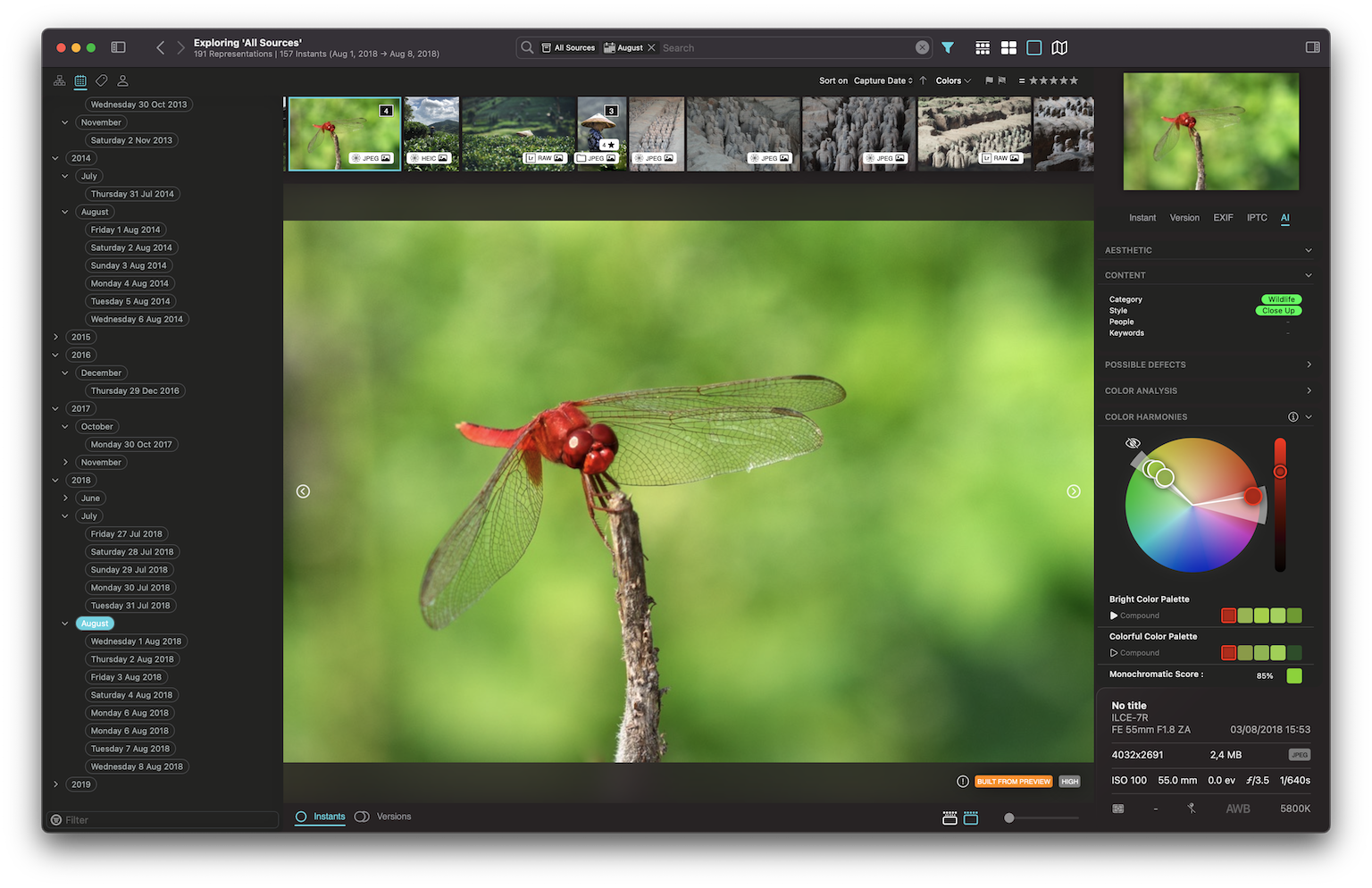 Easy to use, Peakto does not modify your photo management workflow. Keep using your preferred apps, stick to your ordering habits and everything that works for you. Peakto does not impose any special usage of your familiar software but will adapt itself by mirroring all your original organization structure (collections, folders, annotations) in order to make everything look familiar and right in its place/where it should be.
Peakto mirrors your organization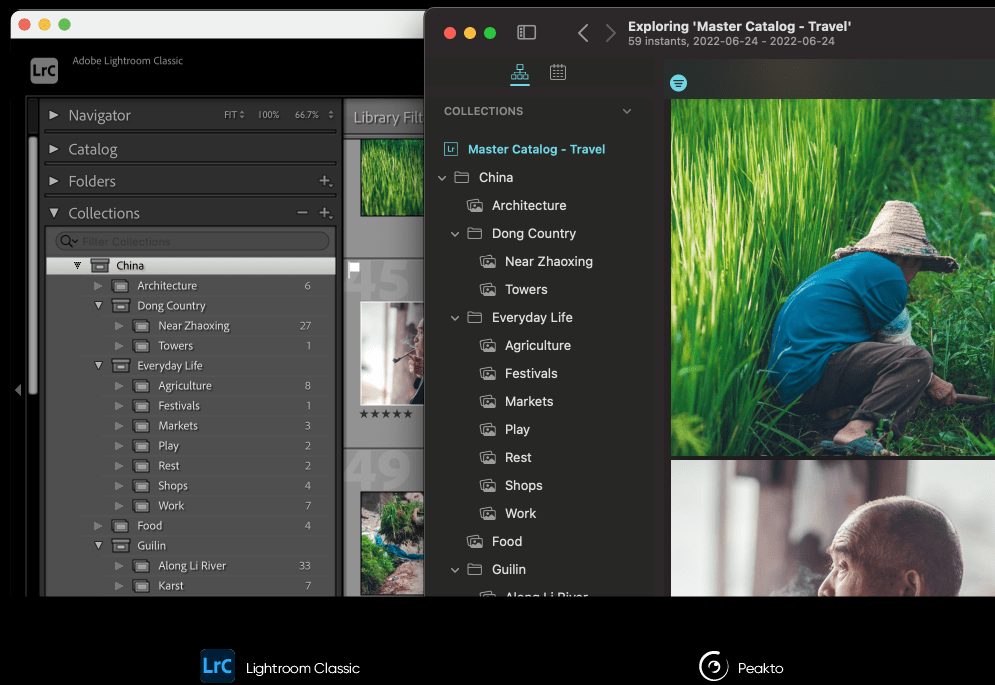 Peakto takes care of our photos and our planet
Digital technology produces 3.5% of the world's greenhouse gases. At CYME we are constantly thinking about ways to combine photography and ecology. By helping us becoming aware of your environmental footprint and encouraging us to do more with less, you are making the world a better place–and one where beautiful scenes and wildlife to photograph will still be accessible for years to come!
We conceived Peakto for macOS to access and sort all your photos without requiring any duplication of your master files. Peakto shows you all the versions of your photos so you can easily choose and keep the ones most important to you.
Our ambition: to encourage frugality by keeping the images that make sense, not only for ecological reasons but also to better manage, appreciate and transmit our photos.
Aperture, iViewMedia: nobody puts oldies in a corner
If you still have some legacy catalogs (Aperture, iViewMedia,…), Peakto does not leave you on the side of the road. Quite on the contrary.
Peakto lets you view, navigate, search through all the photo material you stored in Aperture and iViewMedia. Peakto sees all the metadata that were attached to those images.
Thus, Peakto opens the door of the latest macOS versions, including Ventura in the Fall and the latest app hardware (M1, M2,…) to your precious collections.
Want to better understand how Peakto works? Here's an introduction to Peakto by Matthieu to guide you through its main features.
Peakto has been carefully handcrafted to look and work great on macOS. Through its design, speed and power, it will take advantage of all the benefits that Apple's technology has to provide. Peakto makes you feel totally at home to ensure a comfortable start.
Peakto is just the beginning!
We are photo and Mac enthusiasts. We have developed the solution that was missing to find our way through all our pictures–but that's not all!
This first version of Peakto is only the beginning of a journey that will take us much further.
Our ambition: to enhance, through the power of AI, the way you find your photos; to invent new ways to share your photos; and to help you clean up your pictures.
Take part in the adventure by joining our community of subscribers.
Frequently Asked Questions