We are excited to present Peakto 1.7.6, the latest version that brings you a remarkable photo selection feature along with enhanced category customization. Get ready to rediscover your images and make the most of your photo collections.
Discover the New "Selected for You" Feature
Say goodbye to the "Overall best" section and say hello to the all-new "Selected for you" feature in Panorama. With this update, you can now enjoy a daily collection of photos curated from your connected images. Our selection process takes into account vibrant colors, high ratings, and other criteria to present you with a fresh and inspiring assortment every day.
Each day, Peakto will surprise you with a captivating selection of photos sourced from your connected images. Our advanced algorithms and criteria work their magic, not just to find the "best" photos, but to uncover forgotten gems and revive cherished memories. From visually stunning shots with dominant colors to photos with high ratings or vibrant compositions, our selection guarantees a daily dose of inspiration that will transport you back in time. Your feedback is crucial in refining our selection process, so feel free to express your preferences by liking or disliking the images, allowing us to further enhance the functionality and bring you even more delightful surprises.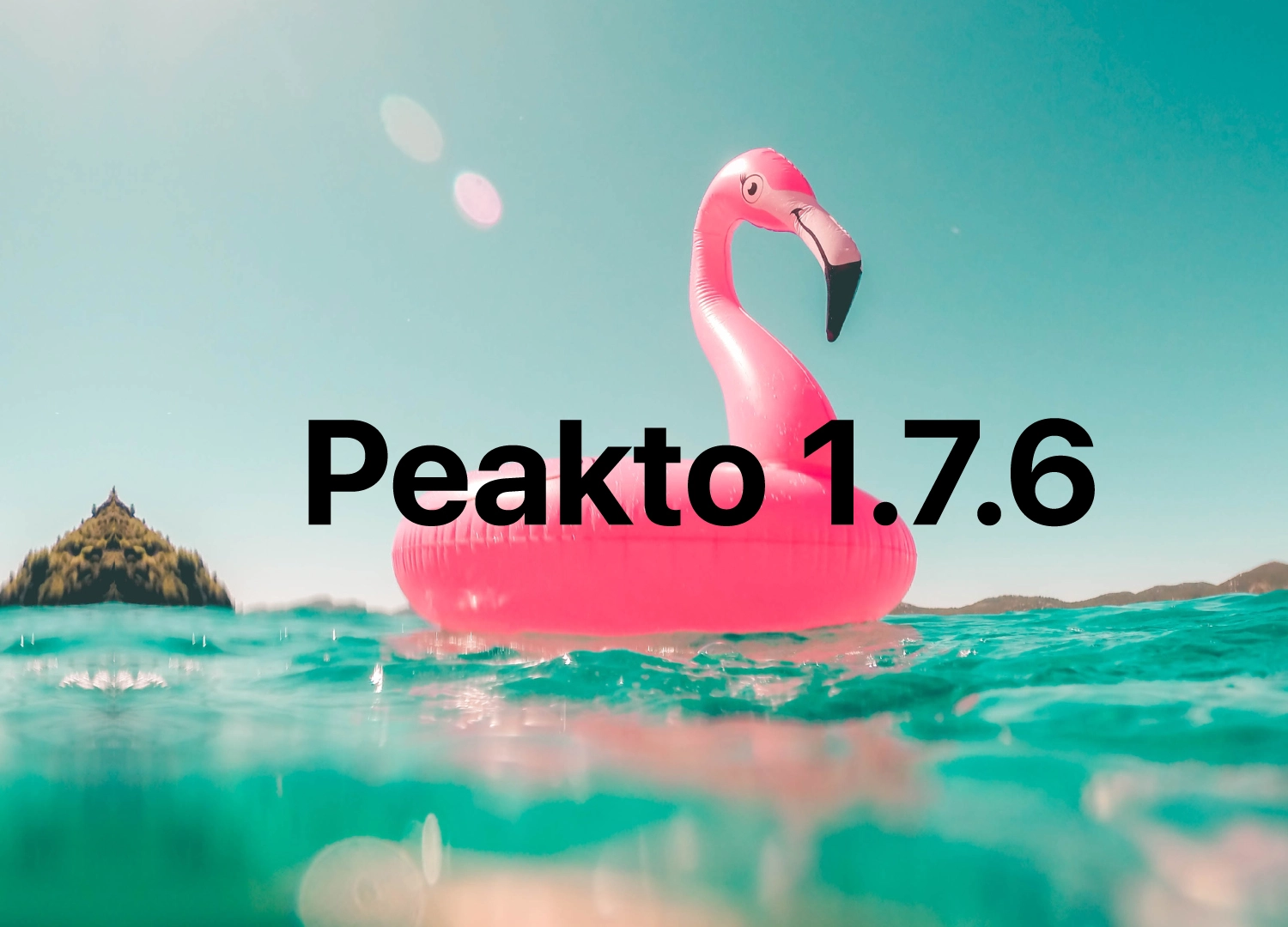 Fine-Tune Your Categories
Peakto 1.7.6 empowers you to have full control over your photo categories. Now, you can easily modify categories by removing unwanted photos and assigning preferred ones, ensuring an efficient and personalized organization of your collection.
In the Panorama view, you'll notice an editing icon displayed on each image. Simply click on it to access the categories associated with the image. From there, you can delete unwanted categories and assign the ones that suit your preferences best. Alternatively, you can make category modifications directly from the right-hand side panel in the AI section. This flexibility allows you to curate your photo collection precisely the way you want it.
Customize Your Instant Posters
With the introduction of Peakto 1.7.6, we bring you a feature we announced in the previous version but is now fully functional. You can now choose your preferred poster image for your Instants. From either the Grid View or Detail View, simply right-click on an image to select it as the poster image. When browsing your photos using the "Instants" option, the different versions of the same photo are grouped together, showcasing your chosen poster image.
Upgrade to Peakto 1.7.6 and Experience the Magic
Upgrade to Peakto 1.7.6 and unlock the full potential of your photo collection. Uncover your most stunning photos, relive your cherished memories, and immerse yourself in the new features we've carefully crafted for you. Your feedback is invaluable to us, so don't hesitate to share your thoughts. Additionally, take a look at our roadmap and vote for the features you would like to see implemented sooner. We look forward to seeing you in Peakto!