Avalanche has been in beta for a few weeks now and we have gathered a number of interesting feedbacks that help us to build an update and prioritize bug fixes and missing features. 
We want Avalanche to be the best tool to migrate your photos : preserving all the complexity of your organization while migrating all the adjustments made on your images. Today we are concentrating on Aperture → Lightroom, but we have more migration paths in the works. Here are some of the early results :
We identified a number of crashes that, of course, were treated as a priority. Our latest beta (v1.0 beta 2.3) currently available fixes all known crash situations.
We identified a number of situations where our Machine Learning adjustments are not giving the best results. In particular, there are situations where we alter the color rendition of images too much and we are currently working on improving that. we identified a rare number of situations where our handling of Blacks does not restitute the visual aspect of a version. We are hard at work on that for this update. Here is an example of what we want to achieve :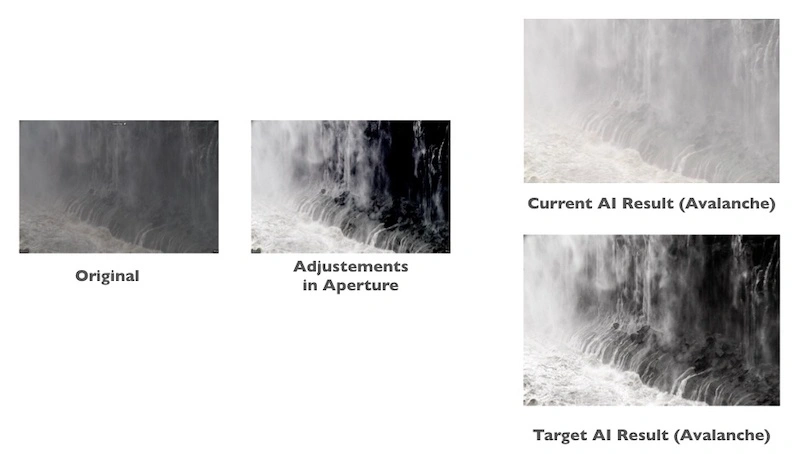 We identified that some settings that we don't handle well need better treatment. Among them : Levels.
We realized that handling videos as we do it currently is not enough (we simply copy them in a separate folder without adding them to the converted catalog). We are therefore working hard on an update integrating video content as first class citizens in the converted catalog. You should find your videos in the converted catalog, but also in the converted albums, projects, etc…. We won't handle adjustments made to videos in this update, but we will handle versions since Aperture supports versions for videos as it does for pictures. In the future, we might add support for IN and OUT points in a video. 
Please take a chance to try the beta on your Aperture catalogs if you are an Aperture user. We are eager to get as much feedback as possible to release the best product possible. Every photographer has its own way to work with a cataloging apps and we'd love to expose Avalanche to all the situations that exist out there !
By testing Avalanche against your Aperture libraries and exporting them. You can start by working with smaller libraries to minimize waiting time and move to larger libraries.We are interested to hear about things that go wrong : crashes (it should never happen), conversion that do not produce the expected results,….Please use it to send us feedback and bug reports directly from this website.
Our Avalanche Beta is out now for you to try. Please request the download link to access the updated version. When launching the app, you will be presented with detailed Release Notes. To activate the Beta license, choose BUY and fill in the details. The price is 0$.
What to expect in the futur beta 3 ?
The next beta will focus on :
Adding videos as first class citizens
Improving the migration of problematic adjustments. We will give some concrete examples in the next Newsletter.
When will Avalanche be released ?
Our aim is to release Avalanche at the same time, or soon after the release of Mac OS 10.15 (Catalyna). We will however make sure we are really happy with the results and are confident that we cover all cases that have been raised during the beta. Your help is much appreciated on this.
Are we planning to add more formats than just Aperture and Lightroom ?