Let's face it, we've all spent hours desperately searching for that specific photo buried amongst our thousands of photos. We all know how frustrating that can be, and that's why we created Peakto some time ago. It's our little gem for Mac users, a tool that plays nicely with all the photo editing software you already love. But we haven't forgotten our family and friends, and you, our loyal users, who made us realize how useful a simpler, more mobile solution would be for you. Because yes, you wanted it, you asked for it on our roadmap! So we've pulled out all the stops to concoct a mobile app that's not only easy to use, but super fun too. Ready to tidy up the chaos of your photo albums with a smile? Introducing FindMySnap, the app for you!
FindMySnap, the Joy of Searching Your Photos
FindMySnap is your new photo sorting companion on iPhone! The idea is to make your life easier when searching for your photos in your iPhone gallery. Thanks to a little touch of magic (artificial intelligence) and its compatibility with Apple Photos, FindMySnap sorts it all in the blink of an eye. And don't panic if you're not a tech pro, the app is super easy to use. With it, you can share your best memories on social networks without difficulty. Discover the main features to find on FindMySnap:
Search by description, by location: from a simple description or a location, the application displays the best results found among the photos. It acts like a personal archivist, meticulously sorting through your images.
Search by random themes: the application offers more than 1,000 themes to sort photos. You rediscover unexpected photos and forgotten images thanks to themes such as "Adventure Photography", "Moment of Pleasure" and many others.
Creating Photo Collages: FindMySnap converts photos found from a theme or search into a grid of images to share on social media. These collages from a successful photo selection can also be saved in the application.
Social sharing and more: You can share these collages using the usual iPhone sharing options. You can also share the query you used to challenge your loved ones on a specific topic.
Deleting Photos: Reviewing images is a great way to free up space on a smartphone by removing duplicates or uninteresting photos. FindMySnap is connected to Apple Photos and allows you to quickly remove unwanted images from your account.
Backup in Apple Photos: FindMySnap communicates with Apple Photos and allows you to favorite an image in Apple Photos, or create Apple Photos albums from a selection.
Privacy Protection: FindMySnap protects your privacy. Your photos are analyzed locally and remain private.
Whether to organize or search for specific photos in your gallery, FindMySnap is the ideal tool that will help you on a daily basis.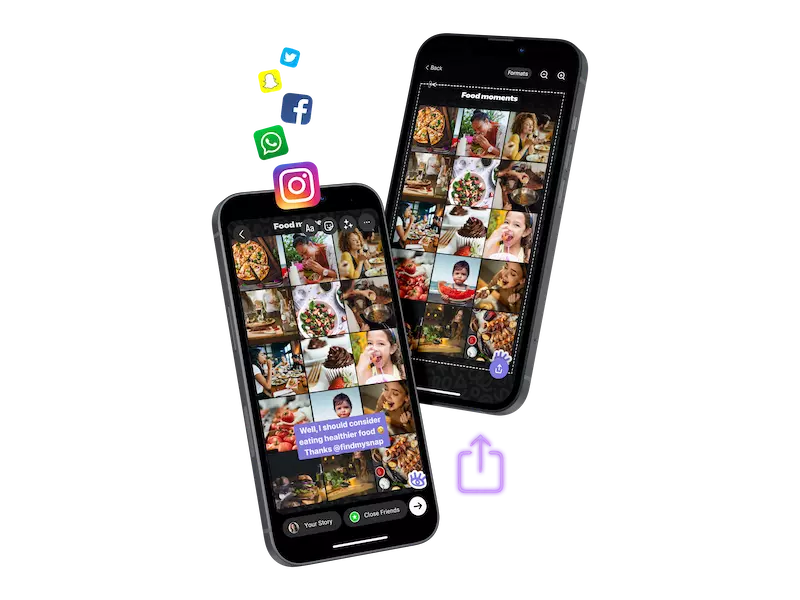 An Ideal App for the Holiday Season
As the holiday season approaches, FindMySnap offers an essential service: easily finding and selecting one's best photos. Indeed, it's the time when we prepare personalized gifts such as photo albums and calendars. It's also when we showcase, on social media or on our website, our photographic journey of the year. FindMySnap transforms the daunting task of sifting through a vast photo library into a pleasant and quick process. The app thus facilitates the selection of images on a theme or simplifies the search for a given image.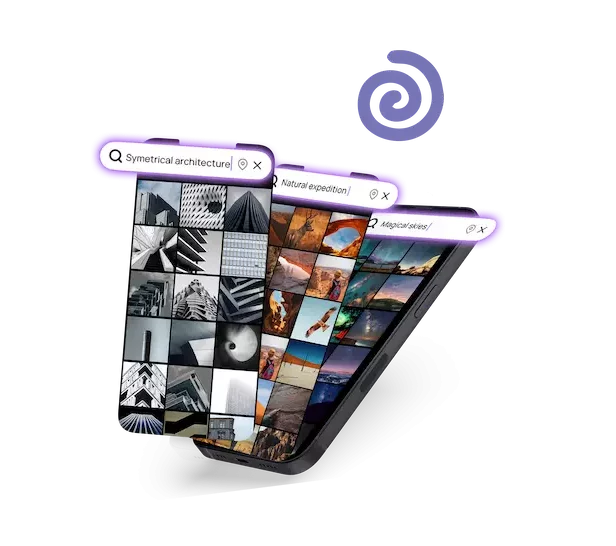 In short, with the arrival of FindMySnap, the experience of managing our precious images promises to be smoother, more accessible, and customizable than ever. By leveraging the benefits of mobility and user-friendliness, this app positions itself as an ideal companion for photography enthusiasts while bringing a touch of CYME expertise. It offers us the opportunity to reinvent the way we interact with our visual memories, simplifying their organization, search, and even editing, for a photo management experience that exceeds expectations. So, whether you're a seasoned professional photographer, a passionate amateur, or just someone who likes to photograph their restaurant meal, this new mobile app promises to be an indispensable ally in your daily life.