Since June 2021 Google Photo, Google's cloud-based photo storage service, has become a paid service. Many users who used to enjoy free and unlimited high quality photo storage have found themselves having to pay or migrate their images to another service.
If this is your case, Avalanche, will help you transfer your images from Google Photo to Adobe Lightroom, Skylum Luminar, or Capture One while keeping a maximum of metadata related to your photos.
Starting with version 1.4 (*), Avalanche adds the ability to transfer Google Photo libraries to Adobe Lightroom, Luminar 4 or AI, and Capture One. Supporting Google Photos as an input source has some very specific constraints :
Google Photo libraries need to be "prepared" in order for Avalanche to process them.
Google Photo libraries have very limited metadata (much less than what the online experience suggests), so the migration is therefore more limited in functionality.
Preparing your Google Photo libraries for migration
This is done by running a dedicated Google utility service called Takeout, which lets you download full or partial catalogs onto your computer. Avalanche then processes those downloaded files.
We explained the process in detail on our YouTube channel: Google Photo export and in this Article Preparing Google Photos Takeouts.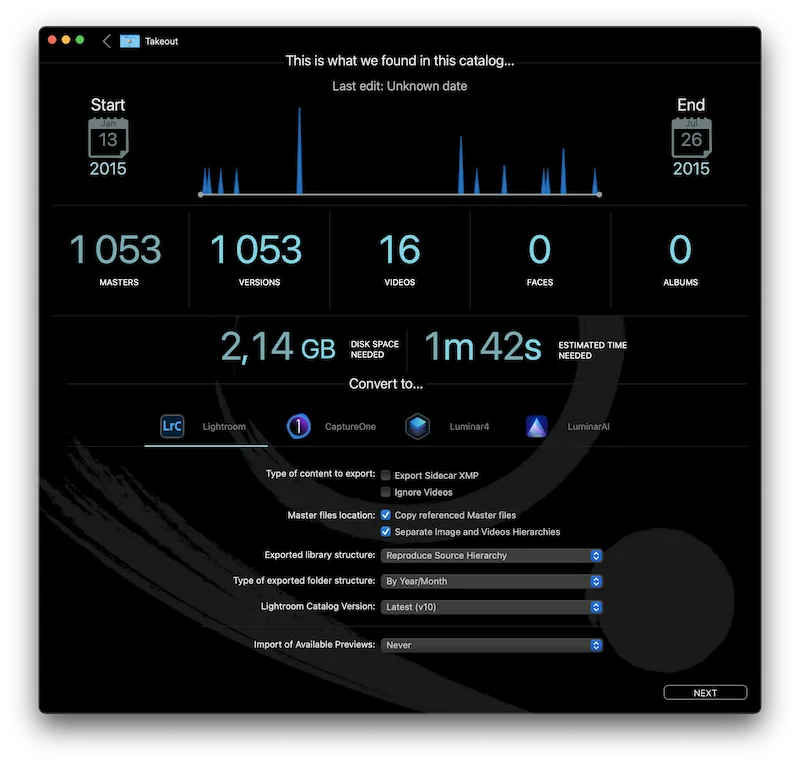 Media support in Avalanche
Avalanche supports both images and videos when migrating from Google Photos.
Metadata support in Avalanche 
When migrating from Google Photos, the following metadata is preserved:
– albums: these are converted as albums.
– year-based projects: Google constructs collections named "Photos from YYYY" with all images from a given year. These are converted as albums. 
– photo descriptions: these are converted as IPTC captions in the destination catalog.
– photo dates
– photo faces: these are converted as keywords. Note that the pet names are not exported by Google Takeout and are therefore not available during the migration.
The following data is available inside Google Photos but is not exported as part of Takeout; therefore, it cannot be inferred by Avalanche:
– GPS coordinates or place name
The quality of the downloaded images depends on your individual settings when uploading images to Google. Images are returned in their original format, or in JPEG/PNG/WebP if some compression was performed.
None of the adjustments made in Google Photos are described in the Takeout process. We currently create a single version for all exported images that contains the original version of the image.
In a forthcoming update, we might add a version for the edited image (if there seems to be a lot of interest in it). But we would not be able to tell what kind of adjustments were made on the image and would only have a preview.
Migrating out of Google Photos is now possible via Takeout.
With the support of Takeout archive folders, Avalanche can let you move images, videos,  organizational structure (albums) and metadata from Google Photos into a new home (Lightroom, Luminar, Capture One and Apple Photos).
We hope this helps! Please let us know what you think.