DxO just rolled out a super cool update to their PhotoLab software, and it's packed with all sorts of new features! DxO PhotoLab 7 has fresh color calibrations, improved correction tools, and a new way to transition to black and white, making it a top pick for editing your photos.
Here at CYME, we regard DxO PhotoLab 7 as a formidable challenger to Adobe Lightroom, owing to its cutting-edge capabilities and user-friendly interface. We love it so much that we're making sure it works seamlessly with Peakto, our awesome photo cataloger. We want Peakto to be your go-to for all things photos, and linking up with DxO is a big part of that. We have therefore finalized an update to make Peakto compatible with PhotoLab 7 right now!
So, you might be wondering, what's the buzz about DxO PhotoLab 7? And why is it becoming a favorite tool for photo retouching?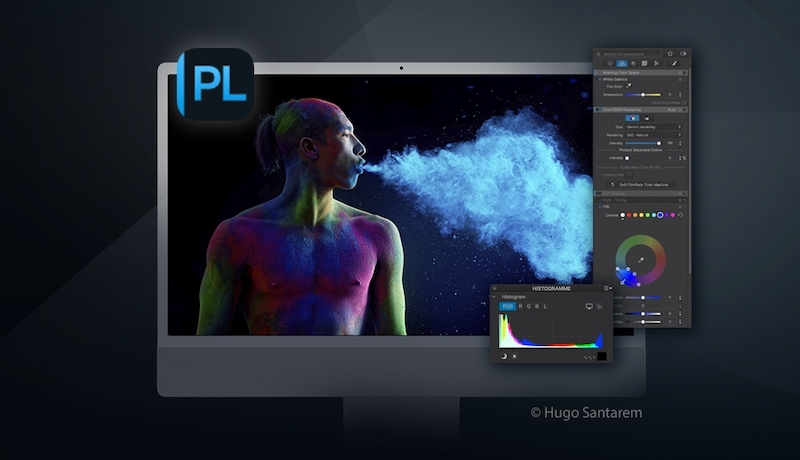 DxO PhotoLab 7 has rolled out some cool improvements and we're super excited! They've enhanced three big areas:
Color Calibration and Management – Making colors more accurate and vibrant!
Local Correction Tools – Helping you fix and tweak specific parts of your photos!
Black and White Management – Giving you more control over your grayscale photos!
Fun with Color in DxO PhotoLab 7
Color Calibration is just a fancy way of saying we make the colors on screens and cameras look as real as possible! It's like making sure the green of the trees in your photos looks the same when you show it on your computer or print it out.
When we take pictures, we all agree that we want the colors to look just right when we're fixing them up before showing them off. Some folks might already use a special color chart and tools to get the brightness and color just right.
And here's where DxO PhotoLab 7 comes in with its cool new color tool! It lets us make sure the colors are spot on without any hassle. It uses color charts from Calibrite and Datacolor—big names in color—to make sure what we see on the screen is just what we get in the final picture, making our photos look awesome and real!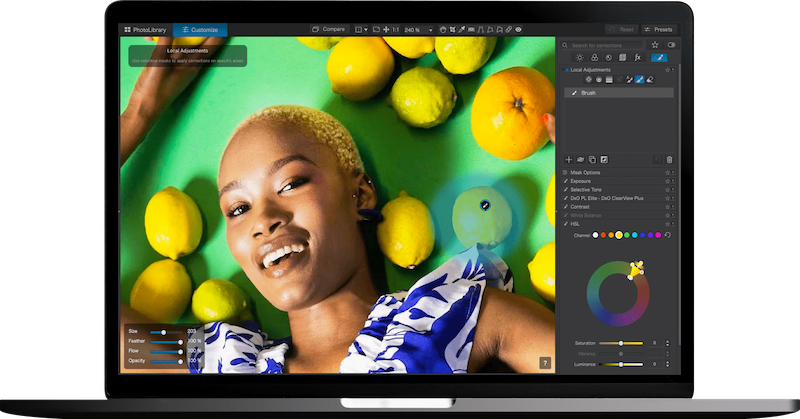 Movie-Style Colors with DxO PhotoLab 7
DxO PhotoLab 7 brings some cool movie tricks to photography! It introduces something called Look Up Tables (LUTs), with 17 starter presets by DxO. Think of LUTs as fun color filters that change the mood of your photo instantly, like adding a summer or retro vibe.
With LUTs in DxO PhotoLab 7, you can quickly try different styles and make your photos look amazing. It's like having a color conversion tool; it changes the original colors from your camera into the cool colors you want for your final photo! It's all about having fun with colors and creating photos that express your unique style!
Easy Photo Fixes with Local Correction Tools
DxO doesn't just help with color—it also has cool tools for fixing up your photos in other ways!
With the new stuff in version 7, we photographers can easily use a handy color wheel to change little details in our photos, like the color of someone's shirt. Making these small changes is super important when we edit photos to make them look just right. PhotoLab 7 makes this even simpler by putting all these tools in one easy-to-find place! This makes everything look neat and lets us see our photos better while we're working on them, giving us more control with the U Point™ tool.
Fun with Black-and-White Photos
PhotoLab 7 comes with new things that make turning photos black and white a breeze! There's a new button that lets us swap between color and black-and-white super easily and some cool new options to play around with. Plus, PhotoLab 7 has a special mixer that lets us control all sorts of shades in our black-and-white photos, letting us get creative and make our pictures look awesome!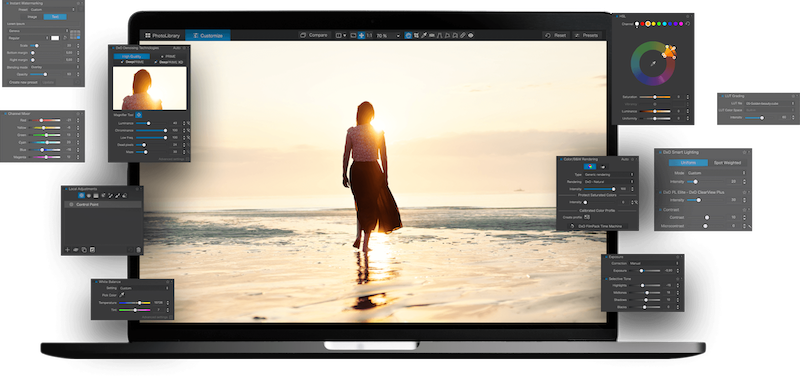 DxO PhotoLab offers very advanced adjustment features while being easier to get started with than Lightroom. In fact, all it takes is opening your RAW file in DxO, and the software automatically makes a series of relevant and precise corrections. These automatic touch-ups are user-friendly, applicable, and adjustable for photographers who wish to delve deeper. So, it's a mix of keeping things simple and giving you control, and that's what makes DxO fun!
The smart folks at DxO are like photo wizards, fixing the little imperfections that cameras and lenses can sometimes create. They make sure your pictures are sharp and the colors are spot-on!
And guess what? DxO has some tools that you can find in Lightroom too, but they put their magic touch on them!
DeepPRIME: for noise reduction.
Smart Lighting: for making sure every part of your picture gets the right amount of light.
Clearview Plus: for correcting clarity and removing haze from images.
U-PointTechnologies: a tool for local correction.
Whether you like things simple or you're all about the details, DxO has something for every photo lover!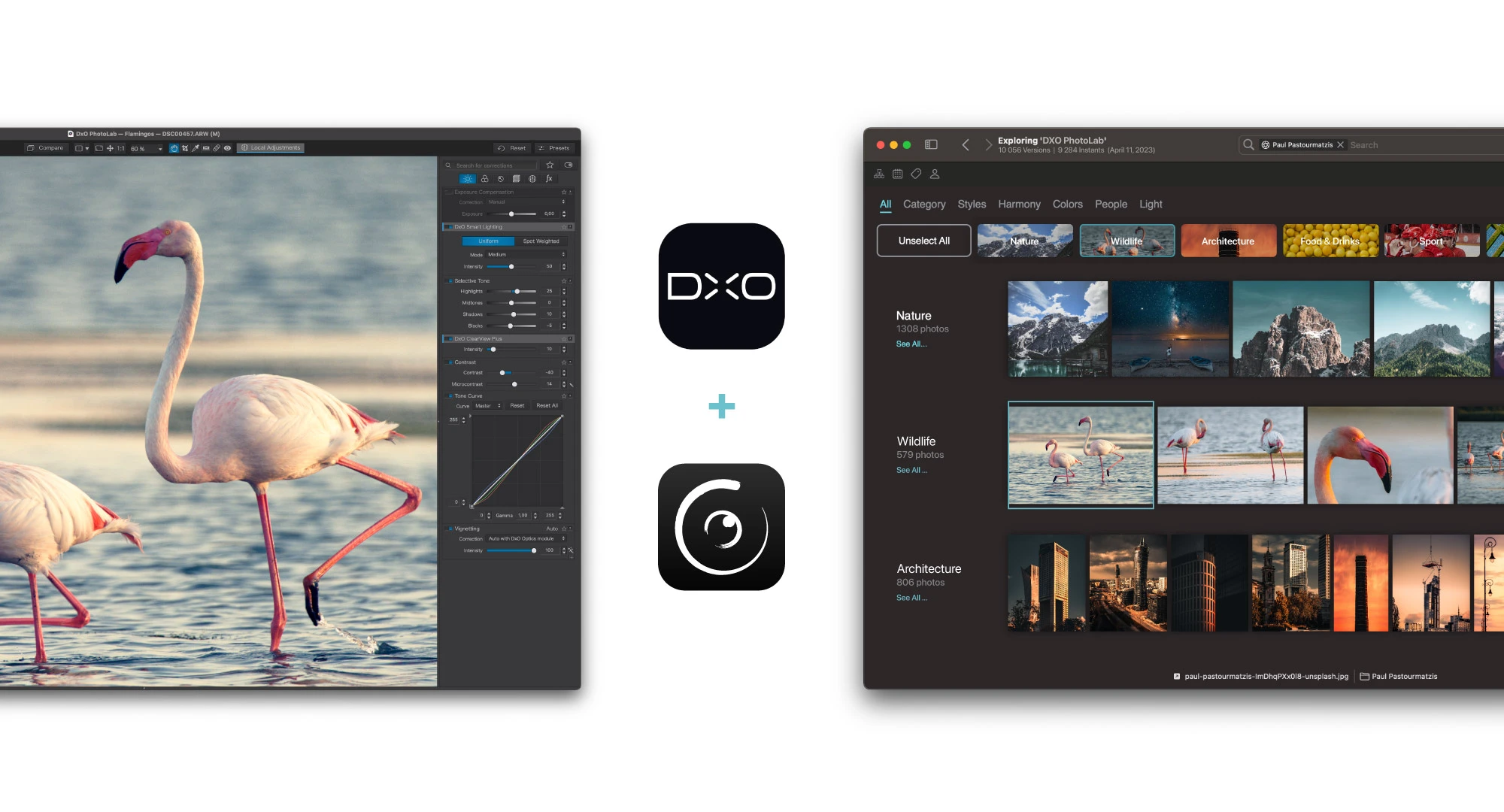 DxO is an awesome tool for editing photos, but if you love taking pictures, you'll probably want something to help you manage all your awesome creations. That's where Peakto steps in! It helps you find your pictures super easily, gives you a cool overall view of all your shots, and lets you group photos by theme without a hassle—sometimes it does it for you!
DxO and Peakto are like the dynamic duo of photo editing and organizing! Peakto isn't just a neat place to view and organize your photos; it's like DxO's buddy, making sure your editing journey is smooth and easy. They are always in sync! When you make edits in DxO, Peakto is right there, keeping track and putting the latest versions right next to the originals, so you can jump back into editing anytime without digging through files!
What's really cool is how Peakto's smart features make organizing photos a breeze, and its powerful search makes finding photos super easy! It adds to DxO PhotoLab's already amazing editing powers, making them a perfect pair for your creative journey.
Here's what makes them work so well together:
You get a special place in Peakto for all your DxO edits. Just drag and drop a photo in Peakto, and you can start using DxO's cool editing tools!
Peakto plays nice with photos from anywhere—Apple Photos, Lightroom, CaptureOne, you name it! Edit and update any photo, from any source, anytime, right inside DxO through Peakto.
No matter where your photos are—in catalogs or the work area—Peakto makes it easy to find and access all your DxO-edited photos with clear previews. Plus, the latest edits always show up first!
Jump between different apps like PhotoLab, Lightroom, Capture One Pro, and Apple Photos, and enjoy clear previews of all versions of a photo, all with one-click access to the editing app!
Finding photos is a breeze!
Easy Chat Search: With Peakto's AI, you can just describe a photo to find it— you can also mention people or places in it!
Look-alikes Search: Want to find photos like the one you have? Peakto can do that too, thanks to its smart content analysis.
Feature Search: Group your photos by things they have in common, like camera settings or themes like landscapes and portraits.
Making DxO even more fun.
Auto-sorting: Peakto's smarts sort your photos, so finding specific or forgotten ones is super quick!
Daily Art Picks: Every day, Peakto shows you a selection of your photos, helping you rediscover your snaps!
Tags Across Apps: You can add flags, favorites, colors, and keywords to any photo, no matter where it's stored or edited!
Creating and viewing albums your way!
Easy Album Making: Pick your favorite photos and make smart albums that update themselves based on what you like!
View It Your Way: Peakto lets you look at your photos in different ways—get all the details, see where they were taken on a map, or view them by category!
Peakto is already compatible with DxO PhotoLab 7!
So, wrapping things up, DxO PhotoLab 7 is really making waves with all its cool new features! It's got everything from improved color tricks to easy-to-use correction tools and awesome black and white effects, making photo editing a breeze.
Now, when it comes to keeping our amazing edits well-organized and easy to find, Peakto is our best buddy. It's super easy to use and its partnership with DxO PhotoLab is like a match made in heaven! With Peakto getting ready to team up with the newest version, DxO PhotoLab 7, we're all in for a treat! It means more fun editing, more creativity, and no more headaches looking for our favorite shots. It's all about capturing those shots, enjoying the editing process, and maintaining organization effortlessly!