We jumped into this new year with a lot of excitement :
Avalanche for Lightroom
, our first product, was released just before Xmas. A little more than a month later, we had already released several updates and are continuing to improve it (see below).Then the crisis unfolded…unexpected. We want hereby to let you know that we wish you to be safe and stay healthy during these troubled times. Despite the lockdown our roadmap has been very dense in the first months with the addition of support for
Luminar
and the big steps already in the development of Avalanche for CaptureOne.We have also had the pleasure to exchange with many of you about your needs and wishes when it comes to managing pictures in a variety of locations, or app catalogs.Thank you so much for your engagement, suggestions and kindness.It confirms our conviction that CYME's mission is to give you back all the control over your images makes a lot of sense and we feel very encouraged to deliver the product we have dreamed about.
New Avalanche for Lightroom v1.1.3 Drag and drop, more options, improve reliability…and more
The CYME team is proud to announce the  availability of Avalanche 1.1.3, an update to our photo migration software for macOS with machine learning capabilities.Avalanche for Lightroom is designed to convert catalogs of photographs from one application to Adobe Lightroom Classic while keeping the organisational structures intact, ensuring all metadata flows without losses and image adjustments are replicated with the best possible results. The update improves some key aspects of Avalanche and is recommended to all users:
A popular demand was to add drag and drop, so we did it.
We fixed some very sneaky problems when exporting complex hierarchies of folders, projects and albums,
We suppressed some duplicate or empty collections: these were largely remnants of published projects created by Aperture when publishing to Flickr for example.
We added some requested options, like the ability to export videos in the same folder hierarchy as images,
We added a new folder layout option called 'Project': it lets you export all images into folders organized by project name.
We improved some ergonomics. You'll find for example new buttons that let you access the migrated library or even launch it directly in Lightroom, right from the final screen of Avalanche.
We fixed countless bugs, large and small.
Imminent release of Avalanche for Luminar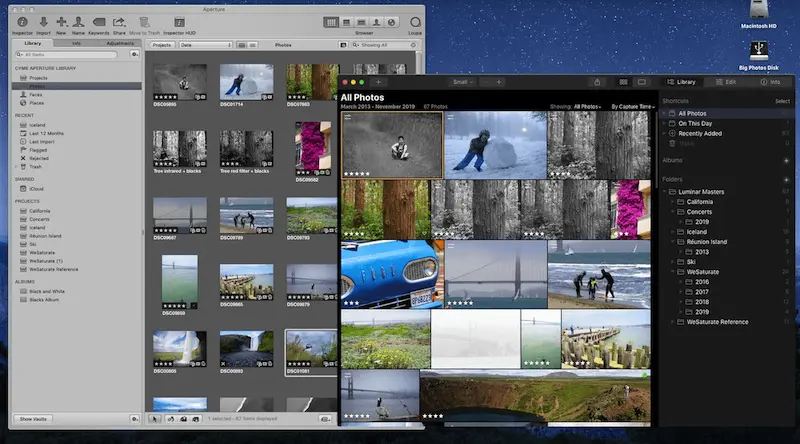 As many of you already know, we are actively working on Avalanche for Luminar. We have released our fourth beta already and are polishing up our last candidate release for this month. All catalog export capabilities are finished and tested. Machine Learning to migrate adjustments from either Aperture or Lightroom to
Luminar
has been trained and is giving incredible results. Avalanche for Luminar will initially support moving your existing Lightroom and Aperture libraries to Luminar 4. We will add support for moving Apple Photos libraries at some point later, as a free upgrade.Tip #1 for Luminar: the question we often had to answer regarding Luminar was: "How will it work in the future when Luminar starts to introduce new organization features such as IPTC annotation, keywords, etc… Will I have to migrate again…or worse, should I wait until Luminar 4 has those features?". We thought about it and came with a solution. When migrating to Luminar, we export all IPTC information about your images in a separate database, inside the Luminar Catalog folder. Skylum will then have the ability to cherry pick information about your images from this database to make it surface into your Luminar catalog as features get added to Luminar4.
News on Avalanche Unlimited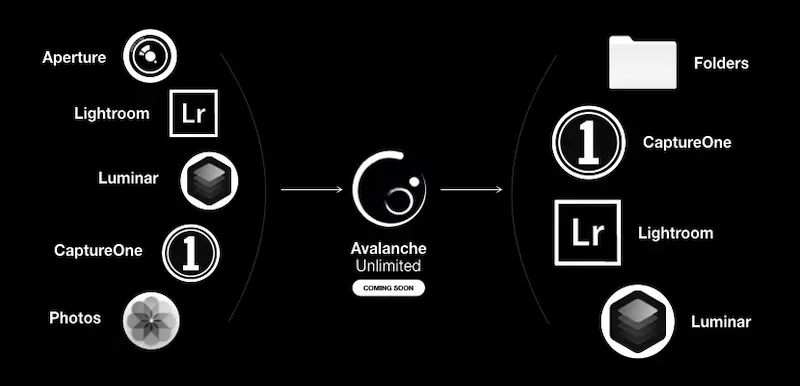 Some of you have preordered Avalanche Unlimited and we thought it might be important to give some news about it.Avalanche Unlimited gives you access to all the output catalog types that we support. It is the ultimate migration tool, the swiss-army knife of catalog conversions.The first version of Avalanche Unlimited will be released at the same time as Avalanche for Luminar and will let you convert libraries to Lightroom and
Luminar
. As soon as we will add a new output format (CaptureOne being the next in the list), we will add that support to Avalanche Unlimited.