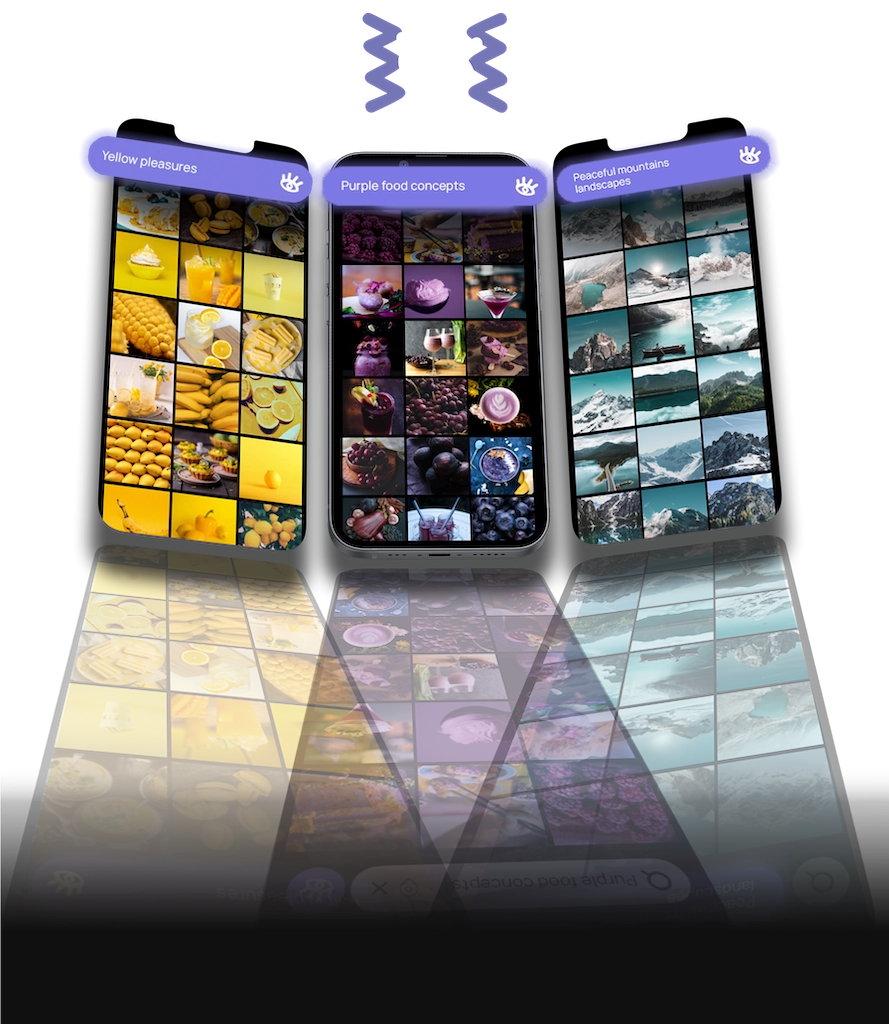 Be surprised by your own photos!
Shuffle through photos using playful photo themes, sparking photo memories in a delightful twist, with FindMySnap photo app for iPhone. Whether you're after a random photo or looking to create a collage with photos, this app has got you covered.

From Photo Albums Creation
to Deleting Photos on iPhone
FindMySnap is Here for You
Effortless Photo Deletion
Navigate your photo archives and weed out those uninteresting or failed shots, freeing up valuable storage space on your iPhone.
AI-Powered, Privacy-Centric
Your photos remain yours alone. FindMySnap is like having a personal archivist who knows your collection and works only for you.
Easily craft and share your standout images across Instagram, TikTok, Pinterest, Facebook, LinkedIn, YouTube, and more…
Designed for Apple Photos
FindMySnap is deeply integrated to Apple Photos and let you, from its interface, delete photos, create albums, and register favorites.
Save Your Perfect Photo Album
Turn your themed photo collections into stunning albums right within Apple Photos.
Whether it's English, Spanish, French, or more, just ask FindMySnap to help you out in your preferred language.
Available on iPhone & iPad
FindMySnap is an app especially designed for iOS that can be used both on iPhone and iPad.
Save and Cherish Your Photo Collage
Adore the set of images you rediscovered? The app auto-generates a photo collage, which you can save to favorites.
Frequently Asked Questions
What is FindMySnap?

FindMySnap is a mobile application for iPhone and iPad that allows you to find photos by describing them, explore your photos through fun themes, and share your photo selections on social networks.

FindMySnap connects to Apple Photos and uses image recognition to analyze the content of your images. FindMySnap respects your privacy: your photos stay on your iPhone, and image recognition is done locally.
Does the application share my photos?

FindMySnap respects your privacy: your photos stay on your iPhone. They are analyzed locally by FindMySnap. It's you, and only you, who decide whether you want to share your best findings or selections on social networks.
Can I find images using FindMySnap?

Yes, FindMySnap is capable of finding the images you describe to it. Enter the description of the photo you're looking for in the search bar, and FindMySnap will suggest the ones that best match. The more details you provide, the better chances FindMySnap has of finding the visual you're looking for.
What is the purpose of the purple "Surprise me" button in FindMySnap?

The "Surprise me" button suggests queries to categorize your photos. There are over 1000 original themes to organize your photos, such as "Sunset on the beach," "Adventure photos," or "Happy." By clicking on "Surprise me," a theme is randomly chosen, and your photos will be sorted according to that theme. It's a fun way to rediscover hidden images deep within your phone.
Can I create photo montages with FindMySnap?

Once you've searched for photos in FindMySnap, you can share your selection. Click on "Formats" to choose the photo grid template (square, rectangle) and the social network where you want to share your selection. Click on the image icon at the bottom left to edit your grid by removing one photo and replacing it with another. Press the share button to distribute your photo grid on your social networks.
Can I share on social networks with FindMySnap?

FindMySnap allows you to share a single photo or a themed photo grid on the social networks available on your iPhone. After making a query, click the share button to send your photo selection. You can edit it before sharing.
What are the benefits of subscribing to FindMySnap?

By subscribing to FindMySnap, the photo library connected to FindMySnap is no longer limited to 5000 images but can contain as many photos as you want. The search result is no longer limited to 9 photos but can display up to 250 images. You are no longer limited to 5 favorites but can save as many photo selections as you like.
Can I easily unsubscribe from FindMySnap?

You can unsubscribe from FindMySnap at any time by going to your Apple account. FindMySnap uses Apple Store standards, providing you with simple and transparent management of your subscription.