Most photographers are familiar with
Lightroom
, the editing software included in the Adobe suite. Even though some amateur and professional photographers prefer to use the editing features offered by
Luminar
and its artificial intelligence or even the functionalities of
Capture One
, Lightroom Classic remains one of the most-used softwares in the photography world.Many of us choose Lightroom to retouch our pictures and to catalog them.
But what are the best tools to organize your photos in Lightroom?
And what are the drawbacks of cataloging in Lightroom?
After introducing cataloging in Lightroom, we'll talk about a new photo management software that will take your cataloging to the next level. It will be an excellent companion to Lightroom and will allow you to have a totally new point of view on your pictures.We'll tell you more about it at the end of this article.
What is a Lightroom catalog?
Un catalogue est comme une base de données pour vos photos. Il est représenté sous la forme d'un fichier informatique et contient des images ainsi que des informations clés sur les photos que vous avez importées dans Lightroom.
Dans un catalogue, vous trouverez 3 catégories d'informations :
les métadonnées liées à la prise de vue de la photo et au fichier brut (EXIF).
les métadonnées ajoutées par vous, l'utilisateur (drapeaux, notes, annotations IPTC, mots-clés, visages).
les ajustements (retouches)
En plus des catalogues, il est également possible de créer des collections d'images (par exemple, la sélection des meilleures images que vous souhaitez imprimer/partager).
Ces collections peuvent être créées manuellement (glisser-déposer des images vers la collection) ou dynamiquement (définir la collection avec des règles – par exemple, les images ayant une note supérieure à 4 étoiles).
Nous verrons plus loin dans cet article comment utiliser ces outils de manière plus détaillée.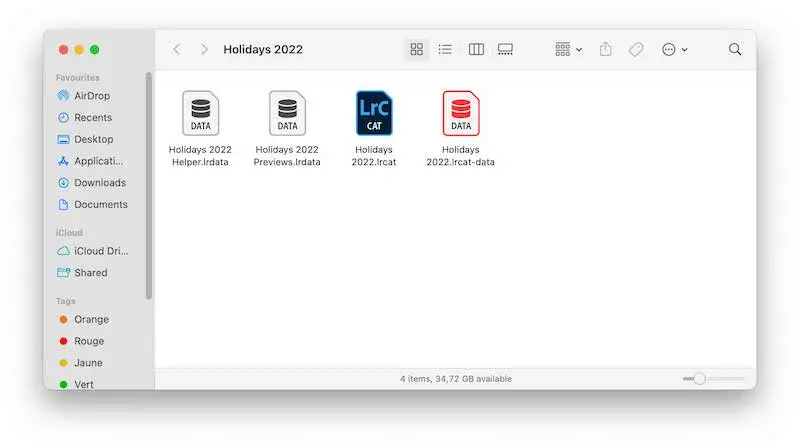 Whether an amateur or a professional, we accumulate thousands of images as photographers, not only for professional projects, but also more personal images such as family pictures, memories of a trip, a wedding, a trip with friends…
Cataloging photos allows us to classify and organize our images, which, in turn,allows us to find a specific image more easily.
To structure a catalog, we will first have to build a database by adding certain information to our images. A date, a theme, a project, a subject, a place…this is the type of classic information that usually appears in photographic catalogs.
The cataloging tools in Lightroom
In Lightroom, there are 2 families of tools for cataloging. The first family allows us to organize the structure of our catalog and the second to annotate our images.
These tools can be used in many different ways, depending on the user's preferences. There is no right or wrong way to catalog. The goal is to be able to use these cataloging tools according to your needs so that they best fit your workflow.
Image identification gathers all the elements that allow you to annotate a photo. These annotations will complete the existing information about the picture and will not change the original file.
There are 3 flags, also called markers, which indicate whether your photo is retained (white flag), rejected (flag with a cross) or neutral. Once your pictures are marked, you can apply a filter to work only on the retained pictures, for example. It is possible to use this tool to save time when sorting the pictures and then define, according to your criteria, the pictures you want to retouch and those to be deleted or just not retouched.
The stars allow you to rate your images on a scale of 0 to 5. Generally, this rating is attributed to the beauty of your photo. If you find it perfect in its composition, its quality, its colors or its subject, you will give it 5 stars.
On the contrary, if you don't like the photo but you wish to keep it for X reason, you will give it only 1 star. This allows you to filter your images according to their rating.
In Lightroom, you have a choice of 5 color labels: red, yellow, blue, green and purple. These labels can be used to group images and can be used independently or can be associated with the star ratings. For example, you can associate a yellow label with all your animal photos, green with all your portrait photos or blue to your images with 5 stars.
Additionally, you use additional color labels if you need to annotate more groups of images.
The keyword system is an option not to be neglected if you want to cross-reference information about your photos. In addition to color labels and stars, it is possible to add keywords to each photo. This allows you to identify a photo more precisely in the catalog. Ideally, you can use general keywords such as landscape, sunset, family, or wildlife and combine them with more precise keywords like rainbow, boat, volcano, bird, the name of the place or the person photographed, etc… You are free to use them in the best way according to the method that best suits your organization.
The file name is also an element that you can use during your organization because it allows you to add information to your image. This will likely only be a consideration for the perfectionists among you. A piece of advice we would give to the brave would be to keep the name of the original file and add the date or a personalized word before it, for example. It is possible to rename the file or personalize it in a different way, but the most important thing is to make sure that each file name remains unique.
Organization of the structure
The organization of the structure is done by putting together groups of photos, called collections in Lightroom, notably thanks to the annotations set up previously. This structure is designed like folders and subfolders on a disk, but unlike folders and subfolders, it is possible to make the collections dynamic. This will be discussed further below.
A collection is like a virtual folder present only in your Lightroom catalog. In it, you can manually place the images you want to group together. It will not change the structure on your hard drive at any time. It is possible to add this folder to a set of collections, which then becomes your main virtual folder (of which the collection is a sub-folder).
A dynamic collection is also a virtual folder, but it will add photos automatically according to the criteria you set up when creating it. As with regular collections, dynamic collections will not change the organization of your disk: for example, you could choose the photos with the keyword animal that have a 5 star rating, and the images will automatically be added to your collection. This smart collection will automatically update itself if new photos are added to your catalog.
The folder tab in your Lightroom catalog will reflect the structure identified by Lightroom in your hard drive when you import your photos. To obtain a correctly identifiable structure, make sure to organize it beforehand on your disk. Having all your photos in a single structured folder on your disk will make it easier to create backups of your photos.
The most used organizational structures for folders
To have a clean structure in Lightroom and to be able to easily make backups of your photos, it is important that your folders and subfolders on your disk are well organized. Importing your photos to your hard drive before you import them into Lightroom will allow Lightroom to reflect your structure when it imports. Ideally, as we have mentioned above, you should have all your photos in one folder made up of structured subfolders.
For example: 
HardDisk1/Photos/2021/ThomasWeddingPhotos
HardDisk1/Photos/2008/SafariKenya
There are many ways to classify your photos; it is up to you to find the one that best suits your needs. Here are some examples of classification:
By year, by project, by photographic style, by trip, by theme…
These examples can also be combined together. As long as your structure is ergonomic and adapted to your workflow, anything is possible.
Is multi-cataloging a good practice?
Most photographers use a single catalog in order to have all their photos gathered in the same place because Lightroom does not allow searching between catalogs. Others prefer to separate their professional and personal photos. Some photographers prefer to use one catalog per project to avoid slowing down their Lightroom software when working with it. 
I personally use a catalog on an external disk to facilitate backups and to be able to drag all the photos that make up the catalog. I am one of those who have several catalogs.
The problem with Lightroom is that I cannot search in several catalogs at the same time, and having all my photos in a single catalog can slow down the software: the navigation across the photos becomes more difficult. Fortunately, there is now a way to solve this problem and allow the creation of multiple catalogs: Peakto.
Peakto: The grail for better cataloging your photos?
Classifying, annotating and organizing all your photos are time-consuming steps. In general, these tasks are not very enjoyable, but they become so with
Peakto
thanks to its many innovative features that will make your life easier…
You don't have time to classify or tag your images? With the Artificial Intelligence-assisted annotation feature, Peakto allows you to classify your photos automatically. Working with image recognition, this solution is ideal for those who don't have time to annotate their photos.
Thanks to its artificial intelligence, Peakto will do the work for you. And for those of you who already have well-organized catalogs, this feature will allow you to complete work done before introducing Peakto or to perform advanced searches and displays by camera, lens, shutter speed, theme, colorimetry, and many other ways…
A breathtaking browsing experience
Finding your photos when you're looking for them is great. Having discovery and exploration tools for all the ones you forgot about is even better.
Peakto includes a new display feature: Panorama. Panorama will give you access to a variety of completely innovative viewpoints on your images: by photographic theme, by color harmony, by the number of people present, by their aesthetic qualities or their flaws… Here again, it's the artificial intelligence that sorts out the photos for you. Panorama's highly optimized navigation makes sorting through massive numbers of photos a breeze.
Your classification work is totally preserved
As we have shown, Peakto can help you organize your images, but that doesn't mean you shouldn't organize them in Lightroom. Rather,
Peakto
should be seen as a companion to your editing software: your structural work as well as all the annotations applied to each of your photos will be perfectly preserved and reflected in Peakto.
Use Lightroom catalogs as you wish
In this article, we have seen that Lightroom does not give users the ability to browse through multiple catalogs. Thanks to
Peakto
, you will now have the choice to use one or more catalogs, depending on the way you like to work. No more slowdowns from trying to sort through catalogs too large for your software to handle! No more need to pile your images into a single catalog. Peakto allows you to browse multiple catalogs quickly and easily, with no huge strain on your computer's operating system.
Take advantage of the best features of each software
Peakto is the innovative cataloging software that allows you to gather all your photos in one single interface. You can easily view all your photos that are in Lightroom catalogs, but that's not all…
Thanks to its high compatibility with many softwares such as Lightroom,
Luminar
, Capture One, Aperture, iViewMedia, Apple Photos, Google Photos, and even with your files on your disk, you can finally use the editing software that suits you best.Gathering all your catalogs in Peakto will not interfere with any of the work you have done previously. In fact, Peakto will only read and collect the information and present it to you in a single interface, without modifying anything.
All your retouching under one roof
Finally, Peakto offers another innovation: the Instants feature. Activating the Instants view will allow you to see all the retouched versions of the same image, regardless of the editing software used to make them, by grouping them in a single view. For example, if you have changed the sky of one of your photos in
Luminar
and you have also edited it in Lightroom in black and white, you can find them in the same view thanks to Instants. You will get a global view on each of your moments, and you will also be able to easily spot duplications.
No more constraints with your images
Some of you may want to be able to gather photos regardless of the catalog or software they are in. As we have seen with Lightroom, editing software does not offer this useful feature. By using Peakto, you will be able to assemble all your photos, without creating copies. Peakto can create smart albums that bring together images that are not in the same catalog. You can then export them to a folder to share with your clients, friends, or family. Or you can print your multi-catalog selection–whatever you choose to do, it's all done in a snap!
Always in sync with your organization
No matter what you modify in your Lightroom catalog or in the software you use, Peakto synchronizes with all the changes you make without any effort on your part. You can continue to use your Lightroom catalogs as you did before, and Peakto will update itself. Moreover, when browsing, you can launch any photo in the source catalog that hosts it to edit it, directly from Peakto.
Enjoy your photos–even offline
Just like in a Lightroom catalog, you will have to import your images into Peakto. But once the process is done, you will be able to view your images in the interface without having to connect your source disk.
Finding your way through your photos
With the massive number of images we take and the many softwares we use to edit them, it is not easy to find your way around. By being organized, you can use Lightroom's cataloging options. To go further and manage large collections of photos, it is better to use a companion tool like Peakto. It offers a centralized search, an elegant view of all the photos and an automatic classification thanks to artificial intelligence that allows you to organize without annotations.
A welcome help in our search for elusive or long-lost photo files, you will find that Peakto makes your life as a photographer easier, simpler, and far less stressful!