Avalanche for Lightroom 1.2 and Avalanche for Luminar/Unlimited 1.1 introduce the migration of previews
Let Avalanche help you transfer your managed photos from one application to another without losing any data, while preserving all your edits. To help you better find your photos from one catalog to another, Avalanche now also manages previews.
Lightroom and Aperture, both maintain previews of your images in their catalog. Those previews are JPEG files that are constructed on the fly as you edit your images or navigate through your catalogs. Both Aperture and Lightroom use the previews to display images on screen and they maintain various sizes of those previews. Aperture usually maintains full-size previews while Lightroom does not have, by default, full-size previews, but maintains a pyramid of smaller sized previews. In Lightroom, you can ask for the creation of 1:1 sized previews for all images, or for selected images using inbuilt commands accessible from the menus.
Migrating those previews is a great way to also bring along an accurate representation of your most complex edits, something that Avalanche cannot do: local edits, complex adjustments are not migrated by Avalanche. Avalanche offers various options to select in which circumstances those previews, if they can be found, will be migrated. You can for example set a minimum image quality, or decide that previews should only be taken into consideration for images that fall in the 'lossy conversion' category.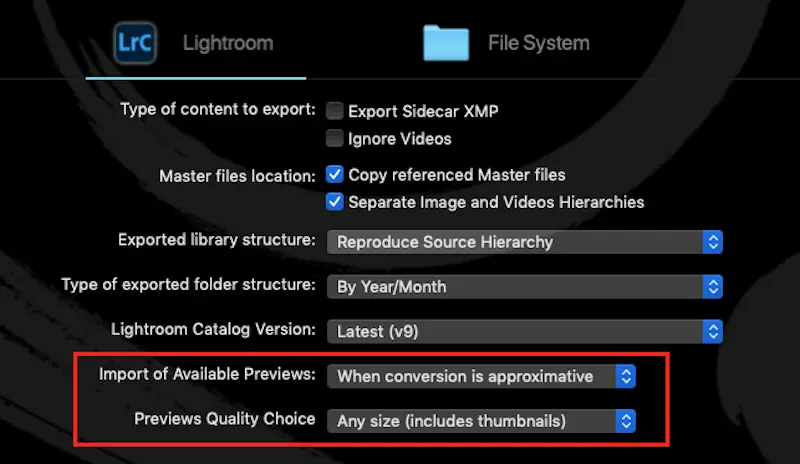 Migrated previews will appear in a dedicated collection in Lightroom.
In
Luminar
, Previews can be easily accessed from a dedicated reference folder that is added in the folder navigator.