Organizing your photos is not an easy task. Where do you start? What is the best way to proceed? Often, we wait until we need to find those photos for a birthday album, website or book before we realize that our photos are disorderly and difficult to locate. Rather than wait till the last minute, only to find ourselves frustrated and annoyed, we could be proactive and follow the advice of experienced photographers.
For example, we can follow the recommendations of Derrick Story, who has been writing about digital photography for 20 years. He recommends using a photo organizer like Peakto, which automatically classifies images and is compatible with many photo editing software.
You can also follow the operational advice of Lightroom specialists such as Victoria Bampton and Peter Krogh. What are the main rules to follow, according to them, to organize your photos? What are the articles they wrote and that we recommend to go further? Here is a short summary of the best practices for photo organization.
Victoria Bampton's method to organize photos with Lightroom
Most photographers are using Lightroom for photo organization, which can be tricky for cataloging. Victoria Bampton has mastered photo management with Lightroom on her website Lightroomqueen.com.
Victoria Bampton recommends creating photo albums to be organized following this method:
Create a folder structure.
Use collections.
Utilize metadata such as keywords and star ratings to help sort and categorize your photos within your albums.
Build a workflow: Victoria Bampton emphasizes the importance of building a consistent workflow for organizing your albums to ensure that your photos are consistently sorted and categorized.
She shares many tips on her site, and her forum is active if you have any questions. But while Lightroom is a great tool for photos, it also has some limitations. Lightroom can become slow and laggy when working with large photo libraries, especially on older computers. And Lightroom's interface can be complex and intimidating, especially for new users, making it difficult to navigate and use all of its features effectively.
To overcome the limitations of Lightroom and display large volumes of photos in the same interface, it is possible to use a cataloger compatible with Lightroom. Peakto allows you to display previews of all the images present in Lightroom, no matter if they are in different collections or files. The cataloger will allow a centralized search through all the photos and an enjoyable and fluid visualization to quickly find the file you are looking for. It also automatically assigns keywords to photos based on the content of the images, to save photographers time.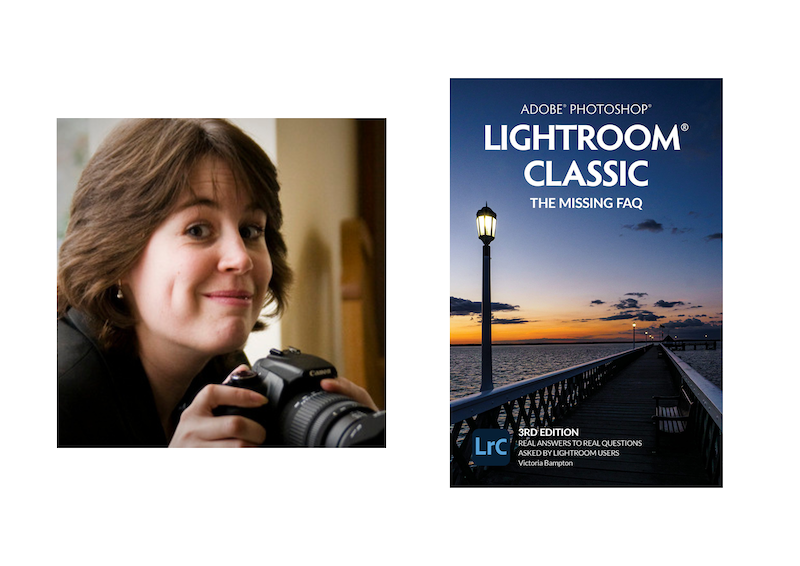 Tips from Peter Krogh, author of The DAM Book, for managing your photos
Peter Krogh is a specialist in digital document management, and has just completed version 3.0 of his book, The DAM Book.
In his book, Peter Krogh asserts that if you want to be effective as a photographer and be able to quickly create books, a website or a portfolio, you need to
organize your digital assets,
properly manage your metadata,
establish a backup and recovery strategy, and
manage versions of your edited photos.
Peter Krogh has, for example, come up with the 3-2-1 rule for good photo backup. This is a simple rule to ensure you do not lose any photos or media: ​​
Keep at least 3 copies of your photos.
Back up photos on 2 different types of storage.
Store at least 1 copy of each photo offsite.
He recommends using a combination of three methods to organize photos: folders, keywords, and collections.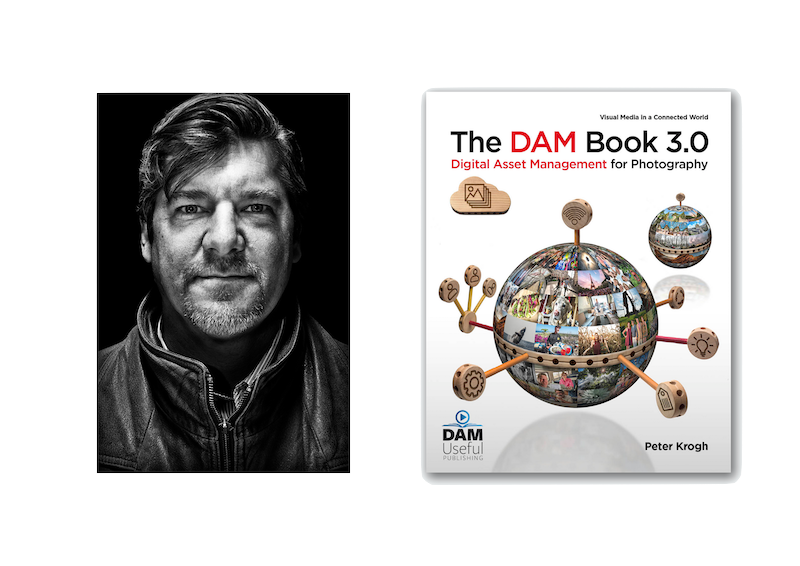 Folders: the basic photo organization
Folders are the most basic way to organize photos, with each photo being stored in a folder that corresponds to a specific event, date, or subject. However, this method can become unwieldy as the number of photos grows, and it can be difficult to find specific photos without searching through multiple folders.
Keywords: the scalable method to organize photos
Keywords involve adding descriptive tags to each photo, which allows them to be searched and sorted in a more flexible way. This method is more scalable than folders, and it allows for more nuanced categorization of photos. However, it can be time-consuming to add keywords to each photo, and it requires consistent and thoughtful tagging to be effective.
Collections: the selection that follows a specific criteria
Collections are essentially virtual albums that allow users to group photos together based on specific criteria. This method is useful for creating themed sets of photos or for gathering together a selection of favorites. However, collections can become cluttered and disorganized if not managed properly.
Managing your photos requires rigor and method, which is why having a good tool that automates some of the tasks is very valuable. A photo organizer powered by AI, like Peakto, can be a good tool to leverage your organization.
How can a meta-cataloger help organize your photos?
As we have seen, it is possible to organize your photos with words, by structuring your folders, or by using the functions of your photo editing software. Photographers often use Lightroom. But how do you want to manage the photos you keep in folders–the ones you edit or those on your iPhone for example? And what do you do when you use other photo editing software like Capture One or Luminar that do not have cataloging functions? The solution, when you are on a Mac, is to use a meta-cataloger like Peakto, which is compatible with these different software.
Peakto is compatible with all the different folders a photographer might use, whether they are on their computer or a hard disk. Peakto is also compatible with many photo editing software: Lightroom, Capture One, Luminar, and even older apps such as Aperture and iView Media. Peakto can also be linked to Instagram and Lightroom Cloud accounts. The result: as a photographer, you can see all your images in one place and enjoy centralized search.
There is no longer a need to work in silos, going to search for this image in that folder. Thanks to a meta-cataloger like Peakto, you can enjoy looking through previews of all your photos without the frustration of having to search all over the place to find them. Peakto allows you to create selections easily and enjoyably.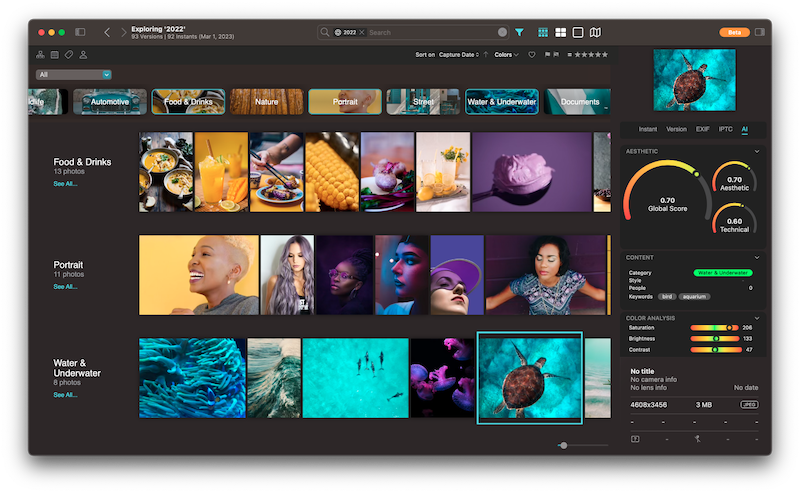 How can Artificial Intelligence help organize your photos?
Organizing your photos requires time and rigor. Artificial intelligence, with its ability to recognize specific content within images, can be a great help in finding and classifying your images. Peakto's designers have transformed this ability into one of the greatest advantages a photo manager like Peakto can offer: it has an artificial intelligence that automatically classifies photos.
How to further improve your photo organization and make it compatible with different software
Organizing your photos requires time and rigor. Artificial intelligence, with its ability to recognize specific content within images, can be a great help in finding and classifying your images. Peakto's designers have transformed this ability into one of the greatest advantages a photo manager like Peakto can offer: it has an artificial intelligence that automatically classifies photos.
Peakto analyzes the content of photos and automatically assigns keywords to them. For example, it will identify the presence of a bird in a given image and assign the keyword "bird" to it. Thanks to these automatic keywords, the photographer can find images among thousands. With Peakto, he can use either the keywords he has entered himself, or those assigned automatically by the software.
In addition to the keywords describing the content of an image, Peakto classifies photos under categories. Its Panorama view allows you to sort your photos by large themes and offers an orderly view even on thousands of photos. Another advantage of this meta-cataloger is that it does not modify the photographer's original classification. It uses previews of the photos and offers a new view without modifying anything.
Even better, Peakto not only classifies pictures according to their content, It also classifies images according to color harmony or the way they were taken (aerial, macro).
Multi-source photo selection
A meta-cataloger like Peakto allows photographers to easily select the photos they need for a book, a website, a client or friends. It is possible to create albums in Peakto that group images from different sources: different photo editing software, different folders and different Instagram accounts.
These albums can even be populated automatically by assigning rules to them. For example, automatically select all portraits taken in a given year. Or all photos of birds.
Once the album has been created, Peakto allows you to export it by fetching the High Definition versions (when possible). Peakto allows you to export this batch of images by associating metadata–an amazing help when working with large batches of photos.
Conclusion: what should you keep in mind when you want to organize your photos well?
Whichever solution you choose, keep in mind these 3 simple rules that will come in handy whether you use a photo organizer or super-organizer, or not:
Develop a clear and consistent naming convention for your photos.
Use tags to help find specific categories of images.
Use folders and subfolders to organize your images by date or style.
After all, you don't need photo organizing software to be a great photographer. But it can certainly make being a great photographer a lot easier!