Do you need a photo organizer? To find out, it's simple. Are you familiar with any of the following situations? Struggling to remember which folder a photo is in…scrolling endlessly through files in search of THE right picture…losing the pleasure of aimlessly flipping through your photos to find hidden memories and treasures…. Not to mention the photos that are impossible to read because they are lost in old software. Or the ones that don't have a backup…or all those duplicates.
If you are in one of these situations, you are ready to better organize your photos and adopt a photo organizer!
Rest assured, you are not alone in this situation. With digital technology, we are taking more and more pictures. And not only with cameras: the iPhone adds hundreds–or even thousands–of additional shots to our storage files. We quickly find ourselves with images scattered everywhere, not necessarily saved or in multiple copies. Especially when you are an enlightened amateur photographer with more than 30k photos on the counter–or a professional with even more.
Photographers can technically do without a photo organizer, but it would likely make their workflow more difficult and time-consuming. A photo organizer can help photographers organize, sort, and manage their large collections of photos, making it easier to find and edit specific images. It can also help with tasks such as tagging, captioning, and metadata management.
Photo organization is one of the best tools for photographers to have the best workflow possible. And with software like Peakto, some of these tasks can be done automatically. Without a photo organizer, photographers would need to rely on manual methods of organization, which can be tedious and error-prone.
When should I consider using a photo organizer?
You may want to consider using a photo organizer when you start to accumulate a large number of photos and you find it difficult to keep them organized, sorted, and easily accessible. It could be really useful when you need to create a book, make a website, or share your photos on social networks. Photo organizers can help you organize your photos by date, location, event, or other criteria, making it easier to find specific images and create selections.
Some photo organizers also include features such as tagging, captioning, and metadata management, which can be helpful for professional photographers or those who want to keep detailed records of their photos.
Another time when you may want to consider using a photo organizer is when you need to share or collaborate on photos with others. Many photo organizers have built-in sharing and collaboration tools, making it easy to share photos with clients, team members, and friends and family.
Finally, if you have a backup strategy in place, a photo organizer can also help you keep track of your backups and ensure that your photos are safe and secure.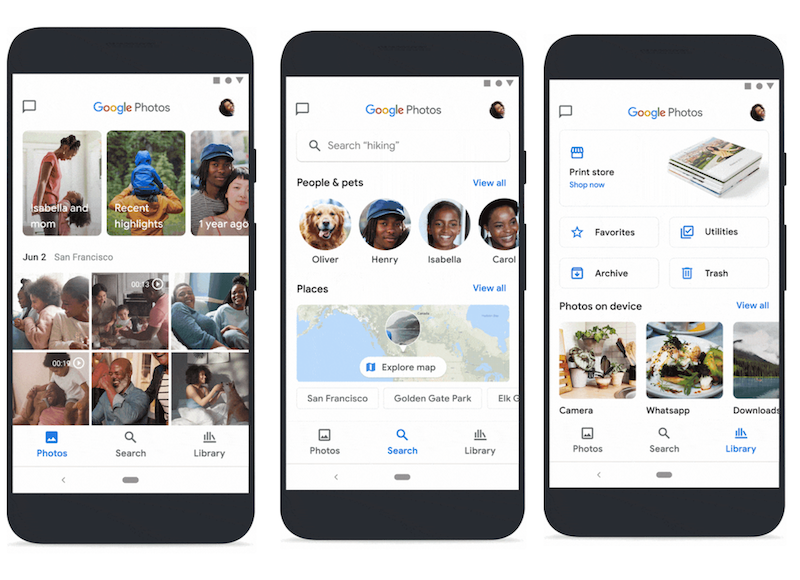 What key features does a photo organizer offer?
A photo organizer typically offers a variety of features to help users organize, view, and edit their digital photos. Some common features include:
Organization: The ability to sort and organize photos into folders, albums, and other collections, as well as the ability to tag, keyword, and classify photos based on various criteria.
Viewing: A variety of tools for viewing photos, such as slide shows, full-screen viewing, and the ability to zoom in and out.
Tagging and Searching: The ability to add keywords, tags, captions, and other metadata to photos, making it easy to find and sort them by topic, person, location, and more.
Cataloging: The creation of catalogs, which are collections of photos that can be searched and edited.
Sharing: Sharing your photos with others, such as uploading them to online photo sharing sites or creating web galleries.
RAW image support: RAW image files allow users to edit the image with its original data, preserving the highest quality.
Facial recognition and Geotagging: Some photo organizers include advanced features such as facial recognition and geotagging, which allow users to sort and search their photos based on the location or people in them.
Import and export: Photo organizers allow users to import photos from different sources, such as cameras, smartphones, and hard drives, and also to export them to different formats.
Editing: Photo organizers can provide basic editing tools such as cropping, rotating, and adjusting brightness and contrast. Many also offer advanced editing features such as red-eye removal, color correction, and noise reduction.
Backup: Some photo organizers provide the ability to back up photos to an external hard drive, cloud storage service, or other location to protect them from loss or damage.
This is not an exhaustive list; depending on the software, there may be more or less features offered.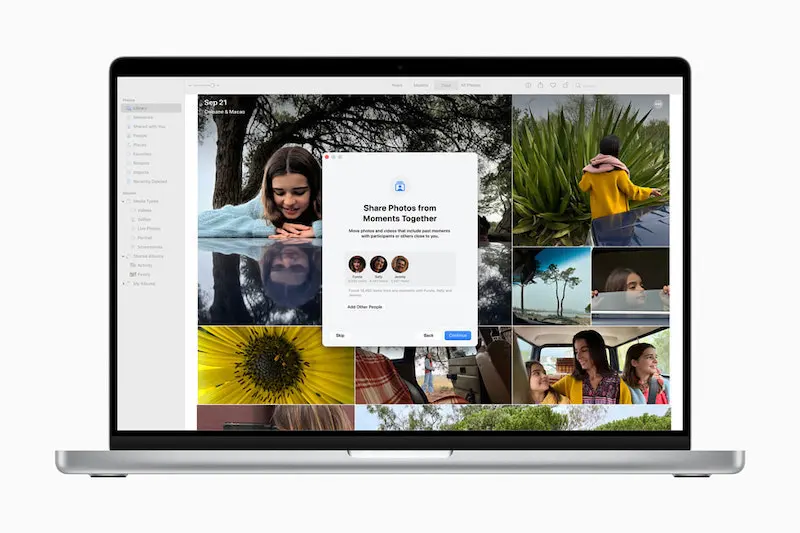 What are the photo organizers available on Mac?
There are several photo organizers available on the market that are compatible with Mac computers. Some popular options include:
Apple Photos: This is a built-in photo organizer that comes with all Mac computers. It offers basic organization and editing tools, as well as the ability to store your photos in iCloud and access them from all your devices.
Adobe Lightroom: This is a professional-grade photo organizer and editing software that offers advanced features such as non-destructive editing, RAW image support, and a wide range of editing tools.
Google Photos: This is a cloud-based photo organizer that allows you to store, organize, and share your photos. It also includes advanced features such as facial recognition and automatic image enhancement.
ACDSee Photo Studio: This is a professional-grade photo organizer and editing software that offers a wide range of tools for organizing, editing, and sharing your photos.
Peakto: This is an AI-powered photo organizer that gathers all of a photographer's photos in a single interface, thanks to its compatibility with many photo editing software, with folders and with Instagram accounts. Peakto automatically categorizes and attributes keywords to photos thanks to AI. It also provides tools to explore, find, organize, select and export photos.
Capture One: This is a professional photo editing software that can also be used to organize photos. It includes features to import photos, create catalogs, add keywords and ratings, create albums, use collections and smart albums, and search for photos.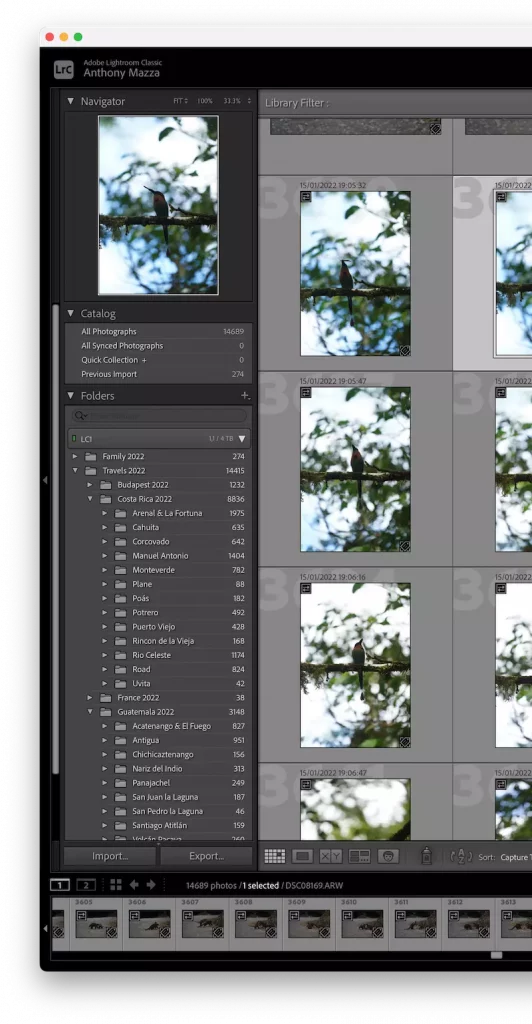 What are the limitations of some photo organizers?
While photo organizers can do a lot of things, the photo organizers we have mentioned can have their limits. As an amateur or professional photographer, you may feel the need to go further than these already known software.
You may end up with several photo organizers. For example, on a Mac, you will have images in Apple Photos and others in different software, including your photo editing software like Lightroom or Capture One.
You want to take advantage of the most advanced features by using software dedicated to each of these functions: editing your photos, organizing them, and saving them. Keeping an eye on all your images is then complex.
If you are using multiple photo editing applications, for example, Luminar in addition to Lightroom, or if you have changed software and your photos are spread out in different formats, you will have difficulty collecting your photos in one place.
You need a more powerful and efficient backup solution than those offered in the Cloud. Or if you don't want to put your images in the hands of GAFA, you'll look for a photo organizer that is compatible with your home organization, around a NAS or hard drives.
It's hard to have a precise hierarchy of your photo catalogs and smooth navigation through all your photos at the same time. For example, Adobe Lightroom does not allow you to navigate through several catalogs at the same time, while Apple Photos and Google Photos do not offer very advanced features for managing RAW or complex catalog structures.
You'd like to take advantage of more functionality, including getting help from artificial intelligence to automatically categorize and annotate your images.
That's why you may want to consider using a meta-cataloger that is compatible with many photo editing applications and offers automatic labeling of your photos, like Peakto.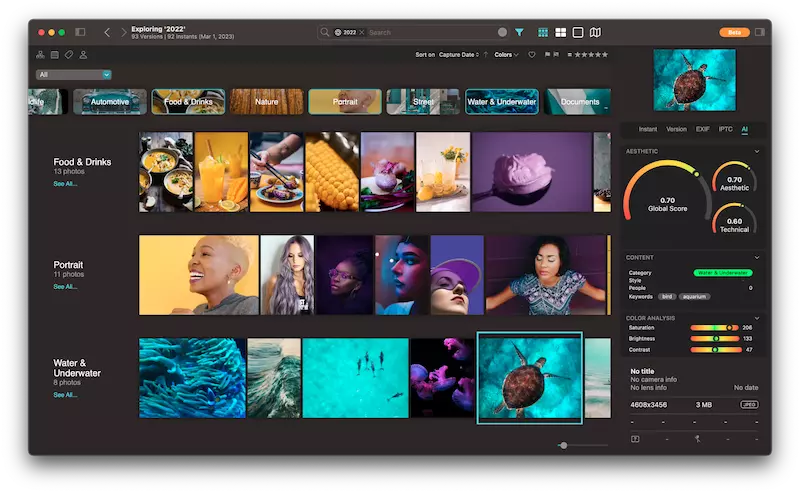 How to further improve your image organization and make it compatible with different software
To go further in organizing your photos and still be able to keep the photo editing software that you like, you can turn to a
meta-cataloger boosted with AI like Peakto
.With this companion software, amateur and professional photographers can:
Keep the structure of their existing photo collections, which may be spread across multiple software (Apple Photos, Lightroom, Luminar…) and keep a global view and centralized search on their entire photo collection. Peakto will connect to the different catalogs, allowing a nice view and search in all the photos, without creating copies.
Take advantage of each software for what it does best: save your photos in such and such a cloud, edit them with such and such a software, organize them in Apple photos and keep an eye on the whole thanks to Peakto.
Use several photo editing software (Lightroom, Capture One, Luminar, Pixelmator…) whose formats are not compatible, and be able to access all of them from the Peakto interface by accessing the latest update of each image.
Be able to browse, sort, and create photo albums while keeping your photos on a NAS or on hard drives, without using cloud software.
Enjoy smooth navigation and multiple views on your photos. Peakto allows you to view your photos in a grid, in detail, on a map, according to the different versions of the same image that have been reworked, or even thanks to an automatic classification by category operated by its artificial intelligence.
Benefit from the help of Peakto's artificial intelligence, which is able to sort photos by category (without modifying the structure of the original folder). Thus, you can choose to see all your landscapes, your food or architecture photos, your portraits, your animals…. Peakto also assigns an aesthetic rating to the images to display the best ones and allows you to easily find photos with a blur or a veil.
Conclusion: Photo organizers are for organized photographers AND messy maestros.
All photographers can benefit from a photo organizer, especially if it comes with AI features like Peakto.
Organized photographers can take their organization to the next level by gathering photos from anywhere in a dedicated interface. Exploring visual libraries helps them to find hidden treasures and create multi-source albums. While keeping their organization.
Messy maestros will enjoy having their images annotated and sorted automatically, with the ability to add their own keyword when needed. Without creating copies, Peakto allows them to navigate smoothly through previews and to create albums from different sources.
A photo organizer is truly a key element to getting the most out of your images.