Photography equipment is like the toolbox of a do-it-yourselfer: depending on the level and the objectives, the content will vary from one person to another. The best tools for the professional photographer are not the same as for the amateur photographer. In the same way, studio photography will require different accessories from outdoor photography. There are also specific types of photography that require specific products and equipment (astronomical photography of the stars or the sun, underwater photography, artistic photography, etc.).
Let's take a look at what constitutes the essential equipment that a photographer seeking a defined level of quality should have. To this end, we will start by examining the camera itself. Then, we will be able to discuss the accessories inherent or close to the camera. Finally, a non-comprehensive overview of complementary accessories will allow us to discuss the various possible optimizations.
Materially speaking, all you need to know to start out in photography can be restricted to the choice of camera. As in other areas, there are different levels of quality depending on the expected requirements. You have to ask yourself the right questions in order to choose the right camera to meet your objectives while staying within your budget. It is therefore up to each person to know how to define their expectations in order to better define their needs and therefore make the right choice.
What camera quality according to what requirements?
An SLR camera (mirror system viewfinder and interchangeable lens) is more for a professional photographer or a passionate amateur.
Hybrid devices (which keep the lens interchangeable) are more compact and more affordable.
A "bridge" camera (digital viewfinder and non-interchangeable lens) can be of good quality, but is less versatile and may be suitable for a more experienced photographer.
Compact or ultra-compact digital cameras (such as some smartphones) can be suitable for a beginner curious to confirm their taste for photography.
Film cameras are a non-digital technology and are intended for demanding enthusiasts or professionals with specific quality criteria. But you still need to know how to develop your own photos.
The budget for a camera can vary from several hundred to several thousand euros depending on the range stated above. So, before investing, you need to be able to answer these few questions that will help guide your final choice.
What are the buyer's specific expectations (professional photos, passionate amateur photos, simple travel photos, desire for video, etc.)?
What kind of budget do you have for camera purchases?
Once these basic answers are provided, a choice can be made with greater peace of mind.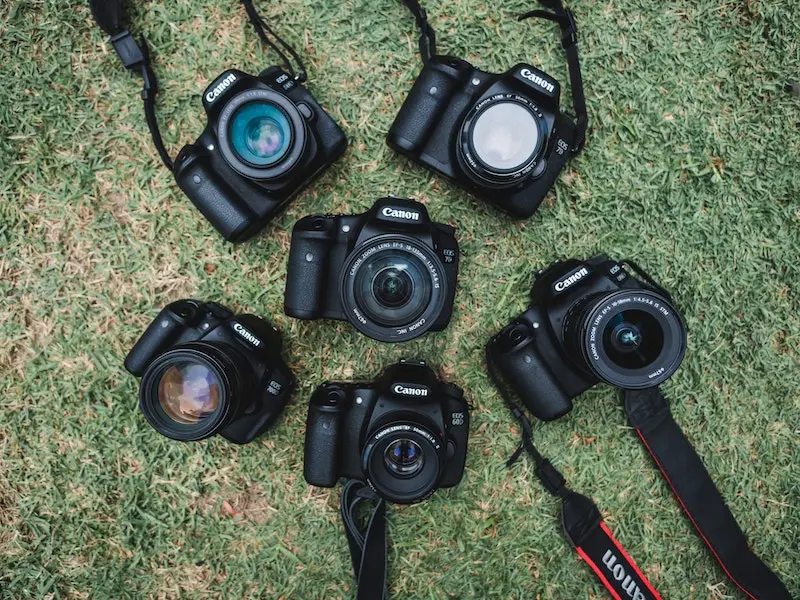 The camera's intrinsic equipment
Once the camera has been chosen according to the quality criteria already seen, there are still options that can expand its field of use. Obviously, this remains particularly true for high-end devices that can accommodate interchangeable lenses (reflex or hybrid).
But from then on, new questions are added in order to perfect the quality of the camera.
Indeed, the interchangeable lens is a product that allows an immense degree of optimization of the photos according to the requirements of the photographer (standard lens, wide-angle format, macro, fish eyes, etc.). It becomes a fundamental part of the camera and allows you to photograph the same scene with different results.
Lenses are expensive, and sometimes the price of one may exceed that of the camera. It is a product that is integral with the device. Several lenses can be found in kit form to vary the effects.
External flash, for example, is also an important element to consider when it comes to lighting solutions in photography. It is often said that a flash makes it possible to take night-time pictures. Without being wrong, it remains reductive, because an external flash also allows you to better dose the amount of light to bring to a scene according not only to the atmosphere, but also to your preferences as a photographer. It is, therefore, a tool that can be adapted beyond the sole need to light a night scene (ring flash, studio flash, cobra flash, etc.).
Satellite equipment that contributes to quality or safety
There is obviously a whole set of accessories that are not directly linked to the camera, but that contribute to the quality of the photos taken. This can correspond to specific and sometimes occasional needs or, on the contrary, be an integral part of the photographer's habits. Other accessories make it possible to secure the equipment.
For example, portrait photography equipment or landscape photography equipment may include a tripod and a timer. For outdoor use, a suitable umbrella protecting the lens can be used so that no drops of water can land on it while still allowing you to photograph the rain, which can give a stunning result.
Filters can be used to create effects (such as dimming due to natural light, highlighting, shooting on a shade of white, polar bear on an ice floe, etc.).
For digital cameras, memory cards can accompany the photographer to provide additional support. Although they are not directly related to the quality of the images and photos, they nevertheless provide additional storage space and can therefore increase the quality of the photos taken (because the higher the quality of a photo in terms of resolution, the more space it requires in the memory).
As we have seen, a camera and its accessories can be very expensive. And like any conscientious user, a photographer is concerned about protecting their equipment. To this end, many accessories and tools are available to secure your investment:
outdoor photography requires a reinforced storage bag for the equipment to protect it from shocks, humidity, etc.;
straps and handles to securely hold the camera while protecting it against falls when used in dynamic environments (climbing, hiking, sports photography, etc.) ;
shutters and lens covers ensure the absence of dust and foreign matter that could negatively affect the quality;
for some cameras, dustproof and watertight cameras may allow underwater shooting;
etc.
The security of the camera not only protects the equipment but is a guarantee of professionalism for a photographer. Because taking care of a camera is also a sign of the care given to the photos taken with it.
Equipment dedicated to a particular photograph
Beyond the ordinary use of the camera by a photographer (professional or amateur), the camera can be equipped with a specific device or even be designed for a more marginal purpose:
cosmic photos (sun, stars, comet light, etc.) ;
deep-sea photographs (huge pressure, need for artificial light);
photos involving movement (wildlife photography with multiple triggers);
meteorological photos (shooting a lightning bolt, a specific atmospheric phenomenon);
infrared, ultraviolet, etc.
It is therefore a set of adapted equipment (filter, media, precise design of the camera) that will allow a camera to adapt to very precise constraints. Although still quite marginal compared to the use generally made of a camera, these applications can sometimes result in equipment that's on the heavy side.
Ancillary photography equipment
Depending on their project, a photographer will of course have to think about the additional equipment that will allow them to take pictures in the best possible conditions:
It is then a vast set of more or less important equipment that will allow the photographer to successfully create top-quality photos. It is important to remember that careful thought must be given to the equipment needed before any investment decision is made, as photo equipment is often expensive.
Whether amateur or professional, a photographer can only develop by combining their experience with the existing equipment so that these two elements can always create the best possible synergy.