A simple small cardboard rectangle, 35 mm in height, 45 mm in width, that's the designated frame to define our identity, to prove that it's really us. This representation, which has persisted since the 19th century, may seem entirely antiquated, yet the front-facing photographic portrait still constitutes our official identity even in 2023.
It is supposed to encapsulate the individual and enable recognition by others, by society as a whole. This photographic key, captured at a particular moment, keeps distancing itself from us over the months or years, but it still validates our own identity. Through this photo, we also become responsible for our identity, and we must justify it at any moment with this piece of paper.
Today, with the advent of the digital world, this outdated portrait could have disappeared; surprisingly, it has instead multiplied. Accessible to everyone and at our fingertips, each person has embraced this mirrored image and presents multiple versions of themselves. This almost delirious growth of our reflection encourages new definitions of self-representation
History: From Portrait to Identity Photo
About fifteen years after the official birth of photography in 1854, a man named Eugène Disdéri devised a multi-lens camera that allowed him to combine several shots on a single plate. This technique significantly reduced costs, making it possible to offer portrait cards to customers at an affordable price. It was a real success! In 1864, more than 2,400 visiting cards were produced daily by Disdéri's Parisian studios. Even Napoleon III succumbed to these photo visiting cards for his own propaganda. Thanks to this more economical process, photography became more accessible and was no longer the exclusive domain of the wealthy. These portrait cards truly revolutionized photography, and thousands of them were created until World War I.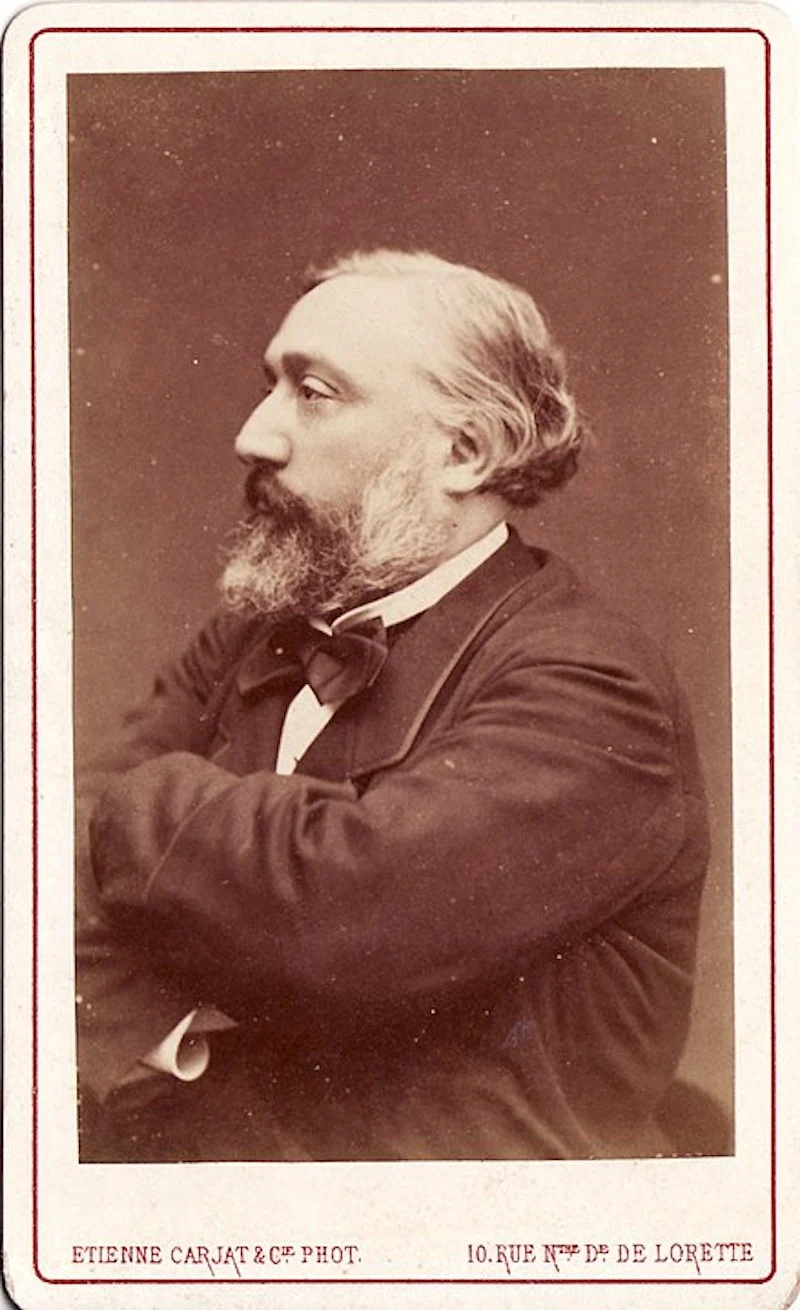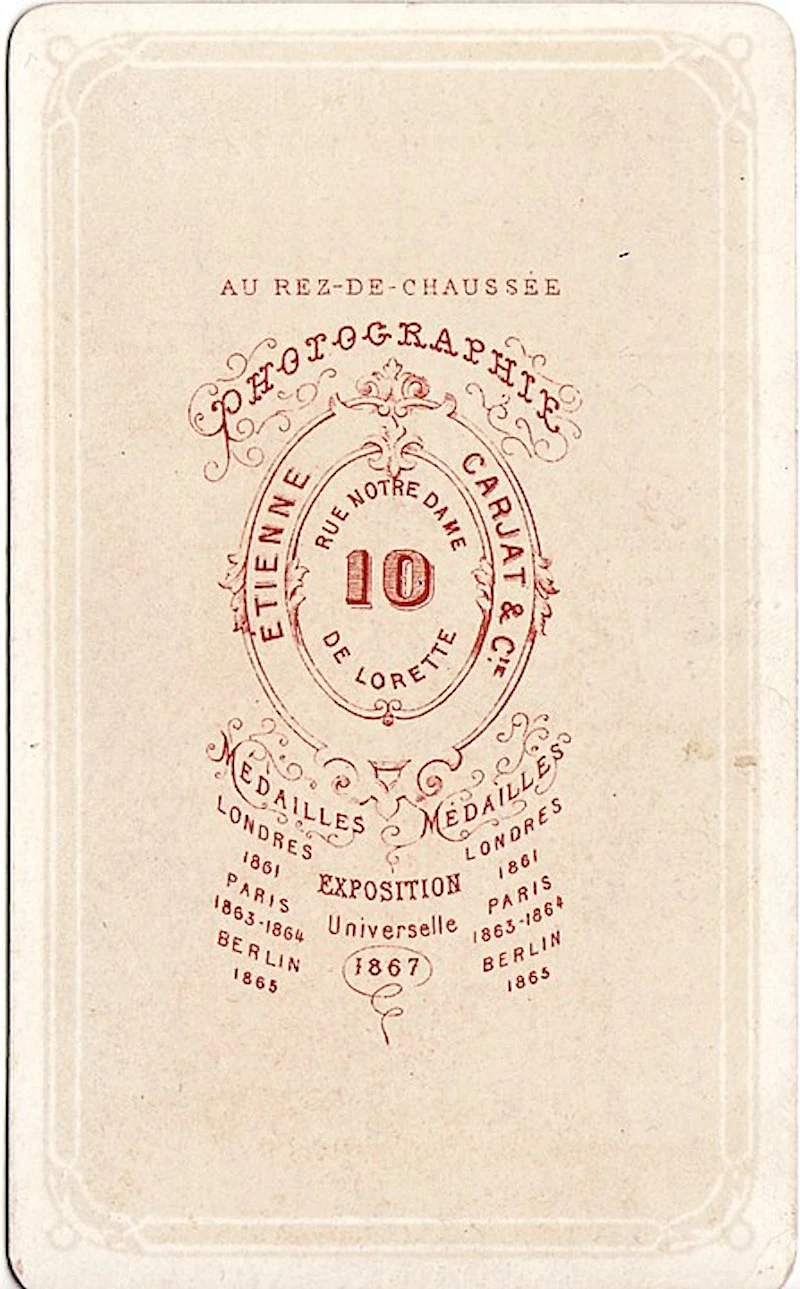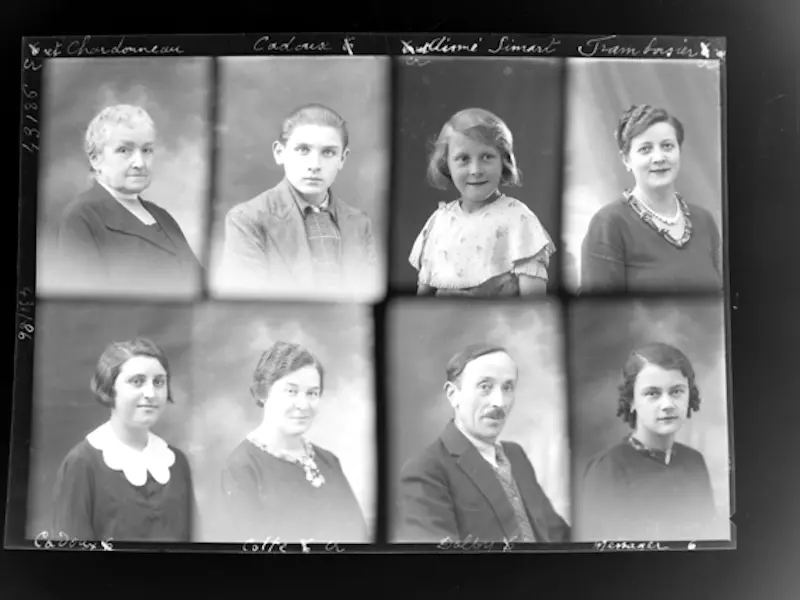 Jean Poyet, a painter and studio photographer in Épernay, takes things further and adds sophistication to portraits by creating actual settings: painted hangings, drapery, foliage, armchairs, the photographic calling card becomes more elaborate, and in some cases, even repainted.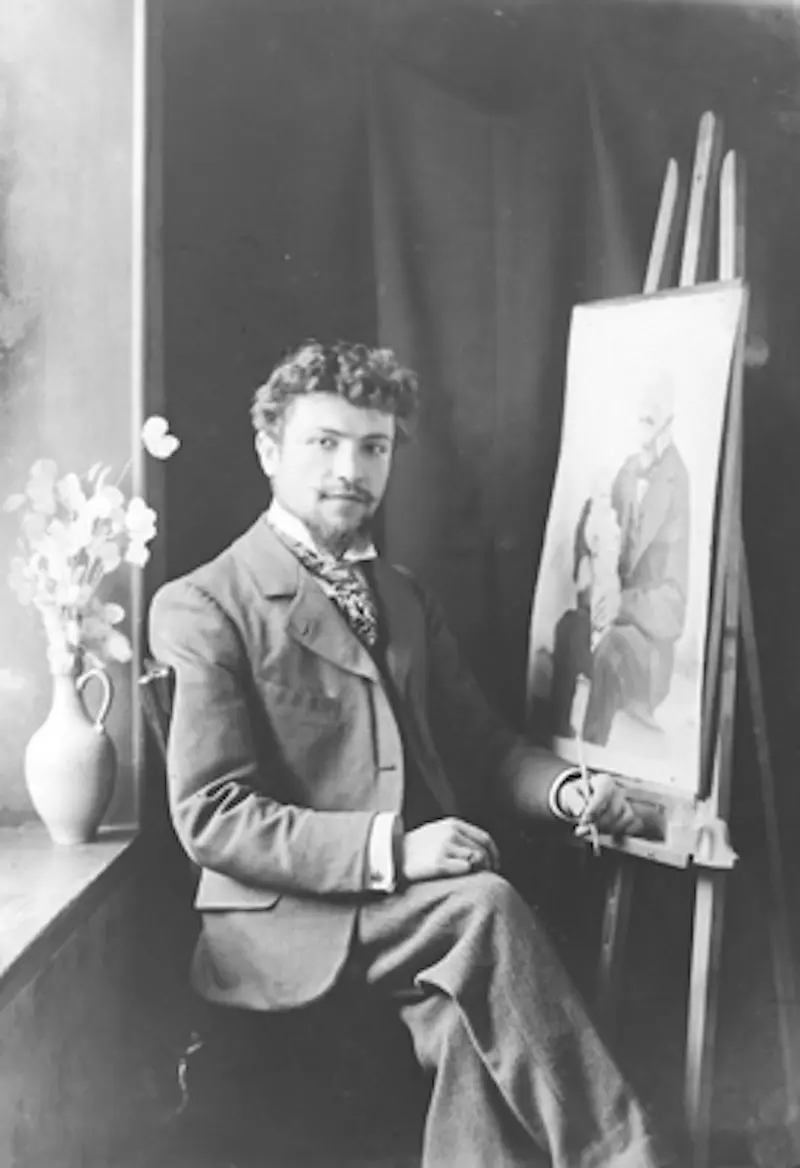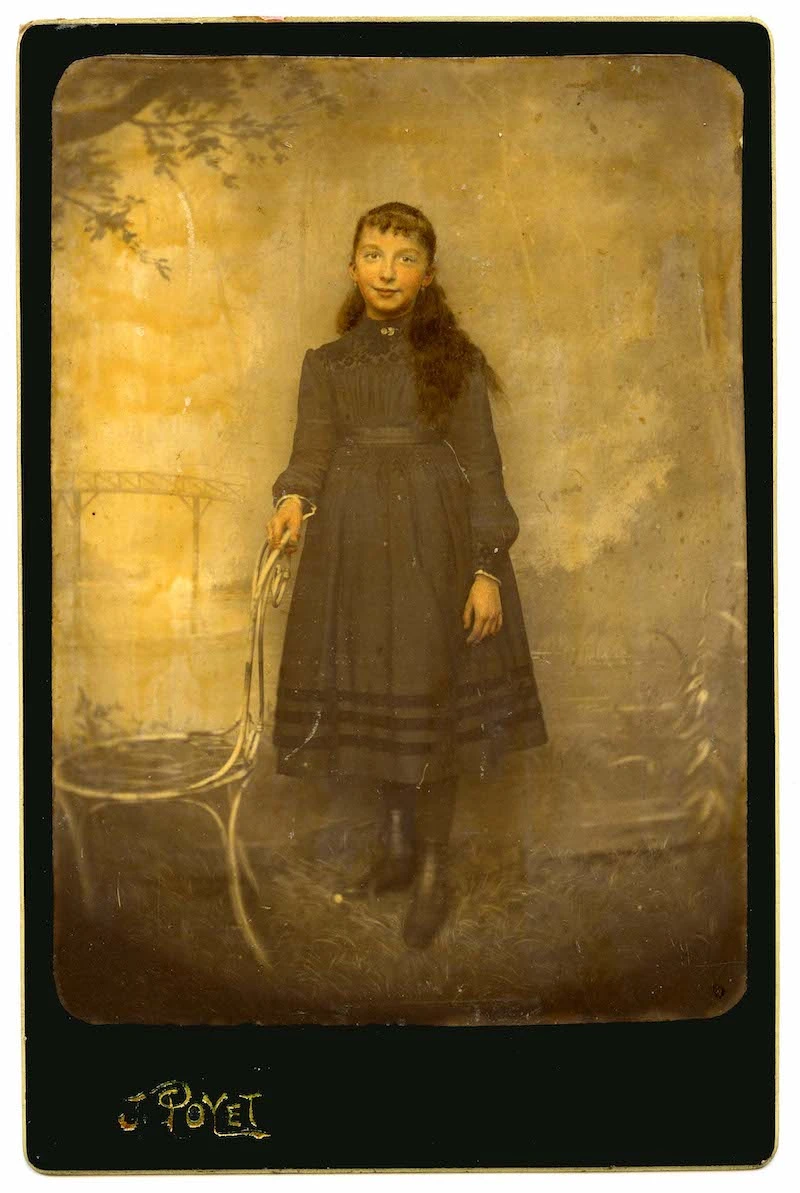 From the photo visiting card to anthropometric photography
While the popularity of portrait visiting cards declined at the beginning of the 20th century, it was not due to a lack of popularity; quite the contrary. Amateur photography took over as families abandoned professional portrait photographers, whose prints offered less spontaneity in favor of photos taken within intimate circles.However, the visiting card photo did inspire a young civil servant in the photography department of the Prefecture of Paris. Alphonse Bertillon discovered that an individual's measurements (nose, ears, eye spacing, hairline, etc.) allowed for very precise identification. Thus, the legal identification portrait, showing the front and profile view, was born with strict guidelines: a uniform background, diffuse lighting from the left, framing at the shoulders, no retouching, and a straight, forward-facing gaze.This was a far cry from Disdéri's or Poyet's photo cards, where photography intentionally conveyed belonging to a specific class of society through staging. With Bertillon, photography stripped itself down, became individual, and focused on the unique physical characteristics of each individual.
From criminals to the entire French society
This "Bertillonian" identification technique would no longer be limited to criminals, nomads, or foreigners but would encompass the entire French civilian society. The law of October 27, 1940, stated that every citizen over the age of 16 was required to obtain a personal card from the authorities, including their portrait and fingerprints. This documentary precision, in a reduced format and two dimensions, now established a representation of ourselves. The modern form of the identity photo had just been born.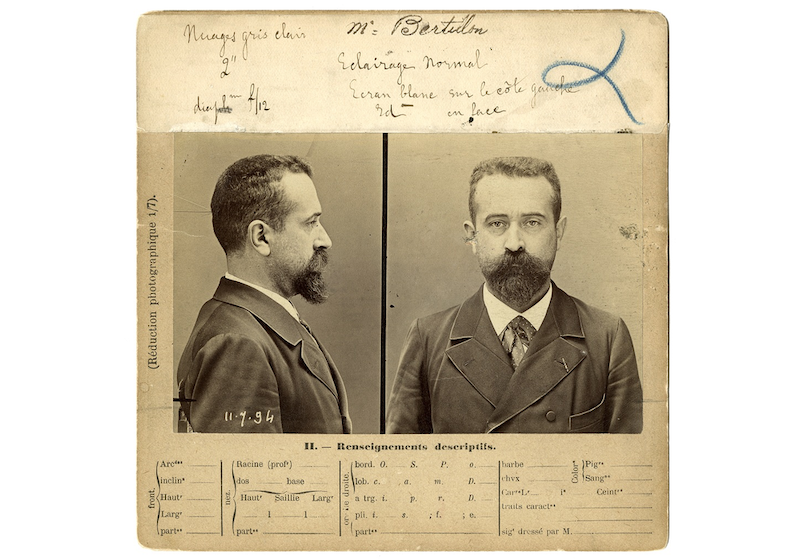 Eighty years later, it is still surprising that our identity is validated by this small format, and it remains valid for a decade. Whether it's an ID card, passport, health insurance card, sports or university registration, driver's license, CV, company directory photos, and more, the administrative documents that govern our lives in society still rely on this expressionless photo, captured at a specific moment in our lives.
The 2023 "Rencontres d'Arles" showcased the photographic work of a photography studio in Marseille, which took place between 1966 and 1985. This work highlights the significance of identity photos as the first element of integration for a population seeking a new homeland. The Rex studio has an extensive archive of these wallet photos, some of which are cherished by their owners. They are described as "genuine talismanic images that accompany their bearers, (…) intimate witnesses to fragments of emotions that reveal the visual foam of sensitive memories, stranded in a port city at the crossroads of three continents."
The portraits feature serious expressions, dignified postures, and European attire that reflect the significance of the stories behind these images.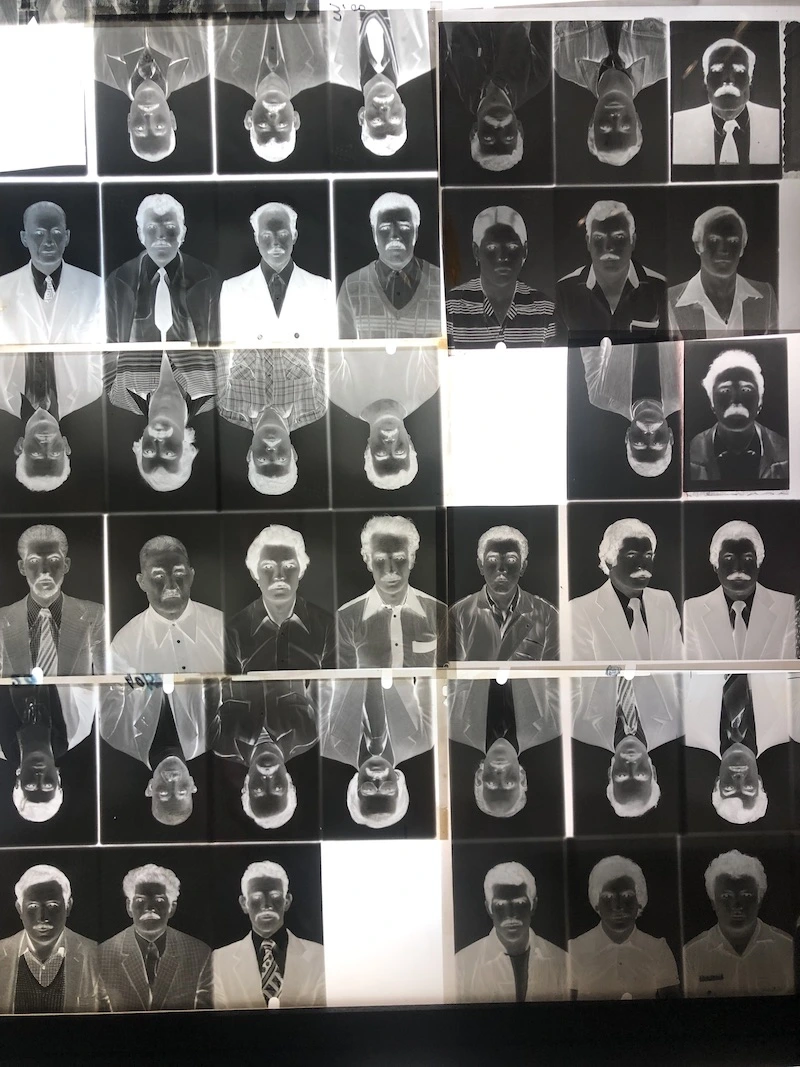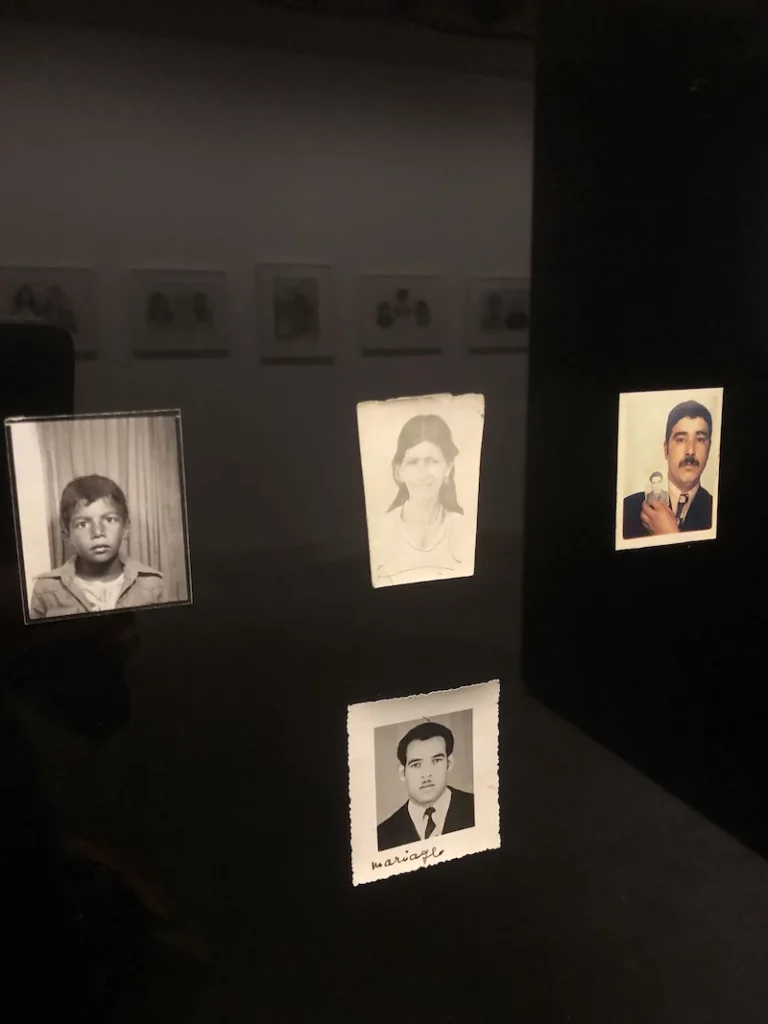 The photography as a testament to success, one that documents the establishment of a foreign population and their good fortune, bears a resemblance to the work of Poyet in the 19th century with his settings that similarly aimed to showcase prosperity.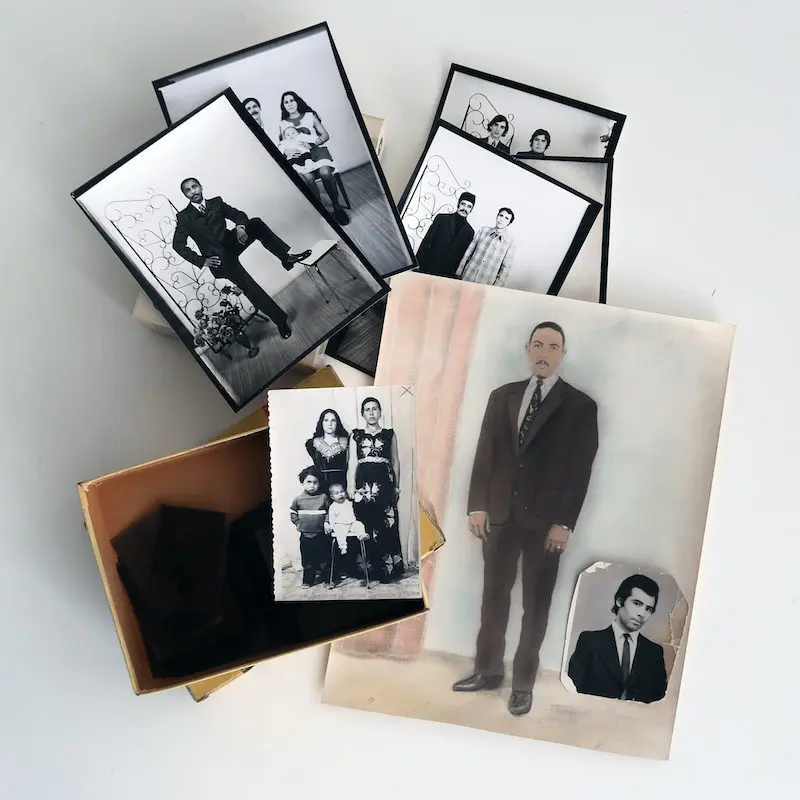 Administrative photo in 2023: What does the law say?
The 2009 law strengthens the specifications set in 1940: The background must be light in color, but white is prohibited. The head must be uncovered, and head coverings are not allowed. The subject must adopt a neutral expression and keep their mouth closed. The face must be unobstructed. The eyes must be perfectly visible and open. Thick eyeglass frames are prohibited, and tinted or reflective lenses are forbidden.
With all these requirements, this self-image is often considered a trial, even a genuine betrayal. Who looks beautiful or handsome in their passport or health insurance card photo? The identity photo is not the one we want to show. In reality, this immobile, emotionless face does not resemble us and does not truly represent who we are.
The Arrival of the Photomaton
The invention of the Photomaton in New York in 1926 revolutionized identity photography. A sense of freedom was expressed behind the accordion curtain and within the booth where one would sit, having chosen their background color and unraveled the stool. Although originally created for administrative photos, whimsical antics, solo or with a partner, started to unfold in this more intimate mini studio. It became a true playground for photography, filled with fantasy, far from the serious nature of identity photos. What made this booth placed in public places so appealing? Simply insert a coin, a studio hidden from prying eyes, and receive 4 small photos within a few minutes after the exposure.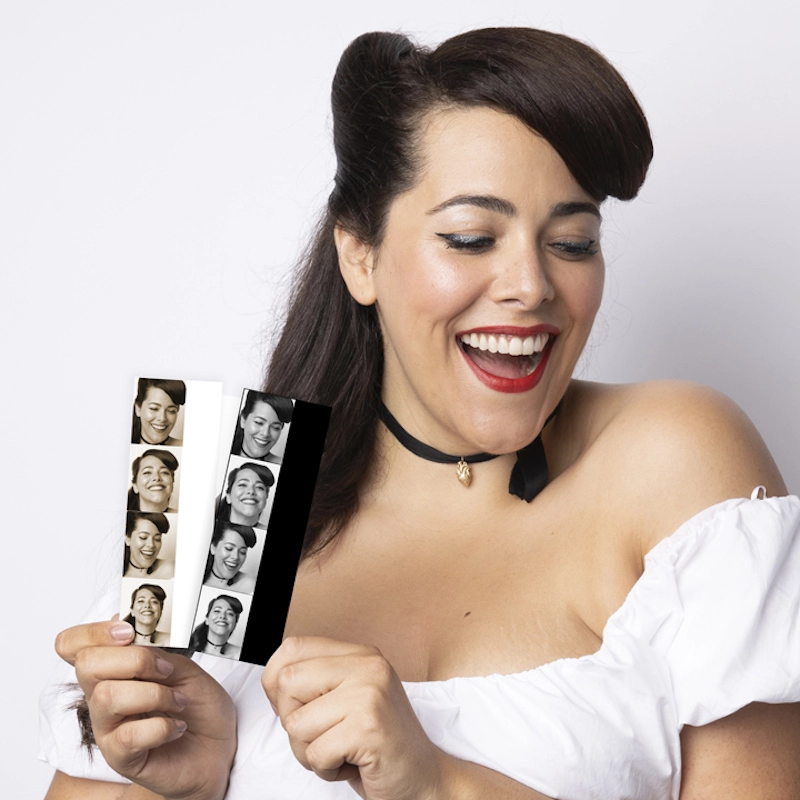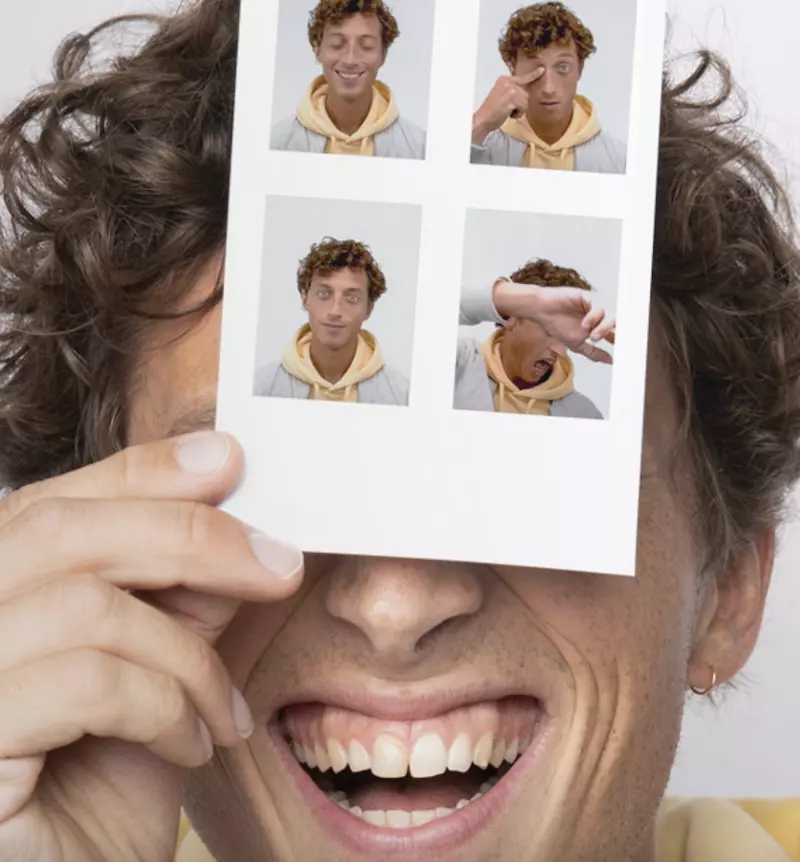 Artistic Diversions of Identity Photos
This fabulous machine that immortalizes our faces has generated a lot of enthusiasm, and artists didn't take long to seize upon this multiple photography to give it a previously unknown dimension: André Breton, Magritte, Andy Warhol, and JR all enthusiastically embraced it. Andy Warhol set up a photo booth in his studio, The Factory, and created his first color silkscreen print with a collage of 36 portraits of Ethel Scull. This work of identity photos is now considered a major piece of Pop Art.
Another artistic project, "Inside Out," involved the artist and photographer JR using his photo booth truck to capture portraits of anyone who wished to participate. Over 320,000 people in more than 140 countries took part in this creative adventure, reimagining their image and occupying public spaces to support a cause or an idea.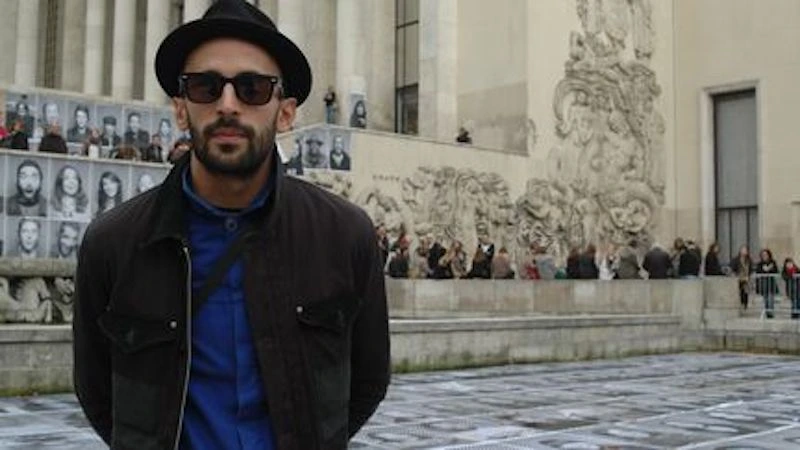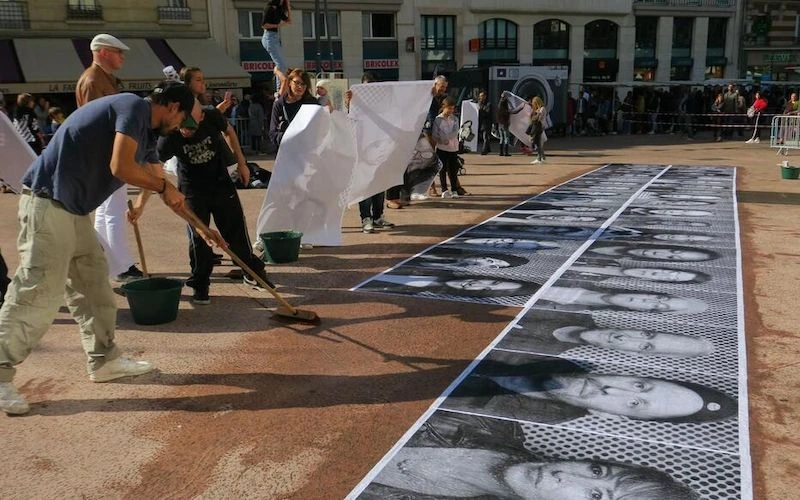 The festive and contemporary identity photo
Let's also mention the creative work of
Muriel Borovi
, who joyfully "photomates" people from a region, a private party, or a fashion event. The spirit of the photo booth is certainly present, but there are also the modern-day portrait cards, a nod to the 21st century, paying homage to the work of Jean Poyet. You can learn more at
www.laphotomobile.fr
.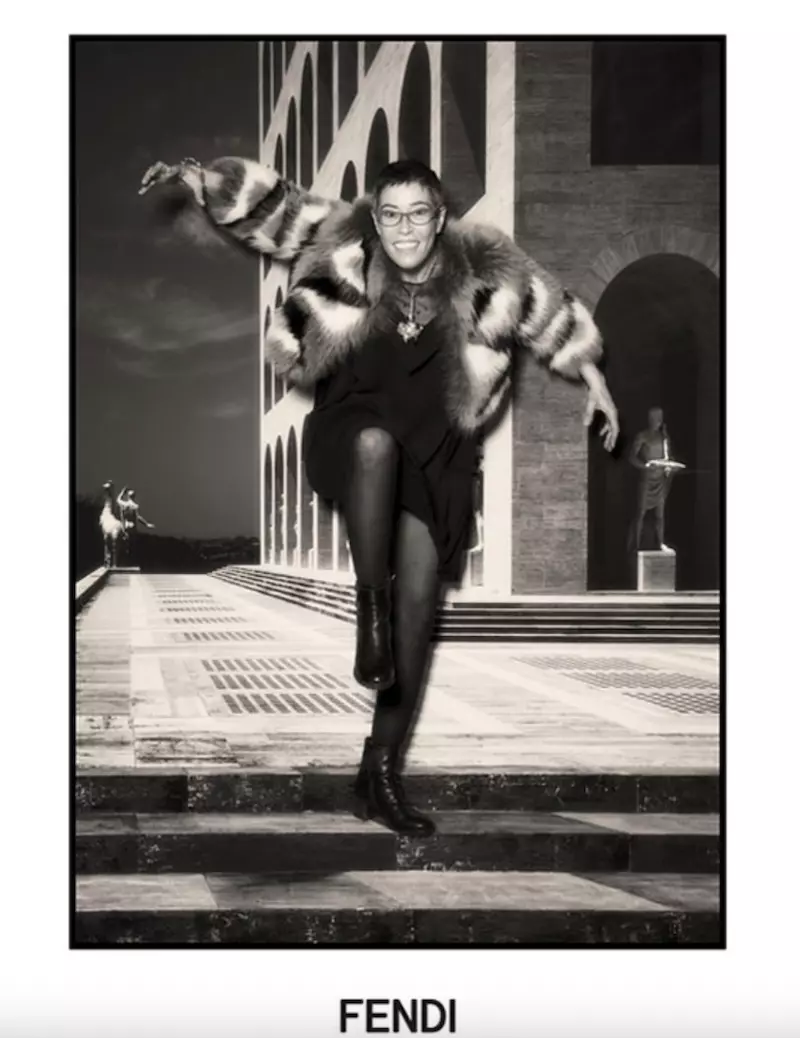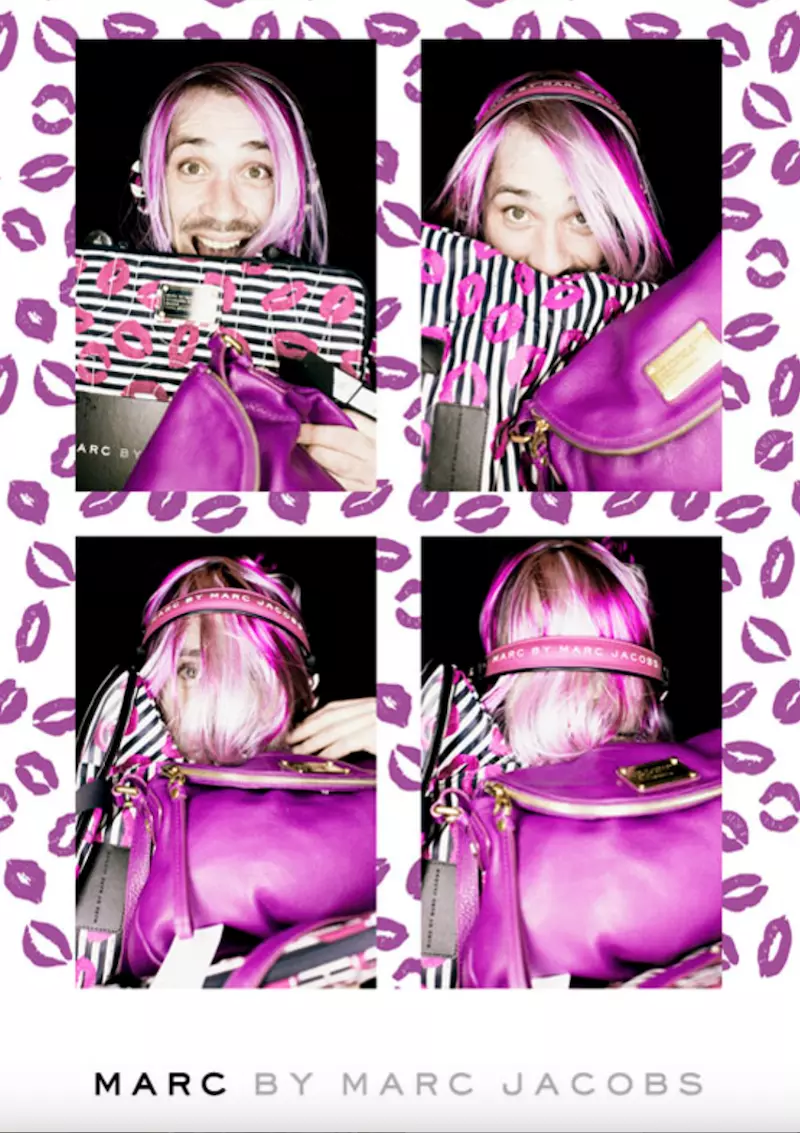 21st Century: The Delirious Overproduction of Our Identity
Is the photomaton the ancestor of the selfie?
This joyful freedom in self-representation redefines our identity in a certain way. With the advent of smartphones equipped with cameras and the creation of social networks such as Facebook (literally the book of faces), Instagram, Twitter, professional platforms like LinkedIn, or dating sites like Tinder, the number of portraits visible on the web quickly multiplied.
Another element that radically changed our relationship with images is the ability to do without the presence of a photographer. No longer a need for someone else; just like the photomaton, we can now take self-portraits. The narcissistic wave known as the selfie takes root. Every "me" is immortalized, shared, thrown into the virtual world. Everyone can take their identity photo from wherever and whenever they need to.
The facets of ourselves constantly staged
The profile photo is constantly modified, depending on mood, travels, and encounters. It showcases multiple "selves," a genuine fragmentation of identity. This proliferation of images leads to new definitions of identity and self-representation, in relation to others, to oneself, and to the screen… We can see how the stakes surrounding digital identity and, more specifically, profile photos are constantly evolving.
Small adjustments to the reality of our appearance
To this day, there are dedicated photography applications, specifically for identity photos, and their tricks to enhance them. Manipulating one's facial shape, altering hair volume and color, enlarging the eyes, removing acne, providing a radiant complexion—everything is possible. Apps like YouCam Perfect, YouCam MakeUp, Pixtica, or Face App act as magic helpers that fulfill our wishes and then some. Our profile photos are transformed into model-like versions or, more simply, corrected for these minor aesthetic flaws. Hairstyle, makeup, expression, and decorative colors are adjusted for a good cause: to make us look more beautiful or attractive than we actually are.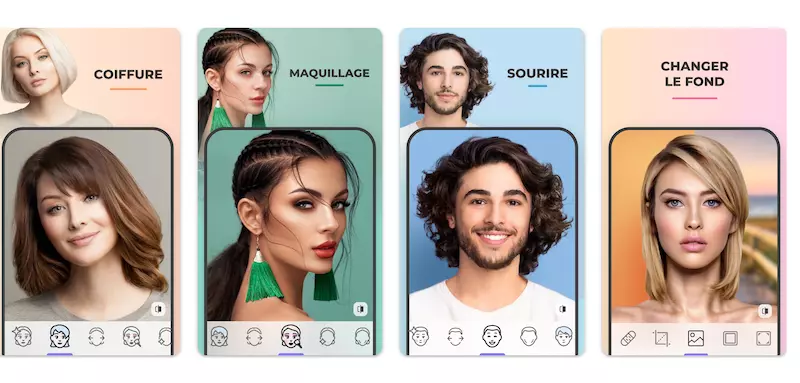 Artificial Intelligence in Aesthetic Photography
The industry has become so prosperous that it's not surprising that AI steps in and offers a tailored approach to photographic beauty. BeautyPlus AI is a software editor dedicated to selfies, photos, and videos of our making. We can instantly take pretty selfies and retouch them, remove imperfections, experiment with hair color changes, teeth whitening, refine our face and body, try trendy makeup looks while removing the background.AI tools even allow us to create incredible images, such as sketching ourselves in seconds with the AI Anime camera or Anime filter, transforming our selfies into stunning and supernatural versions of ourselves with AI avatars, effortlessly removing unwanted people or objects to focus exclusively on ourselves. Finally, we can realize our dreams with the Body Editor: enhancing our stature, slimming our waist, arms, and face to create a stunning silhouette from scratch. We can unleash our creativity as the editor boasts, without forgetting, of course, to post our new "selves."And since excesses always provoke their opposites, the emergence of the BeReal app, "your real friends," aims to counterbalance this virtual reality by inviting users to cultivate authenticity and remove all artifice. This new social network encourages users to share an unretouched and unaltered photo once a day. It's an exchange on the scale of real life.In a similar spirit, the Be Fake app, on the contrary, invites you to have fun but with complete transparency. "It's time to be fake." They're upfront about it and encourage openly and in a rather playful spirit to tamper with all your selfies.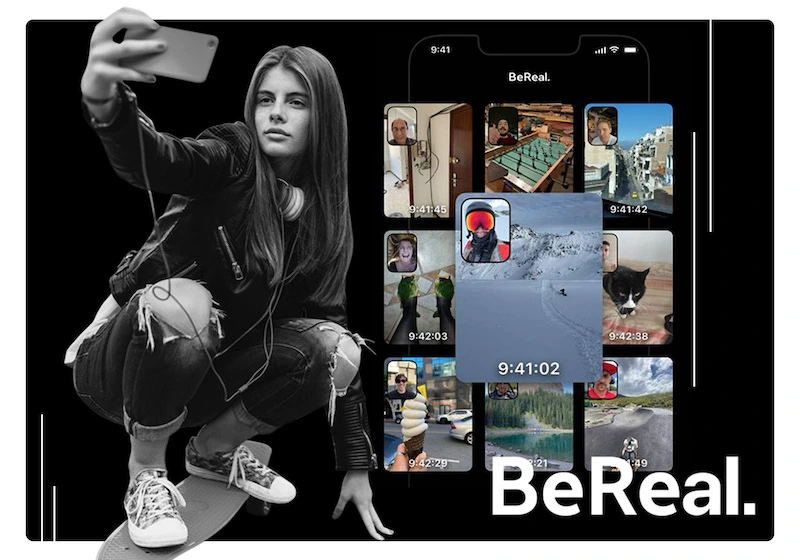 In a similar spirit, the Be Fake app, on the contrary, invites you to have fun but with complete transparency. "It's time to be fake." They're upfront about it and encourage openly and in a rather playful spirit to tamper with all your selfies.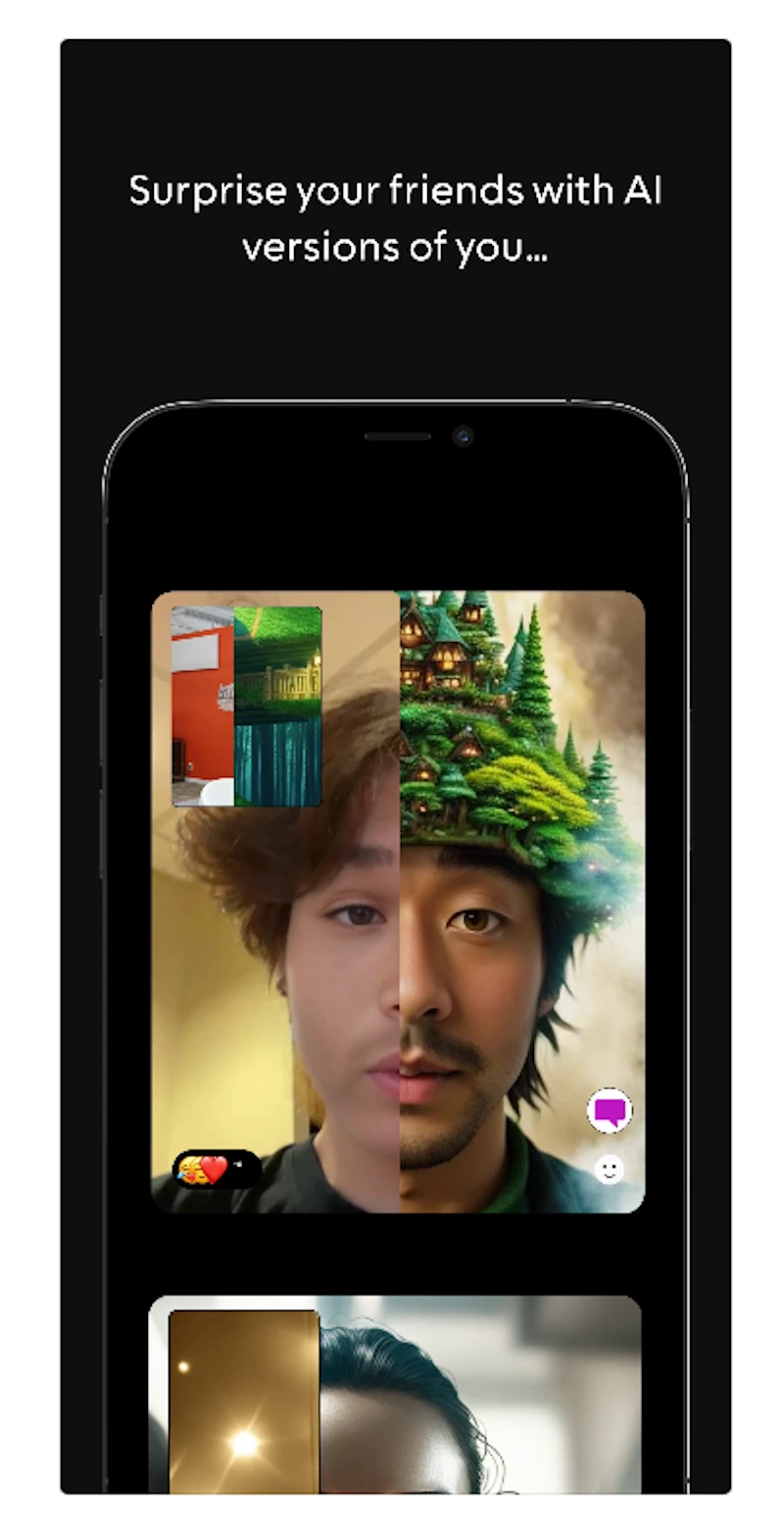 The Future of Facial Recognition
Photos and videos are domains in which AI has developed numerous applications, often playful ones. However, other applications of AI can raise questions, especially concerning individual identification.Facial recognition technology developed by artificial intelligence is far removed from Bertillon's method and our small identity photo. Facial recognition systems are increasingly used, primarily for law enforcement, surveillance, and public safety purposes. The benefits are as numerous as the risks. Concerns arise regarding individual freedoms, the right to move freely, to assemble or protest, to avoid discrimination, and to respect privacy. The risks of misuse and error rates should not be underestimated. This is a tool that should be exclusively entrusted to responsible hands, where social consciousness and ethics should be the sole driving forces behind its use.
Does self-image still hold as much value in representing our being today? Nowadays, it doesn't really constitute valid proof of our true identity. Artificial intelligence takes over through much more sophisticated visual recognition. Is it to be feared, as philosopher Edgar Morin suggests, when he explains that with smartphones, the virtual world of the internet, and facial recognition, these three elements offer any power access to the keys of our life and our image?