DxO is a French company specializing in photography and photo editing. Founded in the early 2000s, the company is located in the Paris region, in Boulogne-Billancourt, more precisely. DxO has brought many innovations to its industry in terms of image processing, through its DxO PhotoLab software, which is its most successful product. 
Now a world-renowned company, it has undergone many stages, some more significant than others, to become the leader it is today. From the project's source of inspiration, to its restructuring, to product and company development, here's all there is to know about DxO's history.
DxO is a company with a rich history, considered avant-garde in its sector, photography. Let's go back to its roots to figure out where it came from. 
Vision IQ: a true inspiration for DxO
When he founded DxO, Jérôme Ménière was far from unexperienced. Indeed, the engineer by training and enthusiast of new technologies founded Vision IQ in 1994, where the idea of DxO was truly born. With Vision IQ, he designed a computer-aided monitoring system that can detect drowning in swimming pools. It turned out that the development of this technology required considerable work on lenses, which are also found in cameras. A little later, the CEO decided to bring this technology to the world of photography and launched DxO.
Launch of DxO's first product: DxOAnalyzer
The first product launched by DxO is called DxOAnalyzer and is intended for digital camera manufacturers. This solution gave rise to a system for grading and classifying equipment: DxOMark. DxO then launched DxOMark.com, an image quality rating site for cameras, lenses and smartphone cameras. With this platform, the company wants to enable consumers to choose the ideal equipment and to push brands to create products that meet users' needs.
The French company also launched Optics Pro in 2004, now known as DxO PhotoLab, an image processing software that allows customized corrections to each piece of equipment. The software integrates the measurement strip developed for Analyzer to provide automatic defect correction.
The development of DxO: OpticsPro, DxO One and Nik Collection
From then on, DxO's development has continued to accelerate, and the company is embarking on new projects.
Optics Pro marks the beginning of the commercialization of DxO's image processing products. Through the various updates and versions of the software, the company then introduces new tools, new plug-ins or even new products to improve their offer, such as:
DxO Prime, which introduced a noise reduction algorithm in version 9 of the software;
DxO FilmPack, which can be installed as a new version of the software or as a plug-in, and which allows to faithfully reproduce grains and a silver effect on images;
DxO Lightning, which is a module added to retrieve the low lights of the images;
etc.
This is not an exhaustive list, but these tools are among those that have marked the history of DxO and image processing. 
2015: the publisher becomes a manufacturer with DxO One
The year 2015 marked an important milestone in the history of DxO, as it was the year that the image processing company also became a manufacturer. Indeed, it marketed its first camera for smartphones (Apple only), which appeared under the name of DxO One. This device comes in the form of a small box to connect to smartphones. 
2017: the acquisition of Nik Collection and the transformation to DxO PhotoLab
In 2017, DxO announced its acquisition of Nik Collection's assets from Google in order to continue its development. This creative software suite was recognized worldwide at the time and includes:
Analog Efex Pro, software that gives a silver effect to photos;
Color Efex Pro, a plug-in with a multitude of filters;
Dfine, a tool using an advanced algorithm for noise reduction; 
HDR Efex Pro, for image fusion;
Sharpener Pro, to work on the sharpness of the photos;
Silver Efex Pro, a tool for black and white photography;
Viveza, for localized color modification.
By purchasing the Nik Collection software suite, DxO benefits from the technologies developed by Nik Software. This is particularly the case with the U Point technology for which it is known, which is a local editing tool. Following this major advance – which allows it to stand up to the competition, such as Adobe Lightroom and Photoshop – DxO Optics Pro became DxO PhotoLab. This new label allowed the company to show that it no longer only provided software specialized in optical correction and that it was now offering a whole range of image editing tools.
In 2017, the company went through a stage full of changes. DxO Labs and DxOMark became separate entities. DxOMark became DxOMark Image Labs, an independent company still specializing in camera evaluation and comparison, as well as consulting for digital giants such as HTC and Google. It helped them to develop the systems of their devices and maintained a high demand. That year, the company also underwent a major internal reorganization, closely linked to the end of the marketing of its DxO One.
We have just reviewed the history of DxO by highlighting key events, but what about today?
Values and inspirations of DxO
The company is primarily inspired by photographers. Always listening to the creative people who use their software, DxO strives to develop really useful tools. To meet the expectations of its customers, DxO is always looking for the perfect image and continues to seek the cutting edge of the creative flow. Its objective is not small: it is to develop with the aim of building products for the high-level demanding creative. With this approach, DxO makes sure that users are not forced to install and use tools that they are not interested in. To do this, it relies on a perpetual license model, as opposed to a subscription license.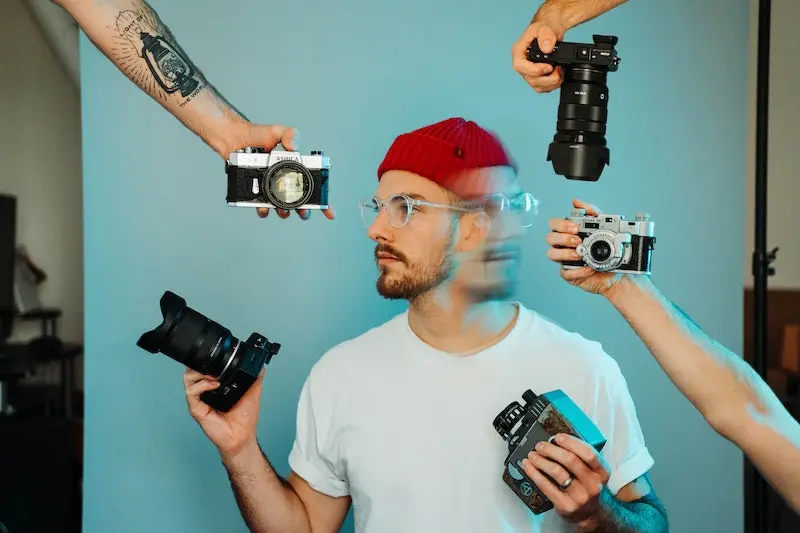 Some DxO products have survived and evolved, others have been discontinued. DxO's current software offering includes: 
PhotoLab: raw processing and image editing and correction software;
ViewPoint: geometry correction software to restore shapes and correct perspective distortions;
FilmPack: software for obtaining images with a silver effect;
PureRaw: software to improve the quality of raw files from more than 400 digital cameras (Canon, Nikon, Sony, and many other brands);
Nik Collection: a suite of eight plug-ins for Photoshop and Lightroom. 
DxO wants to focus on products that can bring real added value and really help photographers create their ideal images. At the same time, DxOMark Image Labs continues to update its Analyzer tool.