DxO PhotoLab
stands as a powerful image editing software packed with an assortment of features and utilities designed to assist photographers in creating stunning images. It includes superior photo-editing capabilities, such as noise reduction, lens effects, color manipulation, tone mapping, and localized adjustment tools.Lightroom is a good competitor to
DxO PhotoLab
, while they both share many features there are also some key differences that set them apart. One of the major differences is that Dxo provides a more user-friendly interface. Unlike Lightroom,
DxO PhotoLab
does not require a subscription. And here's why you should consider using
DxOPhotoLab
.
DxO Photolab Key features
DxO PhotoLab serves as a complete and potent RAW photo editing solution at a remarkable value. The software is loaded with pioneering tools and functionalities that can address the needs of a wide array of photographers.
Haze reduction with ClearView Plus
DxO PhotoLab 6' ClearView Plus is an extraordinarily potent tool that elevates local contrast and clarity, unveiling impressive details and textures within your images. It proficiently eliminates haze, atmospheric disturbances, or other obstructions that could veil your photos' intricate details.
While the feature is beneficial for all types of photography to boost contrast, it shines particularly for landscape photography and is valuable in astrophotography as well. We tested it on an astro image and were thrilled with the outcome, especially regarding the potential to streamline your workflow and expedite your editing process. An appreciable aspect is its adjustable intensity, since excessive contrast can result in unappealing images.
The ClearView Plus tool not only accelerates workflow but also creates an effect achievable with other editing programs.
Soft Proofing mode in DxO PhotoLab 6 Elite
Another noteworthy feature is the newly introduced Soft Proofing mode, a boon for those who frequently print their images. By enabling ink and paper simulations, you can ensure the highest accuracy in your prints, a valuable asset considering the unpredictability involved in sending images for print. This feature, however, is exclusively available in the Elite version of PhotoLab 6.
UPoint adjustments in DxO PhotoLab 6
The UPoint adjustments (essentially local adjustments with a more sophisticated label) are also quite impressive. Simply click on your image's desired editing area, and a wheel of options will appear, including a brush tool, auto mask, control point, control line, graduated filter, and more. Each of these comes with a range of adjustment settings for lighting, color, and detail. While similar to many other image editing programs, we particularly appreciate DxO PhotoLab 6's presentation.
AI Noise Removal with DeepPrime XD
Even though DxO PhotoLab 6 is not specifically designed for astrophotography, it houses a feature highly beneficial for astro-photographers: DeepPrime XD. Claimed as an unprecedented noise removal tool, it utilizes AI for noise reduction while retaining remarkable details. Although it's indeed an impressive component of the software and efficiently performs as stated, other major photo editing software providers like Adobe have also introduced AI, including AI noise removal, which somewhat dilutes DxO PhotoLab 6's unique selling proposition. However, in terms of preserving clarity and brightness, we believe DxO PhotoLab 6's DeepPrime XD surpasses Lightroom's AI noise removal— though with constant improvements from Lightroom, the competitive landscape may change.
DxO PhotoLab serves as a complete and potent RAW photo editing solution at a remarkable value. The software is loaded with pioneering tools and functionalities that can address the needs of a wide array of photographers.
DxO PhotoLab serves as a complete and potent RAW photo editing solution at a remarkable value. The software is loaded with pioneering tools and functionalities that can address the needs of a wide array of photographers.
DeepPRIME is capable of salvaging your images taken at very high sensitivity (6,400 ISO and above). Compatible with RAW files from most camera brands, including Fujifilm hybrids and their X-Trans sensor, DxO DeepPRIME is evolving again with DxO PhotoLab 6 Complementary to DeepPRIME, DxO created DeepPRIME XD, the advanced version of DeepPRIME.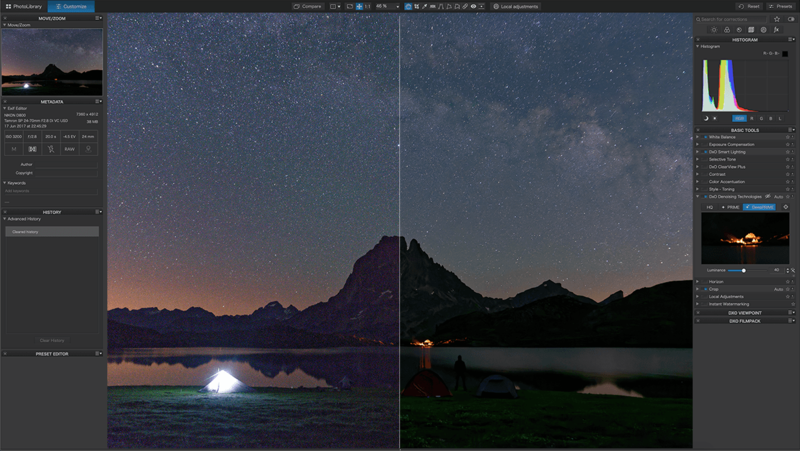 Lens correction in DxO PhotoLab
DxO PhotoLab
's lens correction is one of its standout features. It corrects imperfections in images caused by the lens used in photography. Every lens has unique characteristics and can introduce some level of distortion, chromatic aberration, vignetting, and a loss of sharpness especially at the edges. These issues are automatically corrected in
DxO PhotoLab
. This feature results in clearer, more accurate images that are free from common lens-related issues.
Raw images processing in DxO Pure Raw
DxO has also developed
DxO Pure Raw
, a powerful suite for image processing, engineered to generate the best possible quality from your digital camera captures. Compatible with both RAW and JPEG files, it presents a wealth of enhancement options for your photos that we will explore in the next paragraph.
Enhance DxO Photolab with other apps
Building on these innovative features and to enhance the user experience, DxO PhotoLab includes a Lightroom round trip feature. This handy function allows you to effortlessly export your edited photos back into Adobe Lightroom Classic, enabling you to share photo books, prints, and more with ease.
If you're a user of DxO PhotoLab and you frequently handle RAW files, integrating Peakto, the AI photo cataloger, into your workflow can significantly streamline and enhance your photo editing and management process. Peakto's advanced AI-driven features make photo organization simpler and more intuitive, allowing for easy categorization and management of images.
With Peakto, Mac users can visually access all versions of their images created with DxO PhotoLab and create new DxO PhotoLab versions from any image. Fluid editing between PhotoLab, Lightroom, Capture One Pro, and even Apple Photos is made possible through a dedicated workspace within Peakto, as it is a universal cataloger. Peakto is already compatible with a wide range of photo editing software, making it possible to switch from one to another, including Apple Photos, Lightroom Classic, Luminar AI/Neo, Capture One, Pixelmator Pro, Aperture, DxO PhotoLab, DxO PureRAW, iView Media, as well as all folders and image files, and even Instagram accounts.
Peakto brings the power of artificial intelligence to photo management. Peakto features conversational search: simply describe a photo, and the AI will analyze the entire photo database and find images that may match. Peakto automatically categorizes photos and assigns keywords to them, again thanks to AI, to help you find your images more easily.
Peakto also brings unique cataloging features to DxO PhotoLab users: automatic categorization and annotations through AI, a beautiful map view, smart albums and multi-source collections.
By combining Peakto with DxO PhotoLab, you can take advantage of the strengths of both tools, achieving not only high-quality image editing but also efficient and user-friendly photo management.
DxO PhotoLab's Interface provides photographers with a suite of features to conveniently and efficiently fine-tune their images. The interface, with its dark gray theme, exudes a clean, modern, and minimalist appeal.
Two operational modes are included in the interface: the Photo Library, serving as a comprehensive organizer for all your images, and the Customize mode, the hub for all editing activities.
Photo Library:
The library serves as a unified platform for importing, viewing, and organizing your entire collection of photos. It presents a lucid overview of your images, enabling swift location and access to the pictures you wish to edit. The library allows the application of filters, sorting of images based on different attributes like date or rating, and the creation of virtual duplicates of your photos for diverse editing needs. This feature aids in streamlining your workflow and maintaining a well-organized photo collection.
Customize mode:
The Customize section is the hub of all adjustments — you can even favor particular editing tools to establish your custom workflow. Within the Customize mode, you can modify exposure, balance color and contrast, as well as manage sharpness and noise reduction. Additional alterations such as vignetting, lens distortion, and chromatic aberrations are also accessible.
In our view, the tool panels are sensibly arranged, offering a vast selection of editing possibilities, and they can even be repositioned and favorited to customize the software according to your personal preferences. With a variety of options ranging from elementary adjustments like exposure, contrast, and white balance to advanced features like noise reduction and local adjustments, you can edit your images as straightforwardly or as comprehensively as desired.
In-Depth Look at DxO PhotoLab
DxO PhotoLab is an advanced photo editing software developed by the French company DxO, renowned for its innovations in photography and image processing. This software stands out for its unique combination of powerful tools and sophisticated photo-editing functionalities, including noise reduction, lens effects, color management, tone mapping, among others.
Additionally, it encompasses an extensive collection of editing tools specifically tailored for RAW images.
DxO PureRAW
is a RAW image processing software equipped with advanced tools designed to extract the maximum dynamic range from RAW images. The software also boasts a superior RAW denoising capability, consistently outperforming other editing programs. Offering more accurate corrections than Lightroom profiles, with improved performance and increased flexibility.Unlike Lightroom profiles, PureRaw is able to read data directly from the RAW file, rather than relying on a preset. This gives it the ability to precisely adjust the raw data for better color accuracy. So, if you're looking for the most effective noise reduction, we highly recommend
DxO PureRAW
.With
DxO Pure RAW
, you have the power to mitigate noise, boost sharpness, modify exposure, and much more. These modifications can be applied to your entire photo or to selective parts, as per your needs.One of the key advantages of
DxO PureRAW
lies in its precision controls for lens corrections. The software offers an automatic mode for swift and effortless corrections of issues like distortion, chromatic aberration, and vignetting. For those seeking granular control, an advanced mode allows for individual parameter adjustments.
Take DxO PureRaw a step further with companion software
Although DxO PureRAW is an exceptional piece of software, it lacks cataloguing functions. That's why we suggest combining it with Peakto to enhance your photo management experience. Peakto lets you search, classify, and annotate images edited with PureRAW, and AI-powered features streamline the process.
Peakto can now DxO PureRAW conversions from any RAW file and get the resulting output back, preserving the link with the original file. Building complex editing workflows that start with PureRAW is easy with Peakto. And it will track all versions along the way.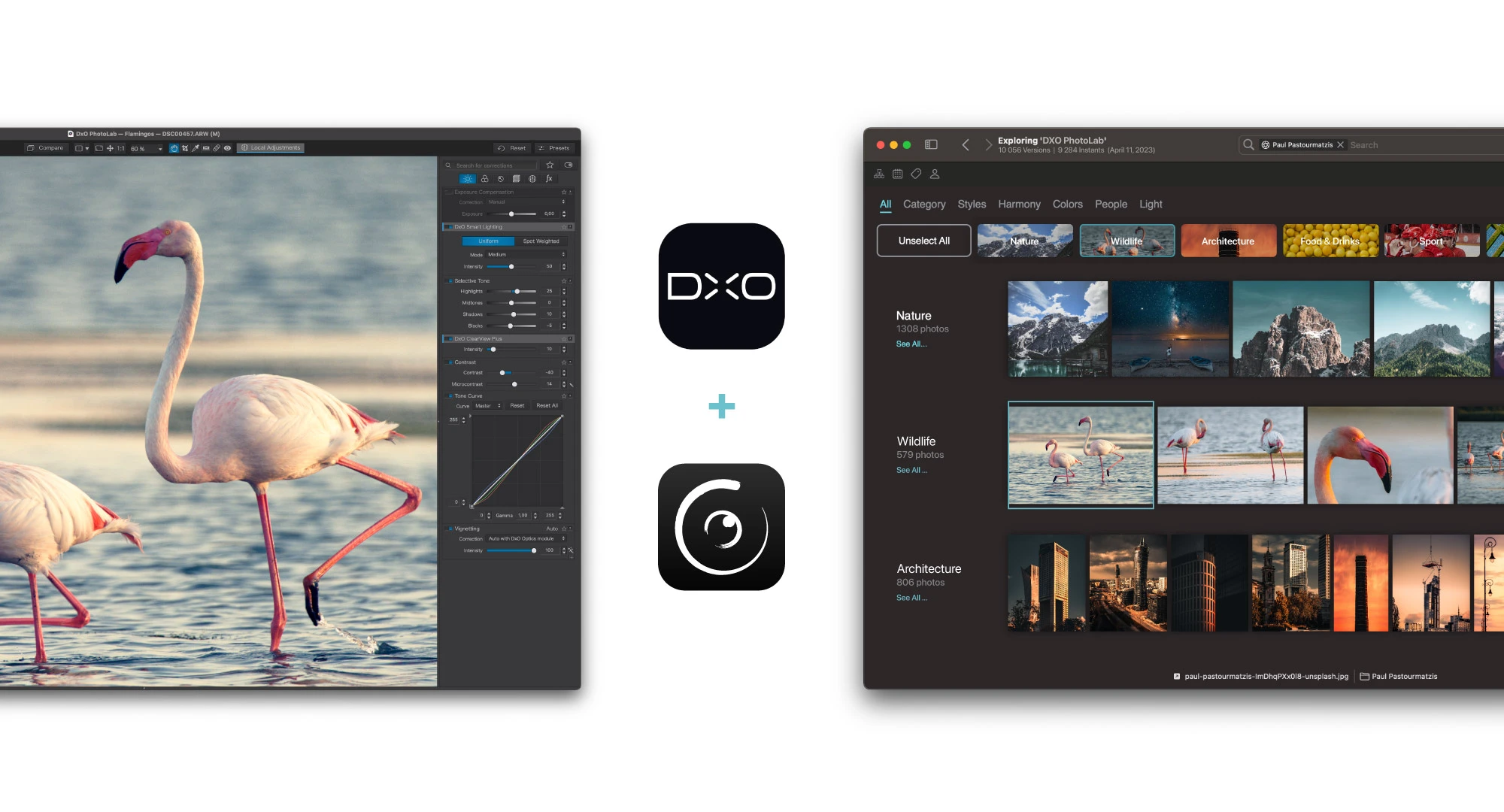 To conclude: our opinion of DxO Photolab
DxO PhotoLab
is undeniably a great software when it comes to photo editing. The software showcases advanced capabilities, making it a valuable tool for photographers.Starting with its user-friendly and intuitive interface that simplifies the user experience going to its standout features.
DxO PhotoLab
makes extracting the maximum quality from RAW files a streamlined process, with precision tools for exposure, color, and detail adjustments. The software's noise reduction capabilities are also top-notch, often outperforming many competitors in the market.Another impressive aspect is its optical corrections feature. The software comes loaded with thousands of lens and camera combinations, providing automatic corrections for chromatic aberration, distortion, vignetting, and lens softness. This feature saves a significant amount of time in post-processing and consistently delivers outstanding results.The software's interface is relatively easy to navigate once familiar, with its tools neatly organized. However, newcomers to the field might experience a slight learning curve, but the payoff in terms of output quality is definitely worth the initial investment of time.While
DxO PhotoLab
is impressive in many ways, it lacks a built-in photo organization or cataloging system, which might be a slight letdown for those looking for an all-in-one solution, but don't worry this is where Peakto, the AI-driven meta cataloger, steps in to fill the gap.In terms of pricing,
DxO PhotoLa
b is available as a one-time purchase. This model can offer substantial savings over time, making
DxO PhotoLab
an attractive choice for photographers seeking a powerful editing tool without the burden of ongoing costs.In summary,
DxO PhotoLab
is a formidable tool for photo editing that delivers professional-level results. Its few shortcomings do not detract from its overall performance, and it stands as a valuable addition to any photographer's digital toolbox.