The world of photography is constantly evolving, and a new element is reshaping the creative landscape: artificial intelligence. This technological innovation, often met with curiosity and a touch of concern, proves to be more than a passing trend; it is changing the game and redefining the way we capture, edit, and experience imagery. With the influence of AI continuing to grow, its potential in the field of photography is becoming increasingly evident.
The new features on Luminar Neo
In demonstration of this philosophy, Skylum unveils an impressive range of new AI-assisted tools designed to simplify photographers' challenges in scene manipulation, object removal, and expanding the photographic canvas. Exploring these new photo editing techniques promises to be exciting for Luminar Neo users.
GenErase, the next-generation erasure
GenErase is a next-generation erasing tool that allows photographers to remove elements from their images while considering the content using artificial intelligence. This kind of tool has become almost a standard among software editors in the photography field, ensuring a significant time-saving for creators.
This new feature presented by Skylum preserves the integrity of your photos by intelligently filling gaps with textures and other elements matching the surrounding area. GenErase can remove objects such as litter, signage, vehicles, graffiti, etc., using either manually created masks or masks generated by AI, thus preserving the beauty of the composition.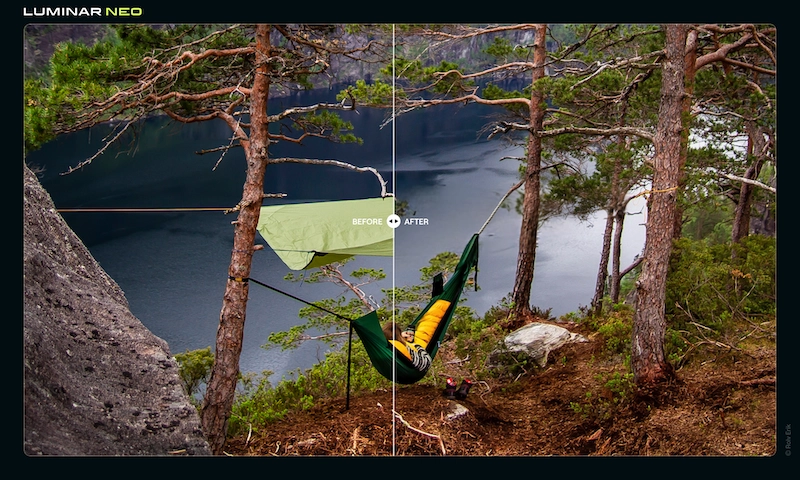 SceneExpand & SceneSwap to compete with Adobe
SceneExpand is a new tool that allows users to push the boundaries of their photos and add a new dimension to their original compositions. Whether it's creating panoramic landscapes or adding space to your favorite images, SceneExpand frees you from traditional aspect ratios and opens up new creative possibilities.
On the other hand, SceneSwap enables users to replace specific elements (such as the sky or foreground) with high-quality visuals generated by AI, seamlessly integrating with the rest of the photo. It's now possible to transform a cloudy sky into a beautiful sunset with just a few clicks.
With these two new intelligent features, Skylum introduces indispensable assets for artists, directly competing with Adobe, which already offers such functionalities in its Photoshop Beta software.
Aiming for perfection with Water Enhancer
Color editing of water remains a challenge for many photographers. However, Skylum is introducing a revolutionary new tool with Water Enhancer that greatly simplifies this complex task. By enabling photographers to easily adjust the hue and luminance of the water, this tool opens doors to creativity and perfection. Visual artists can now achieve superior retouching, allowing them to attain the desired level of perfection in their compositions.
Skylum aims to elevate lighting effects
For portrait photographers, the art of capturing the essence of a person goes beyond simple clicks of the shutter. It's a delicate interplay of light and shadow that brings life to each frozen moment in the image. However, recreating these complex lighting effects, typically achieved with expensive studio equipment, can be a challenge. This is where Studio Light comes into play, like a beam of creativity.
Studio Light for Portrait Photographers
Studio Light revolutionizes the accurate replication of light effects in your portraits. This tool ushers in a new era for portrait photographers by introducing a distinctive and achievable dimension in post-production. With this feature, you can adjust multiple light sources as well as patterns such as stripes or spots to customize the subject's lighting style. Moreover, you'll have the ability to play with the color and depth of light, giving full rein to your creativity.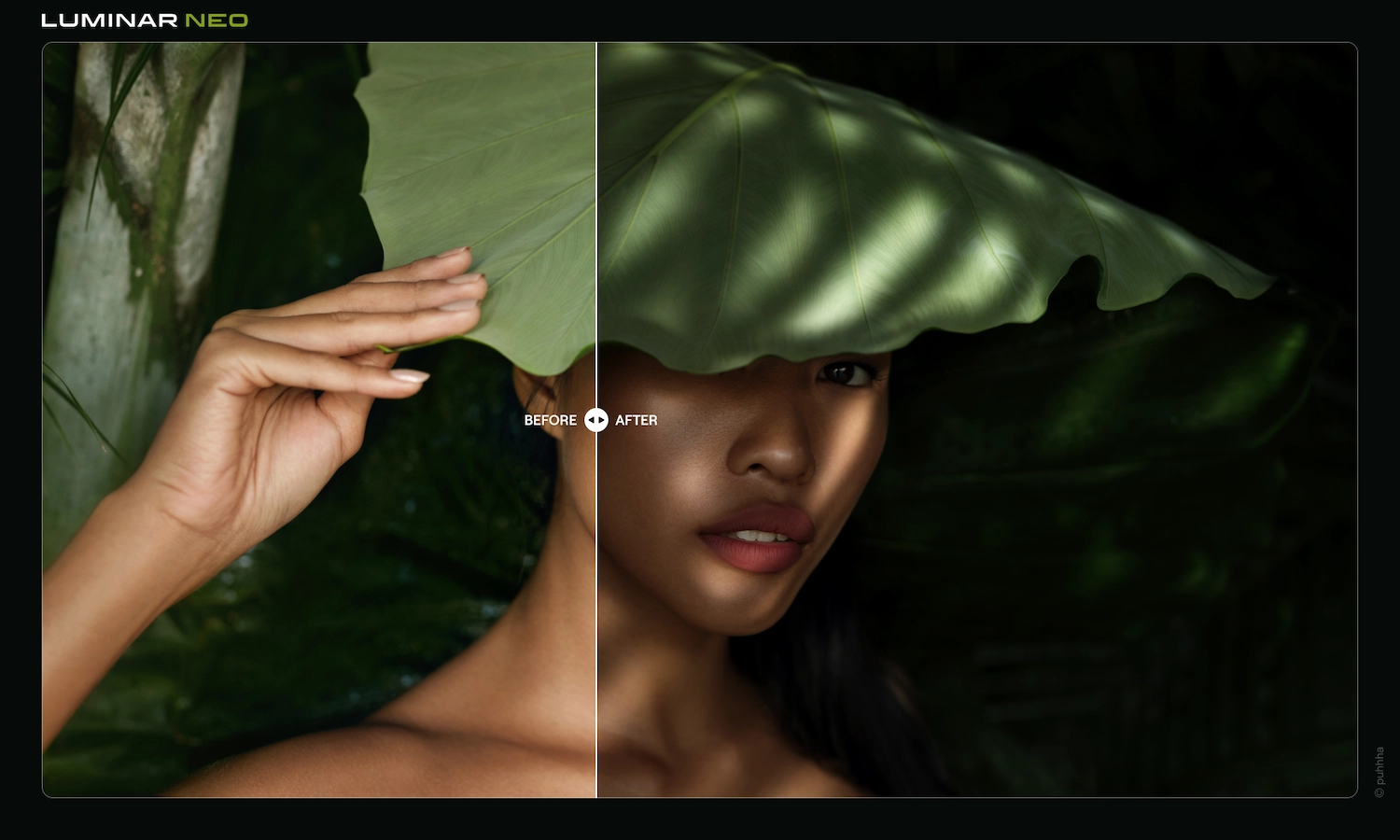 Neon & Glow, better lighting effects for Portraits?
The latest feature that Skylum is introducing provides photographers with new lighting effects for their portraits. These new effects will allow creatives to seamlessly incorporate striking neon elements into their compositions, adding a touch of intrigue and uniqueness to their images. This innovation promises to elevate photographers' creative potential, expanding horizons and crafting even more captivating visuals.
The new Luminar tools in an efficient workflow
On the occasion of announcing its new image generation features for photographers, Skylum is offering an Early Bird offer on its website, providing exclusive privileges. The new features integrated into the software will delight photographers eager to optimize their time and enhance their creativity.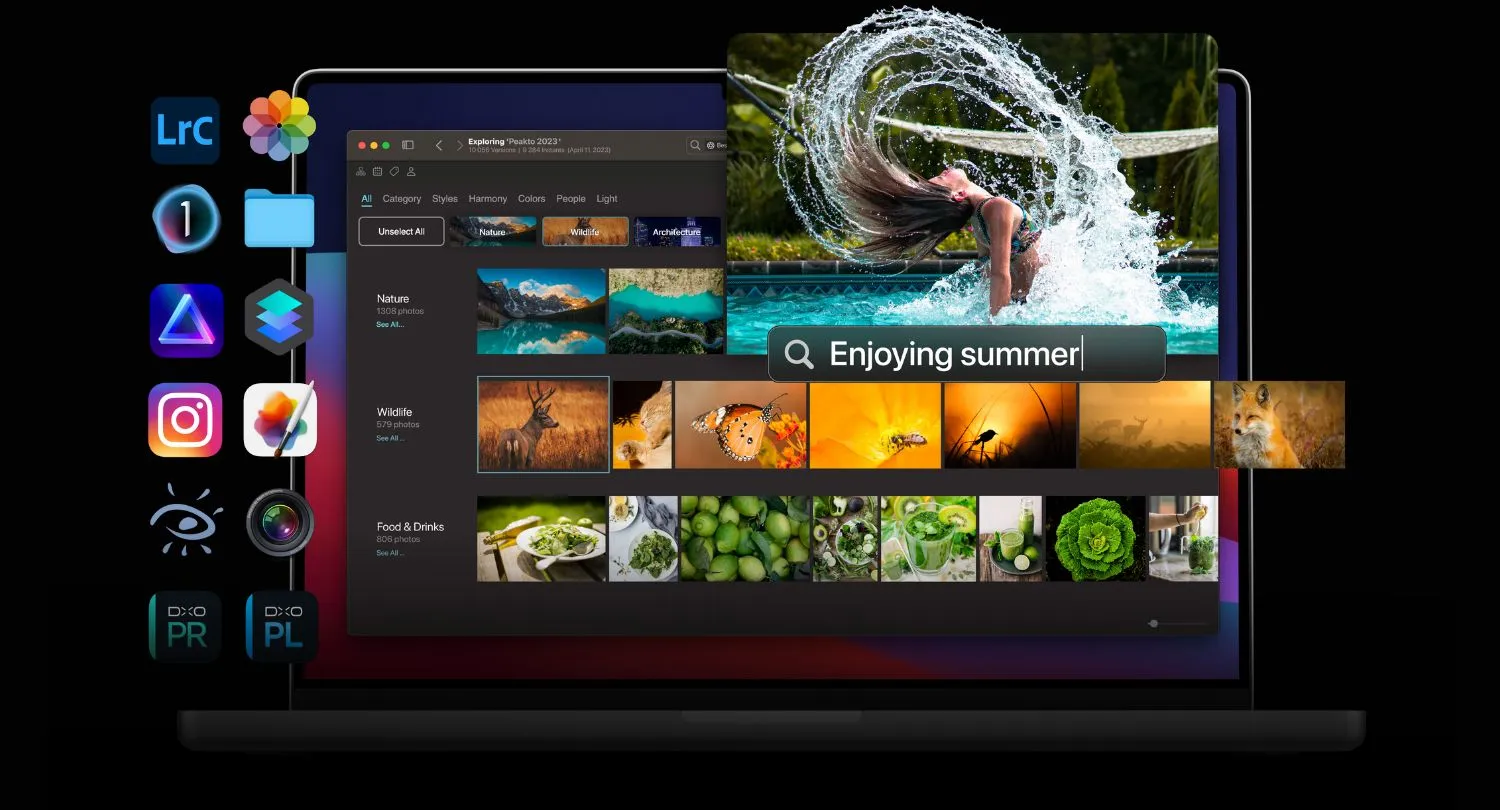 Now more than ever, creative photographers looking to harness the benefits of Luminar Neo will need a true tool for managing their photos. Peakto is the perfect cataloging companion for Luminar Neo (as well as Lightroom, Capture One, Apple Photos, Aperture, iView Media, DxO, and Pixelmator). It allows photographers to use their preferred editing tools while keeping overall photo management within a unified interface. Peakto users also benefit from an innovative navigation system and conversational search, providing a unique experience and a comprehensive view of all their photos.
This novel approach to integrating artificial intelligence into photography significantly simplifies photographers' workflows and promotes more creative image editing. Looking ahead, the usage of these tools is expected to increase, further lightening workflows, and granting photographers more time to focus on their creative endeavors.