Imagine combining the best of Lightroom, Lightroom Classic, Photoshop, and an array of plugins into one unified platform. Welcome to ON1 Photo Raw! This integrated tool allows for swift transitions between its diverse features, cutting down the time typically spent switching between apps like Lightroom and Photoshop or launching plugins. It's not just about speed, ON1 prioritizes a non-destructive workflow, eliminating the need for intermediary files to bridge apps.
Yet, ON1 Photo Raw isn't exclusive to experts. For beginners or those familiar with smartphone photography and apps like Instagram, it provides a user-friendly, one-click editing mode. This simple approach yields a wider array of outcomes, making Instagram filters feel somewhat constrained. For the seasoned photographers, ON1 offers comprehensive cataloging, superior raw file processing, and sophisticated editing options. Although Adobe Lightroom continues to be a benchmark in the industry, there's no denying ON1 Photo RAW stands out as one of its most formidable challengers. 
Considered as a prime Lightroom alternative, ON1 Photo RAW is tailored to fulfill every photographic editing need.
Much like Lightroom Classic, ON1 merges an efficient photo organizer with a robust Raw processor. Its Develop module places an array of standard photo adjustments within easy reach. Its layout and interface mirror Lightroom's, easing the transition for those familiar with it. Additionally, ON1 Photo RAW boasts Photoshop-esque features like layers, complete with advanced masking, blending options, and even the ability to add text.
A standout difference from Photoshop? All edits in Photo RAW are non-destructive, ensuring you can revisit and modify at will. It's equipped with an array of effects and presets.
The icing on the cake? ON1 integrates several of its own standout photo editing apps within the Photo RAW editor, with each standing tall in its own right. No other software offers this comprehensive suite, especially if combined with Peakto, the AI photo cataloger, which has recently introduced its integration with ON1. And for those with a fondness for Photoshop and Lightroom yet craving ON1 Photo RAW's stellar features, it can seamlessly function as a plugin too.
ON1 Photo RAW integrates a cutting-edge raw processor, enabling a fully non-destructive workflow: it allows for swift importation, sorting, and viewing of raw photos in the Browse module, and refining them in the Edit module without the concern of saving modifications. Upon reopening your photo, all of your adjustments are retained, all without the necessity of saving multiple versions of your image. Discover how to use all the tools and features with ON1 Photo RAW 2023 user guide.
The latest ON1 Photo RAW upgrade is 2023.5. A highlight of this update is the implementation of the new artificial intelligence model of "Face Recovery AI" during the resampling of your images. Face Recovery AI, which can detect faces and enhance them with realistic details, is entirely suitable for scaling old photos or cropping a person and scaling them to a new size and resolution.
ON1 Photo RAW iPhone is a significant addition to the mobile photography world. For those already familiar with ON1's desktop software, having a mobile version is invaluable for on-the-go editing. For others, it serves as a powerful introduction to the ON1 ecosystem.
ON1 Photo RAW mobile app is available for both Android and iOS. The app boasts a suite of editing features and includes an integrated camera function.
Though it doesn't match the full capabilities of its desktop counterpart, ON1 Photo RAW iPhone still offers an extensive range of tools and editing choices. It covers all essential photo adjustments: from exposure and white balance to contrast, noise reduction, and sharpening.
Furthermore, it provides access to ON1's top-notch effect filters, presets, masking capabilities, a fresh healing brush, and localized adjustment options.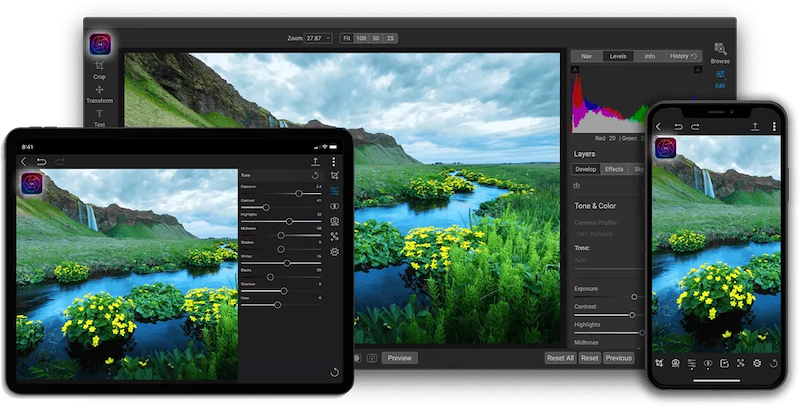 Key Features of ON1 Photo RAW
Prior versions of ON1 Photo RAW have indeed been lauded for their inclusion of a mix of superior features, offering a versatile suite of tools for photo editing enthusiasts. However, the introduction of the latest version brings forth a collection of notable additions that merit exploration.
Outlined below are the standout features, encompassing both the innovative new enhancements and the well-established features that users have come to appreciate in previous iterations.
Enhanced File Organization
ON1 Photo RAW operates on a browser-based system, eliminating the need to import your photos. Which makes it a great alternative to Lightroom. ON1 Photo RAW has also consistently surpassed Luminar in facets like metadata management, keywording, and search functionality.
All you need to do is simply guide Photo RAW to your photos' location on your drive, and they manifest seamlessly. This browser-based approach presents a simpler user experience compared to the catalog system of Lightroom. It allows for the classification of photos into albums or the creation of smart albums housing search criteria. There's also a map view feature available, offering a geographical overview of where photos are captured and permitting the addition of location data to images devoid of GPS metadata.
Transitioning from Lightroom to ON1? Streamline your catalog management by consolidating them into a unified interface. This grants you centralized search capabilities across all your photos and enables you to seamlessly oversee both Lightroom and ON1 catalogs from a single platform. Enter Peakto, the cataloging solution compatible with these two powerful software (and more). Peakto seamlessly integrates management and viewing functionalities akin to those found in ON1, all enhanced with the power of AI automation. From automatic photo categorization to image recognition, manual photo annotation becomes a thing of the past; just describe an image in the search bar, and Peakto will locate it effortlessly.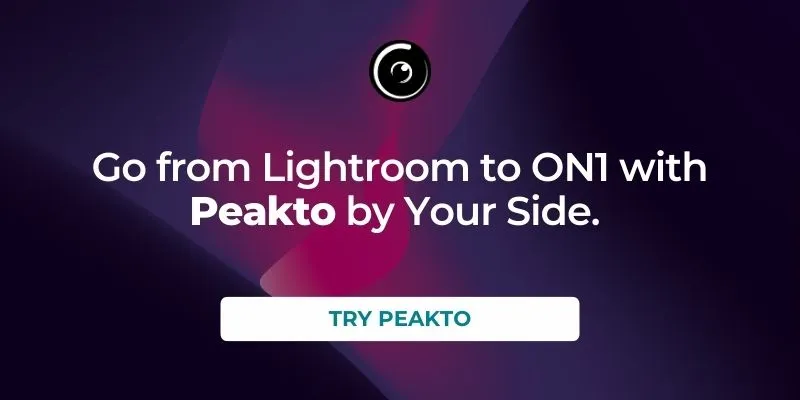 Another feature in ON1 Photo RAW is the seamless incorporation of its No Noise AI program directly into the software. This eliminates the necessity to export a photo to a different program and then reimport it back into Photo RAW.
Using this feature is exceptionally easy, and for those who favor the traditional noise reduction software available in previous versions of ON1 Photo RAW, there is no cause for concern— the "Classic" noise reduction option remains accessible.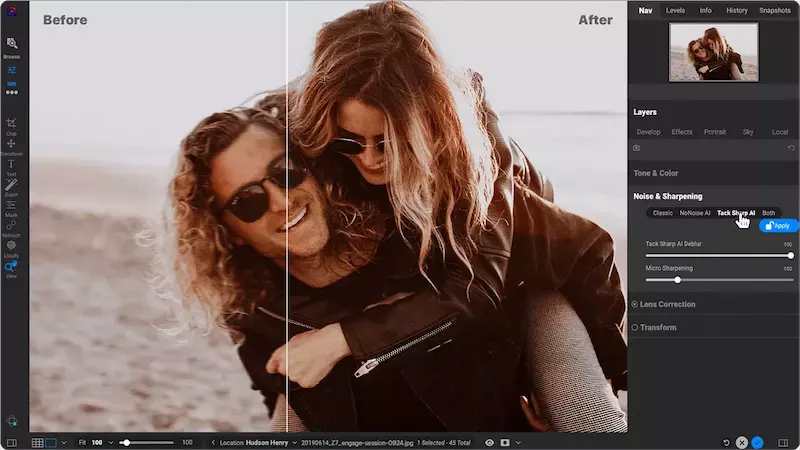 ON1's photo editing tool includes an extensive array of editing features that would suffice the needs of most photographers. For those seeking more advanced features, the Show More button or the Filters section can be navigated with a simple click.
Similar to Luminar and several emerging platforms, ON1 has also integrated a range of Artificial Intelligence (AI) functionalities. Within the Develop module, AI features like AI Auto Tone and AI Match are embedded. AI Match instructs the Develop module to synchronize the image with the version viewed on your camera's display.
Still, ON1's auto-tone is considered to be somewhat less advanced in comparison to the auto-tone features in Lightroom and Capture One, with Luminar excelling through its Accent AI.
However, It's worth reiterating that all adjustments within ON1 Photo RAW are non-destructive, signifying that alterations are applied not to the original file but are retained as instructions, which are modifiable and can be reverted to original configurations. In line with Lightroom, ON1 Photo RAW accommodates the Raw photo formats from a diverse array of cameras and is enriched with a substantial collection of lens profiles, facilitating effortless and automatic lens corrections.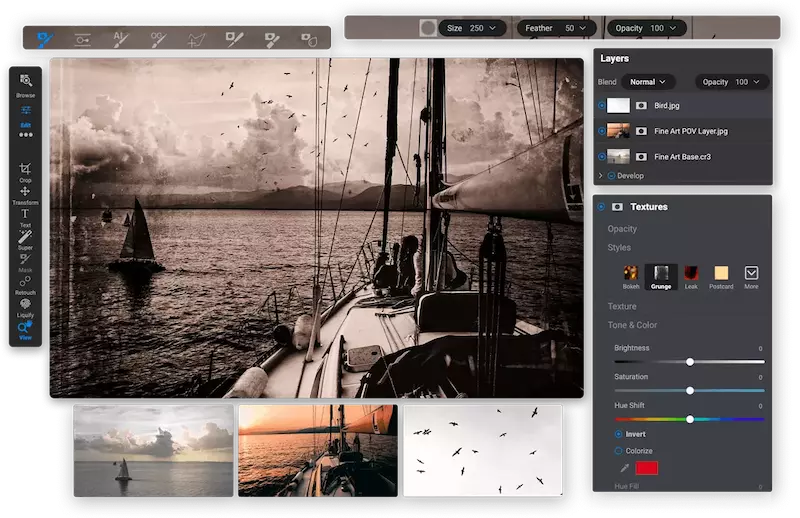 One of ON1's powerful features has been its capability to facilitate work with layers, enabling users to create composites, swap skies, and blend exposures manually.
Accompanying the layer functionality, ON1 Photo RAW offers various brushes, conventional blending options, and unmistakably, layer masks. In fact, every filter applied is automatically integrated as a layer, simplifying the fine-tuning of any adjustments independently from the remaining adjustments. Additionally, Photo RAW is equipped with a plethora of backgrounds, replacement skies, and other elements for photo compositing. Although the AI Sky Replacement in Luminar is superior, executing this in ON1 remains straightforward.
However, those accustomed to Photoshop may find the selection tools somewhat basic, even with the incorporation of AI—a notion applicable to Luminar as well. The necessity to manually paint the portions overlooked by the AI could be time-consuming.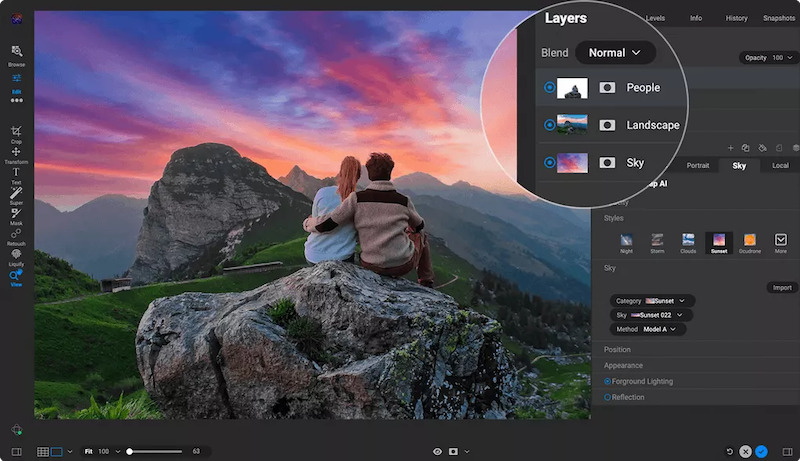 A distinctive feature of ON1 Photo RAW is its early adoption of AI to assist in mask creation. The AI Quick Mask feature in ON1 is conceived to isolate your subjects with minimal strokes. You simply instruct it on what to discard (marked in red) and what to retain (marked in green), and the software will create the mask for you.A notable enhancement in Photo RAW is the introduction of the Refine Mask feature, which meticulously refines areas around hair, tree branches, and other details that are otherwise challenging to access.In ON1 Photo RAW 2023.5, you can create a foreground mask and apply the adjustment to the background only. If applying a distinct effect to a portrait photo is desired while maintaining the background's original state, a mask can be created specifically for the person, and adjustments can be confined to that particular area. These advanced Mask AI options, available in ON1 Photo RAW 2023.5, facilitate the creation of such masks, consequently improving the overall user editing experience.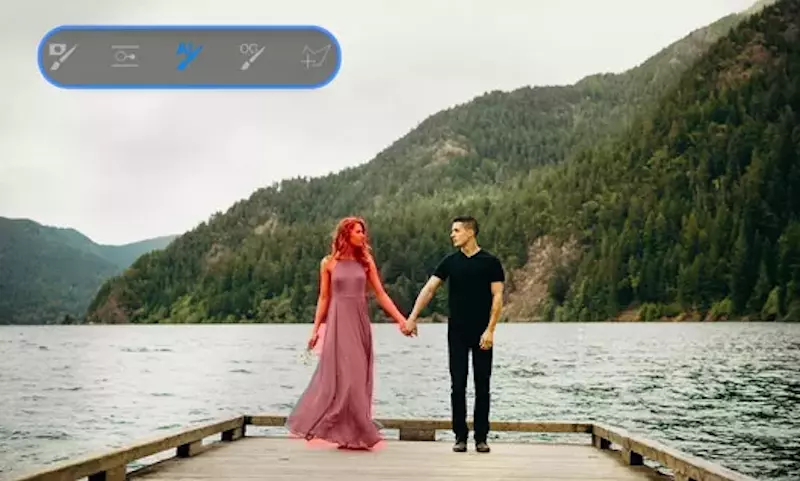 AI-powered Sky Replacement
A particularly thrilling addition to ON1 Photo RAW, for many users, is the one-click sky replacement filter, Sky Swap AI. This feature, much similar to Luminar's Sky Replacement AI tool, automatically discerns sky regions and substitutes them with a chosen sky.
The feature offers a multitude of controls, allowing alterations from modifying the edge to adjusting the foreground lighting. It enables the addition of atmospheric haze, alterations in brightness and warmth, among other changes.
Most of the time, Sky Swap AI demonstrates commendable efficiency, notably when the background comprises mountains and trees, though it evidently struggles with detecting buildings.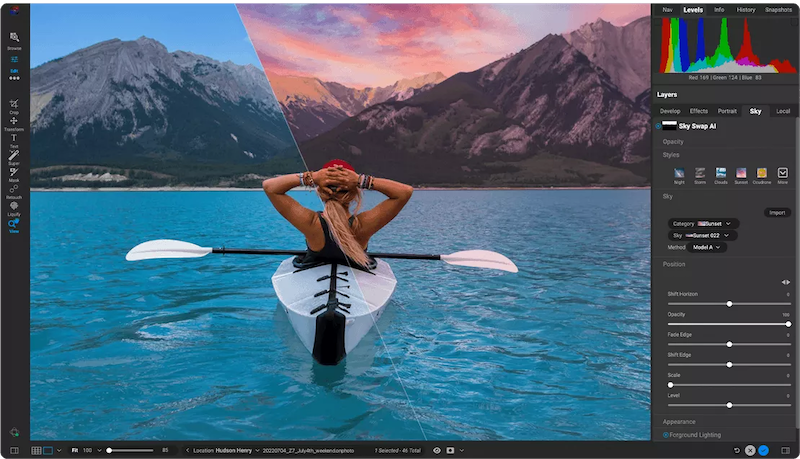 A significant enhancement has been made to the search capabilities in ON1 Photo RAW. The refined Advanced Search features allow you to meticulously sift, sort, and filter your images based on numerous distinctive characteristics. For conventional searches, you can use the enhanced filter bar located at the bottom of the screen, or for more intricate searches, employ the Advanced Search tool.
This feature also enables you to discover more about your photography trends and habits through well-formulated searches, offering insights that could guide your photography growth or aid in decision-making regarding future lens purchases.
Furthermore, you can create Smart Albums directly from an Advanced Search, utilizing the search criteria as filters to automatically populate your album.
Take ON1 Photo Raw a step further with Peakto
While ON1 Photo Raw provides an array of editing tools and organization options, integrating with Peakto can further enhance photo management capabilities. Peakto's conversational search feature allows users to quickly and accurately find photos using natural language, which can save a significant amount of time compared to manually tagging or searching through photos in ON1.
Peakto's centralized search with advanced filtering options empowers users to sift through their collections using various criteria like image similarity, and equipment-based filtering, which can be especially useful for professional photographers.
Moreover, leveraging the AI-powered functionalities of Peakto, like automatic categorization and intelligent album assembly, facilitates a more efficient and intuitive sorting and grouping of your photos compared to exclusively relying on the features available in ON1.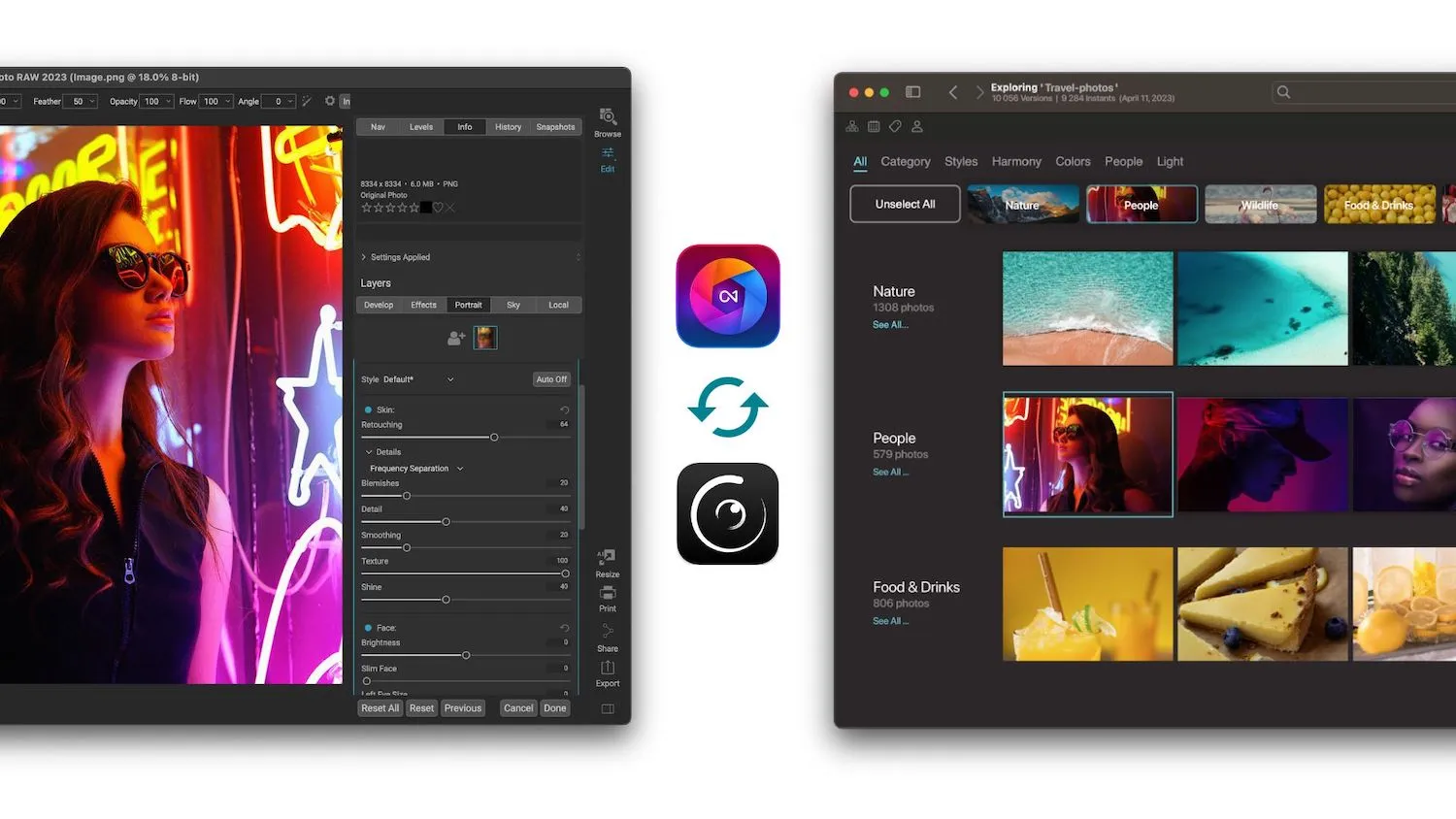 Conclusion: ON1 Photo RAW review
ON1 Photo Raw has much to offer. It serves as a comprehensive software, providing robust editing tools in addition to organization and management solutions as your collection continues to expand. Although a few of the newly introduced AI features have room for refinement, the majority prove to be extremely beneficial and are often time-savers for users. 
However, the loading speed of ON1's browser surprisingly lags, taking more time to load photos compared to Lightroom, Capture One, or even Luminar.
Nevertheless, it surpasses Luminar in robustness, especially regarding metadata and search capabilities. It usually presents a learning curve that is more user-friendly for most photographers, compared to Capture One.
By integrating Peakto with ON1 Photo Raw, you can leverage your overall experience with ON1 Photo RAW and create a more efficient, seamless, and productive photography workflow, ensuring both high-quality editing and effective management of your growing photo library.