Discover how Peakto revolutionizes your photo management and navigation experience. In today's world, our photos are spread across multiple devices, editing software, and folders, making it challenging to appreciate, enjoy, and share them. However, Peakto brings all your photos together into a unified hub, allowing you to effortlessly access, organize, and cherish them.
Peakto seamlessly integrates with various photo sources without duplicating your files. It uses high-definition previews, enabling compatibility with your photo catalogs, offline folders, and even your Instagram accounts. From Lightroom, Lightroom Classic, and Capture One to Luminar, Apple Photos, Pixelmator Pro, DXO PhotoLab and PureRaw, Peakto offers a unified interface to view and explore your photos from different sources.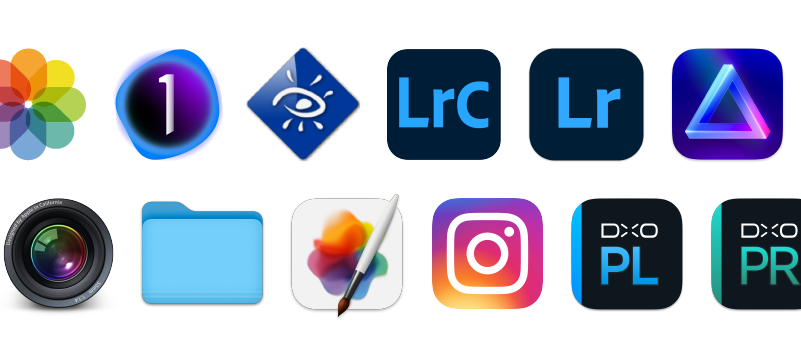 Improved compatibility with Luminar Neo
Peakto now serves as the ultimate cataloging companion for Luminar Neo, offering in-depth interconnection. It takes things to the next level by continuously synchronizing with Luminar Neo, effortlessly mirroring the latest versions of edited images. It automatically collates these edited versions with the originals, streamlining the process of resuming photo editing with a single click and eliminating the need to search for the correct file. With AI-powered ultra-precise organizational capabilities and powerful conversational search, Peakto complements the already outstanding photo editing tool that Luminar Neo is, making it the perfect partner for your creative journey.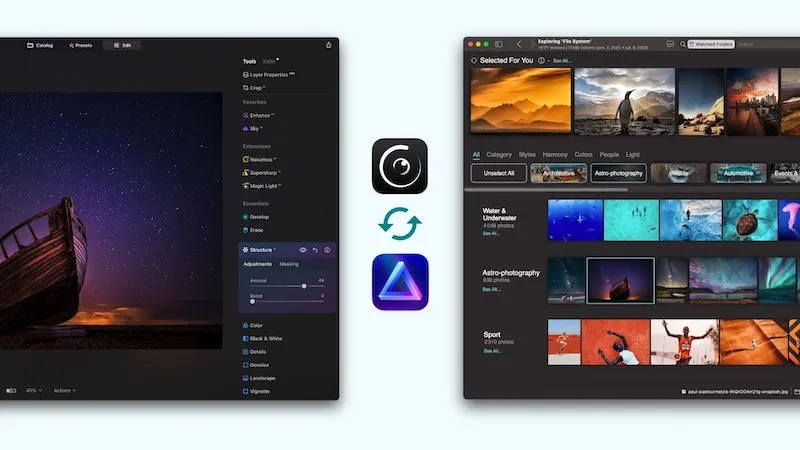 Key Features of Peakto's Integration with Luminar Neo
A dedicated workspace for all your Luminar Neo edits: Simply drag and drop inside Peakto to access Luminar Neo's advanced editing capabilities for any image.
Deep integration with all catalog sources: Whether the original file resides in Apple Photos, Lightroom, CaptureOne, or any other source, Peakto allows you to create a managed Luminar Neo version that can be edited and updated indefinitely.
Edits that are not frozen in time: In contrast to the Photos and LRc plugins that come with Luminar Neo and freeze edits when you leave them, Peakto lets you go back and refine your edits without limitations.
Consistent access to all Luminar Neo image versions across all catalogs: Peakto provides convenient access to all the photos edited in Luminar Neo, complete with accurate previews, whether they are in catalogs or in the workspace. The latest edits are automatically displayed at the top.
Versioning across app boundaries: Enjoy the clarity of seeing all versions of an image, complete with accurate previews and one-click access to the editing app.
Regardless of the file format, Peakto supports them all. RAW, JPEG, PNG, PSD, TIFF, or PXD – find all your images in a single interface. With Peakto, you can finally have all your photo collections in one easily accessible location.
Your offline photo folders
Connect your photo folders to Peakto, including those on your hard drives: Peakto provides a view of your photos even if the source is disconnected.
Peakto mirrors all your original organization and structure (collections, folders, annotations).
Compatibility with old friends
Peakto lets you view, navigate, and search through all the photo material you stored in Aperture and iViewMedia.
Connected to your Instagram account
Instagram is one of the sources of images for Peakto. Once your Instagram account is connected to Peakto, all your images posted on the social network become assets that you can easily find, classify, and reuse for other media, printing, or sharing.
Peakto enables you to track your photos on Instagram by monitoring real-time likes and also groups each Instagram image with its original shot and different versions, regardless of the folder or editing catalog they are located in.
Finding an image shared on Instagram to republish it or grouping the most liked photos on Instagram into an album becomes a breeze. With its centralized view and search, Peakto serves as both the hub for organizing images into share-ready or print-ready albums and the control tower to find the right photos or discover forgotten treasures.
Seeing your photos in a new light
Experience your photos in a whole new way with Peakto's innovative features. Enjoy a map-based view of your geotagged photos, automatically sort and explore nature, animal, or people photos with AI-powered organization. Panorama view, grid view, detail view, and map view – Peakto provides versatile perspectives to rediscover your images and appreciate them from fresh angles.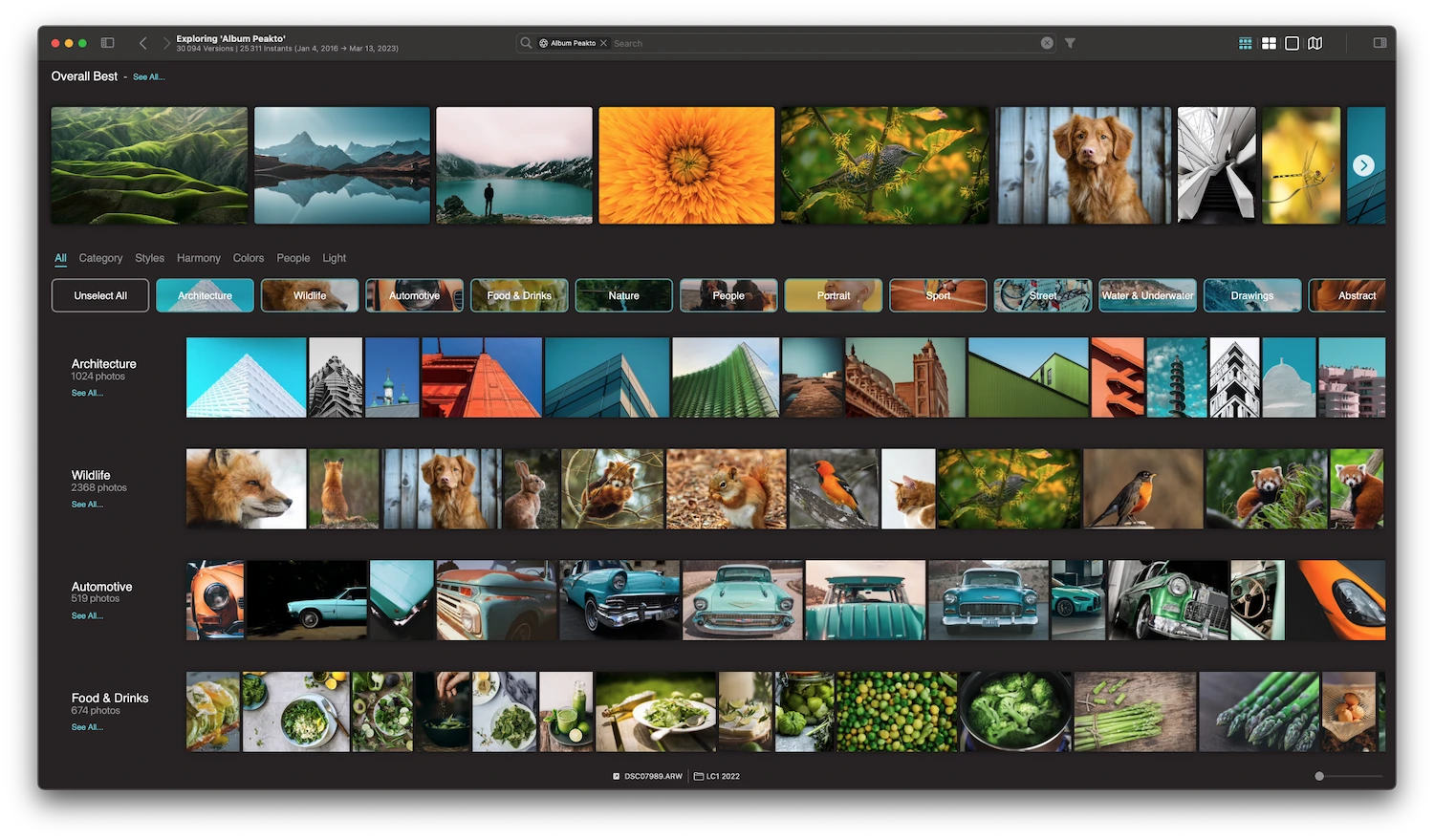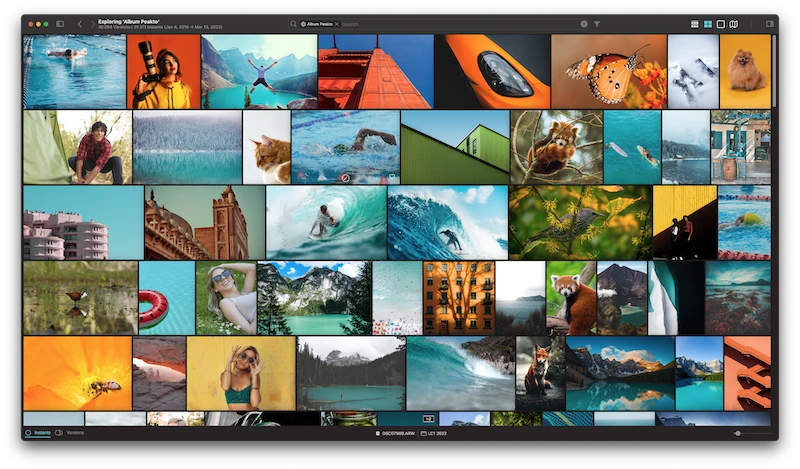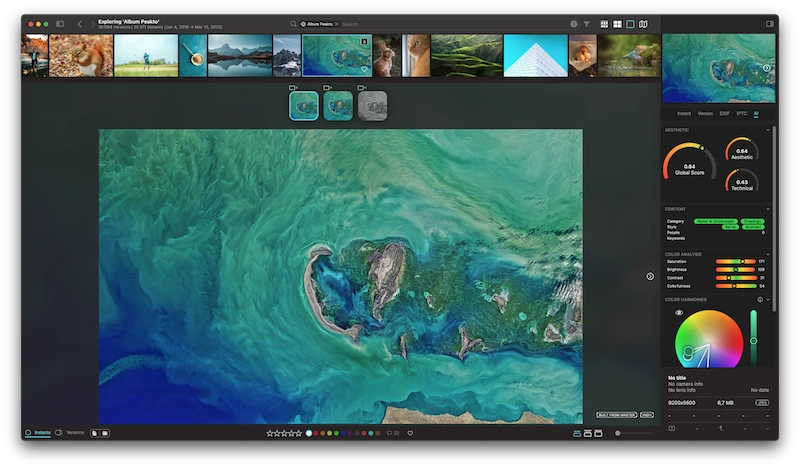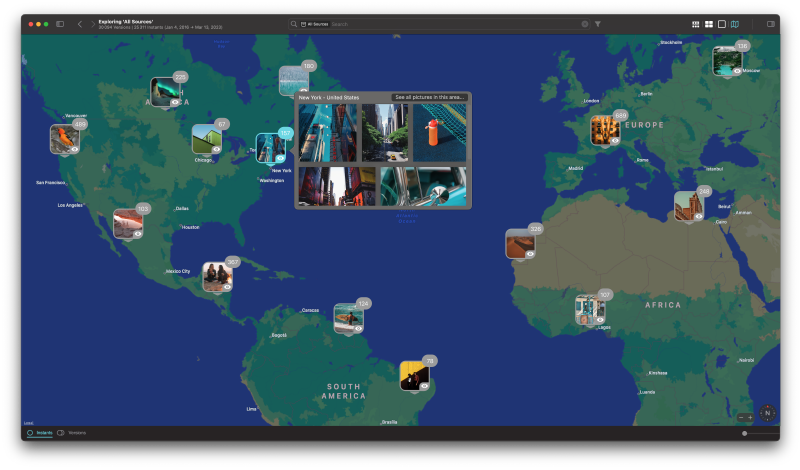 Rediscover your best shots by location
Getting a comprehensive view of your images on the map has never been easier. Peakto offers a convenient status bar button that allows you to seamlessly transition from the image grid to the map view, precisely zoomed in on the location of your choice. Whether you want to explore your photos by location or relive your travel memories, Peakto provides a seamless navigation experience.
Thanks to the GPS coordinates of the photo or your annotations, Peakto locates the images on a world map. With a simple tap of the "Option" button and the use of the trackpad, you can visualize your photo locations in 3D. Trace the path of your photographic adventures as you swipe and explore the map.
Lightning-fast photo navigation
With Peakto, navigating through thousands of images becomes a breeze. Designed for speed and efficiency, Peakto effortlessly syncs with your catalogs and photo folders, ensuring you always have an up-to-date view of your entire photo library. Enjoy high-resolution previews, utilize convenient keyboard shortcuts, and best of all, Peakto achieves all this without creating duplicates of your files.
Embrace Peakto as your ultimate photo hub, where organization, exploration, and lightning-fast navigation come together to enhance your photo experience like never before.