February 16, 2023 – Montpellier, France. 
Instagram becomes a new source of images for the AI-powered meta-cataloger, Peakto, a software for macOS developed by CYME. With this new compatibility, Peakto becomes, for all photographers and photo enthusiasts, the ideal assistant capable of automatically sorting and finding the images they need, and a centralized organization solution compatible with all their digital photos, no matter where they are stored and published.
"Managing all your photos is a real challenge for a photo enthusiast. They are quickly scattered in folders, editing software like Lightroom or apps like Instagram. Peakto is designed to be the control tower that gives photographers back the big picture and provides tools to manage, analyze, automatically sort and create multi-sourced albums. Instagram has been part of the photographer's universe for many years, and it was necessary to reflect the Instagram activity in our smart photo cataloger," says Claudia Zimmer, co-founder of CYME.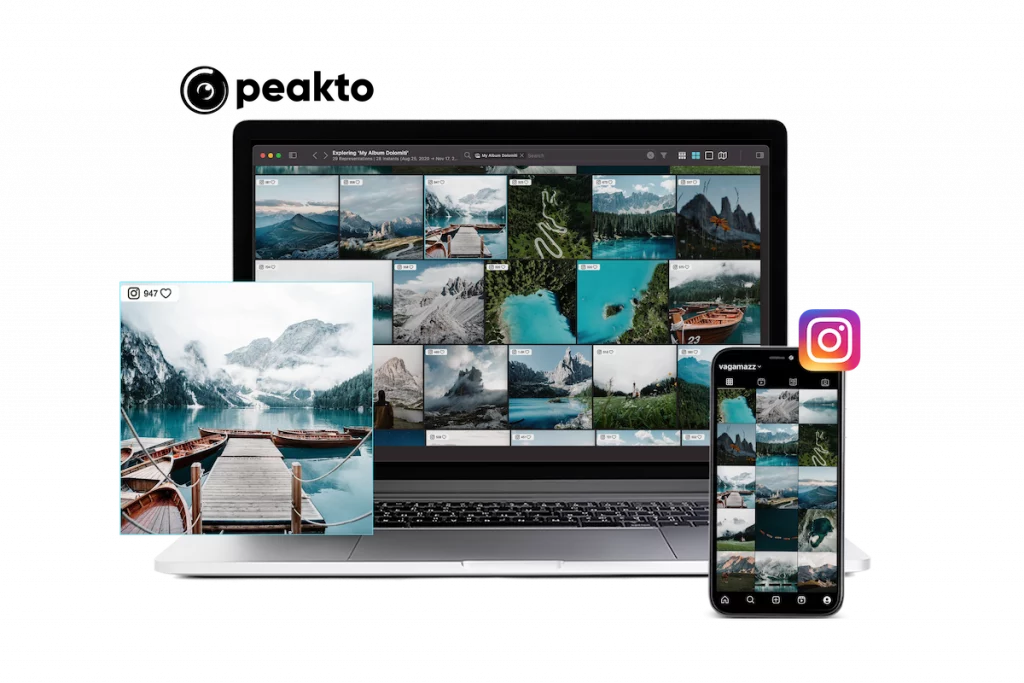 A magic assistant compatible with Instagram
While Peakto makes it possible to track photos on Instagram by monitoring the likes in real time, it also groups each Instagram image with its original shot and its different versions, no matter which folder or editing catalog they are located in.
Once Instagram accounts are connected to Peakto, all images posted on the social network become assets that the user can easily find, classify and reuse for other media, printing or sharing.
Like an assistant who would come and find this or that shot or suggest a selection of images, Peakto integrates an artificial intelligence that automatically classifies photos into categories (portrait, nature, food…) and assigns aesthetic scores and keywords describing their content. All Instagram images are sorted, categorized and accessible like all other photos linked to Peakto.
Finding an image shared on Instagram to republish it or grouping the most liked photos on Instagram in an album becomes a breeze. With its centralized view and search, Peakto becomes both the hub from which to organize images into share-ready or print-ready albums, and the control tower to find the right photos or discover forgotten treasures.
Peakto is a software for macOS, available now by subscription or pay-per-use on cyme.io and on the Mac App Store.
Peakto can be tested for free for 15 days (no credit card required on cyme.io). Peakto is available on a monthly plan at $9.99/month; a yearly plan at $99/year; or for a one-time purchase of $189.
Peakto is the second avant-garde software created by CYME in response to the needs and wants of photographers worldwide. Founded by serial entrepreneurs Claudia Zimmer, Matthieu Kopp and Thomas Ribreau, CYME's mission is to deploy innovative features that will both serve the photography community and help protect our planet.
In the coming months, CYME will enrich Peakto with solutions to save our best photos, in good quality and without duplication; to encourage digital sobriety by keeping only our best images; and to facilitate the sharing of our best images and memories.