Capture One is the image processing software developed by the Danish company Phase One, founded in 1993. This software has gone through many versions and stages to become what it is today, that is to say one of the most innovative photo editing software programs on the market and the most popular with professional photographers.
To explain Capture One's revolution and success, we will take a look at its history. To do this, we must go back to its origins, examine its aspirations and review the improvements it has made over the years.
The early days of Capture One
Capture One is one of the most powerful image editing programs available today, but how did it come about?
The beginnings of Capture One: a RAW image converter
To focus on Capture One's story, it is necessary to go back to its origins. Capture One was launched in 1994 as a RAW image converter for the cameras of Phase One, a Danish company specializing in high-end digital photography software and equipment. Phase One was acquired in 2020 by Axcel, a private equity firm of high quality companies, and was placed under the management of Rafel Orta. Capture One started out as an application for Phase One cameras and is now recognized by professional photographers and studios around the world. 
2003: the creation of an independent brand
As early as 2003, the company showed a willingness to establish a true separation between the software and the camera manufacturer, so that it could evolve independently and prove itself as a photography software company. The independent brand Capture One was created in 2003 and became compatible with other camera brands (the list now contains more than 600 camera profiles and lenses). This is what allowed it to find a place on the market.
Capture One: a story of passion
The history of Capture One is marked by its great passion for photography and the reproduction of reality, inevitably leading to its success.
A company inspired by the art of photographers
Capture One is an editing software dedicated to photographers and developed with the needs of photographers in mind. In order to develop the best tool, the company was directly inspired by the art of photographers who, through their work, transport the public to unique places.
This vocation allows the company to develop new tools and new versions of the software, allowing people to work from anywhere and with anyone. Phase One continues to rely on empowering their community of photographers from around the globe to share their work with the world.
The search for the perfect image
Since 2003, Capture One has been working on the limits of editing and color reproduction. The fact that it was originally a RAW file conversion program is not insignificant. Its objective: to offer an image processing product that allows photographers to produce an image that is most faithful to the scene being photographed; a scene that we would not otherwise see. 
Indeed, some colors have infinite shades that the human eye can see, but that the camera cannot reproduce. Each new version of the interface pushes the limits of color control a little further.
Capture One: innovative photo editing software
From support for new cameras to color enhancements, Capture One is rapidly evolving and breaking new ground. In order to focus on the evolution of Capture One, it seems necessary to mention two areas at the heart of software innovations: collaboration and user experience.
Collaboration at the centre of Capture One's innovation
One of the objectives of Capture One, and what makes it different, is that it enriches the collaboration process of photography professionals. While Capture One 11 introduced annotation tools, which can, for example, be used to indicate lines of force or certain edits to be made to a colleague, Capture One took things even further by launching Capture One Live. This new tool allows remote collaboration: photos can be sent to colleagues during the photo shoot thanks to quick and instantaneous feedback.
Innovations to improve the user experience
In order to improve the photographers' experience, Capture One continued to improve in terms of personalization and speed. 
A personalized experience
Through years of research, work and development, Capture One has managed to develop a flexible ecosystem offering products for different uses, including:
Capture One Pro for the computer and for a global overview;
Capture One iPad to edit photos anywhere on the go;
Capture One Styles for editing software that allows you to express yourself and that adapts to each user;
Capture One Live for editing photos collaboratively.
In the same way, the software builds an increasingly customizable editing interface. It is not the user who adapts to the software, but the software that adapts to the user. Each new feature and tool can be added to the editor's toolkit and can be moved as desired or even hidden as needed.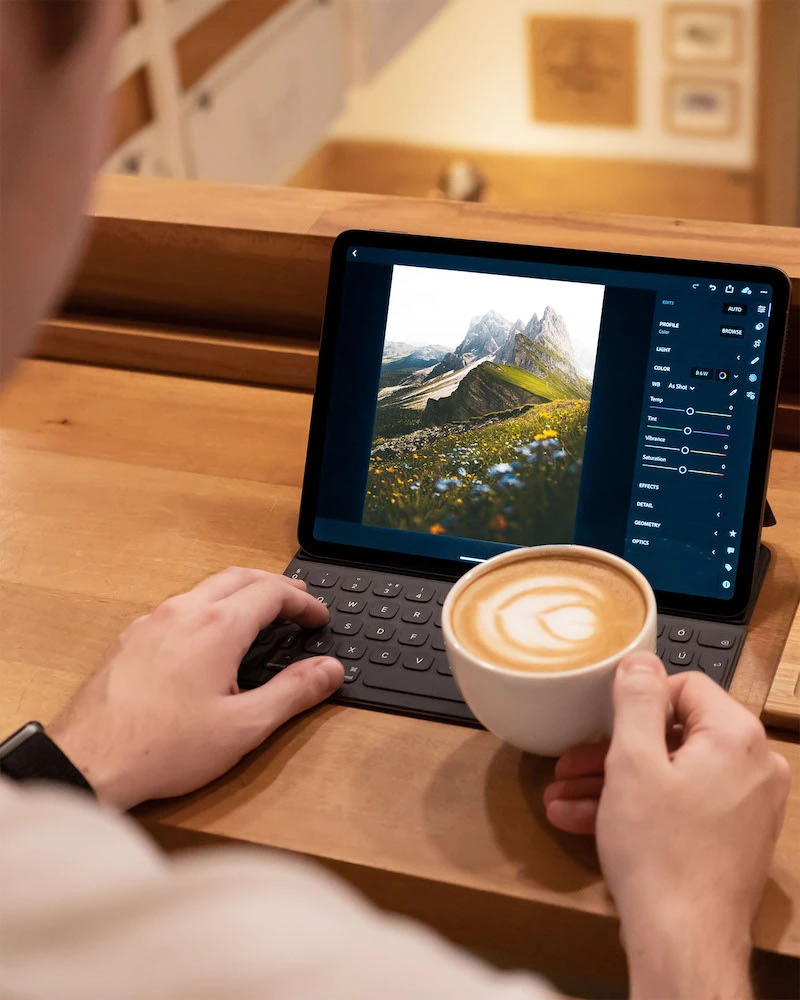 Capture One is also innovative when it comes to fast automated selection, saving many hours of manual selection. In 2020, Capture One 21 introduced the Speed Edit tool to make editing sessions much more dynamic. The sliders in this tool allow quick and smooth adjustments to individual shots or groups of photos. The tool also offers innovative shortcuts created to speed up the editing process.
Capture One versions and improvements
Let's take a look at the different versions of Capture One in order to better appreciate the new features and various improvements.
Capture One 7: Catalogs and advanced OpenCL.
Capture One 8: Enhanced image quality, repair layers, film grain, localized white balance and an enhanced user interface.
Capture One 9: Improved DNG color processing, Luma and local curves, revision of contrast algorithms and asset management tools.
Capture One 10: New camera focus tool, new filter for image orientation, more Apple Script properties, optimized for JPEG output, move folders in catalogs, support for compressed RAW, support for new lenses and cameras.
Capture One 11: New annotation tool, layer integration and masking versatility.
Capture One 12: New user interface, brightness mask, radial gradient, plug-in capabilities, Fujifilm film simulations.
Capture One 20: New correction tool, new basic color editor, high dynamic range tool, improved noise reduction, scrolling tools, improved cropping tool, DNG file support, layer and mask copy support, interface enhancements, image sorting tools and new keyboard shortcuts.
Capture One 21: Quick edits, new haze removal tool, ProStandard ICC profiles, redesigned importer, easy brush adjustments, Leica connection, HEIF file support.
Capture One 22: Panorama, HDR fusion, wireless connection for Canon, automatic rotation for horizons.
Capture One continues to evolve its software by working alongside photographers around the world.