April 19, 2023 – Montpellier, France. 
CYME, an innovative provider of photo management solutions for macOS, announced today that its cutting-edge meta-cataloger, Peakto, is now compatible with DXO PhotoLab and PureRAW. This compatibility update is expected to provide photographers, both professional and amateur, with an efficient and user-friendly way to organize and manage their photo collections across different software applications, without creating copies.
This integration with DXO PhotoLab and PureRAW adds to Peakto's already extensive list of supported software, further cementing its position as a versatile and powerful tool for photo management that doesn't duplicate images. Peakto is already compatible with a wide range of photo editing software, including Apple Photos, Lightroom Classic, Luminar AI/Neo, Capture One, Pixelmator Pro, Aperture, and iView Media, as well as all folders and image files, and Instagram accounts.
With the updated Peakto for Mac, users can now visually access all versions of their images created with DXO PhotoLab, and create new DXO PhotoLab versions from any image. Fluid editing between PhotoLab, Lightroom, Capture One Pro and even Apple Photos is made possible through a dedicated workspace within Peakto. Peakto brings unique cataloging features to DXO PhotoLab users: automatic categorization and annotations through AI, a beautiful map view, smart albums and multi-source collections.
For those wanting to unlock the power of RAW files, Peakto can now trigger DXO PureRAW conversions from any RAW file and get the resulting output back, preserving the link with the original file. Building complex editing workflows that start with PureRAW is now easy, and Peakto will track all versions along the way.
According to Matthieu Kopp, CYME co-founder and CTO, "We want to offer photographers the possibility to use the photo editing software of their choice, or even to use several. DXO PhotoLab is a very compelling alternative to editing images in Lightroom, and DXO PureRAW is a very powerful tool for denoising RAW files. By pairing them with a smart cataloger like Peakto, professional and amateur photographers alike get a very powerful toolbox."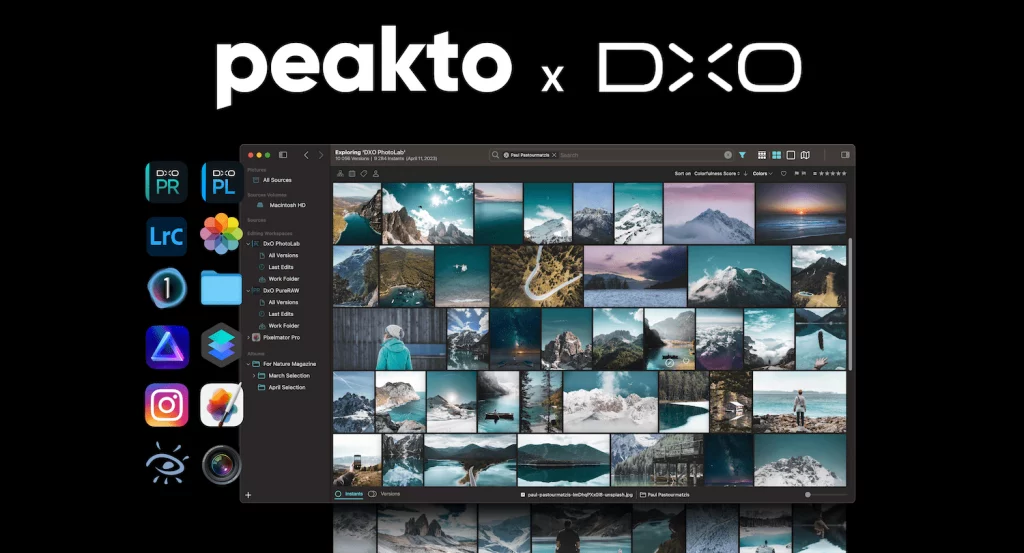 Peakto, the widely compatible cataloger powered by AI
Peakto is a powerful meta-cataloger that provides users with a centralized search interface for all of their images. It is compatible with many photo editing software, including DXO PhotoLab and PureRAW, Apple Photos, Lightroom Classic, Luminar AI/Neo, Capture One, Pixelmator Pro, Aperture, iView Media, as well as folders, picture files, and Instagram accounts.
Thanks to its expert filters (date, location, camera lens, etc.), Peakto's centralized search makes it easy for users to find specific images from thousands of files. Additionally, Peakto enables cross-app annotation, allowing users to annotate hundreds of images from different photo editing software and folders, all from the same interface.
Peakto's automatic AI categorization and keywording is also a standout feature. Its AI engine automatically classifies all photos according to their content (portrait, nature, food, wildlife, etc.) and style, giving them aesthetic scores. This reduces the need for manual classification and makes it easy to find hidden gems in a lifetime of memories.
With Peakto's intelligent curation and search capabilities, users can easily create albums (which can be exported in full resolution!) from multiple sources. This makes it an ideal tool for professional and amateur photographers alike, who want a streamlined and efficient way to manage their photo collections.
Peakto is a software for macOS, available now by subscription or pay-per-use on cyme.io and on the Mac App Store.
Peakto can be tested for free for 15 days (no credit card required on cyme.io). Peakto is available on a monthly plan at $9.99/month; a yearly plan at $99/year; or for a one-time purchase of $189.
Peakto is the second avant-garde software created by CYME in response to the needs and wants of photographers worldwide. Founded by serial entrepreneurs Claudia Zimmer, Matthieu Kopp and Thomas Ribreau, CYME's mission is to deploy innovative features that will both serve the photography community and help protect our planet.
In the coming months, CYME will enrich Peakto with solutions to save our best photos, in good quality and without duplication; to encourage digital sobriety by keeping only our best images; and to facilitate the sharing of our best images and memories.