March 14, 2023 – Montpellier, France. 
CYME adds annotation features to Peakto, the AI-powered photo meta-cataloger for macOS. Thanks to its wide compatibility–Lightroom,
Luminar AI/Neo
, Capture One and Apple Photos–Peakto allows photographers to annotate from the same interface thousands of images belonging to different photo editing software and different folders. This borderless annotation, which can be applied to hundreds of photo catalogs, complements Peakto's automatic AI annotation that effortlessly assigns keywords and categories to images.Matthieu Kopp, co-founder of CYME: "Our photos are scattered in different folders, software and formats. We created Peakto to put photographers back in control and allow them to find, sort and create albums from ALL their images. This new borderless photo annotation feature is a must-have for good organization and consolidates Peakto's status as a centerpiece from which to explore, find, organize, select and export its photos."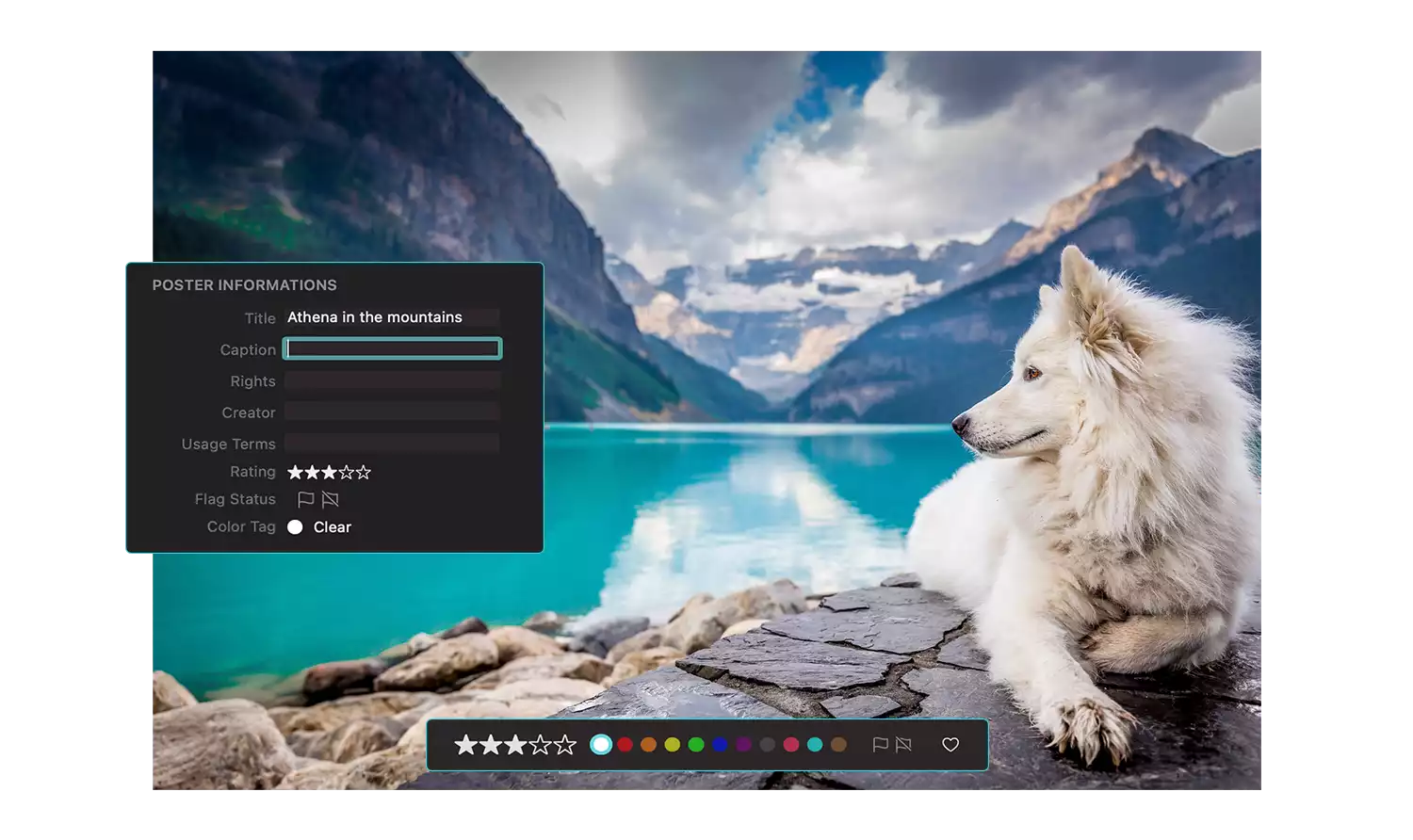 Annotate from visual and borderless libraries
Thanks to a meta-cataloger like Peakto, annotating huge numbers of photos becomes easy and fun. Instead of searching for each image, Peakto is now the only interface that brings all the photos together. From the grid view and thanks to keyboard shortcuts, the photographer quickly navigates from image to image and simply assigns stars, colors, favorites or validation/rejection flags, regardless of the folder where the photos are stored or the software in which they are edited.
Peakto also recovers the annotations present in the original catalog and allows users to add new ones such as title, caption, author's name, rights of use and legal mentions. Because Peakto is an AI-enhanced photo organizer, it offers photographers two options to find a specific shot or make image selections: (1) keywords describing the image content automatically assigned by the AI, and (2) the photographer's personal notes. Peakto simplifies the sharing of the best images from a shoot, the creation of a thematic album or the selection of visuals for a book or portfolio.
Peakto is a meta-cataloger that gathers in a single interface all of a photographer's photos, thanks to its compatibility with many photo editing software (Apple Photos, Lightroom Classic,
Luminar AI/Neo
, Capture One, Aperture, iView Media), with folders and photo files, and now with Instagram accounts.Peakto is designed to be the control tower that gives photographers a comprehensive view of their photos and provides tools to manage, analyze, automatically sort and create multi-sourced albums. Respectful of file sizes and photographers' organization, Peakto does not create copies or move originals. It accesses high-resolution previews to provide an always up-to-date, fluid and elegant workspace.
Peakto is a software for macOS, available now by subscription or pay-per-use on cyme.io and on the Mac App Store.
Peakto can be tested for free for 15 days (no credit card required on cyme.io). Peakto is available on a monthly plan at $9.99/month; a yearly plan at $99/year; or for a one-time purchase of $189.
Peakto is the second avant-garde software created by CYME in response to the needs and wants of photographers worldwide. Founded by serial entrepreneurs Claudia Zimmer, Matthieu Kopp and Thomas Ribreau, CYME's mission is to deploy innovative features that will both serve the photography community and help protect our planet.
In the coming months, CYME will enrich Peakto with solutions to save our best photos, in good quality and without duplication; to encourage digital sobriety by keeping only our best images; and to facilitate the sharing of our best images and memories.