May 25, 2023 – Montpellier, France. 
CYME is proud to announce that Peakto, the meta-cataloger for macOS, has introduced a new feature: the ability to delete photos saved in different folders directly from the Peakto interface.
Peakto has already revolutionized photo management by utilizing artificial intelligence to automatically categorize a photographer's entire image collection, regardless of the photo editing software or hosting folder. Peakto's new feature now allows users to easily delete unwanted images regardless of their folder or file location. This upgrade boosts photo management efficiency, freeing more time for photographers' creative projects.
Matthieu Kopp, CTO and co-founder of CYME, states, "Peakto stands out as exceptional software, owing to its compatibility with a wide range of photo editing programs such as Lightroom, Capture One, and Apple Photos… It offers unprecedented possibilities for managing photos across different software applications and folders, all from a single interface. The ability to delete images from the Finder within Peakto represents a new step in cross-software photo management."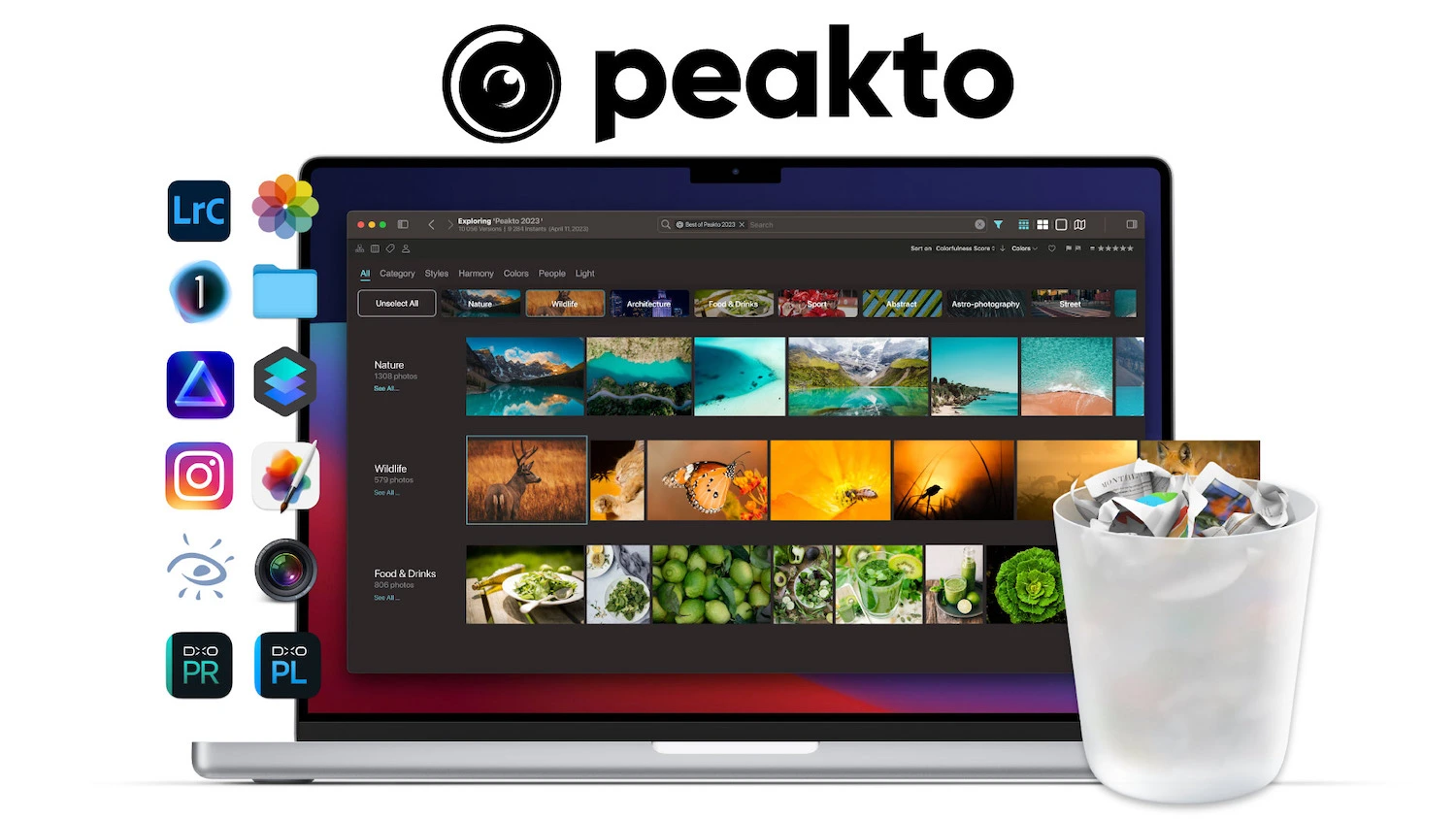 Peakto offers the following features:
It allows users to gather all their photos in one place, providing a comprehensive and constantly updated view of their entire image collection. The software is compatible with various photo editing programs, including DXO PhotoLab & PureRAW, Apple Photos, Lightroom Classic, Luminar AI/Neo, Capture One, Pixelmator Pro, Aperture, and iView Media. It seamlessly integrates with all folders, image files, and even Instagram accounts.
Users can navigate through high-definition previews of their images smoothly and effortlessly, without creating duplicate copies. The software offers multiple viewing modes, such as grid, detail, map, or AI-sorted view, enabling users to explore their photos in a visually appealing manner.
With the power of artificial intelligence, Peakto provides automatic categorization of photos, assigning relevant keywords based on image content, performing chromatic analysis, and generating aesthetic scores. This feature simplifies photo organization and retrieval.
The software offers centralized search functionality, empowering users to conduct precise and professional searches across their entire photo library. Users can utilize various filters to refine their search results and find specific images with ease.
Peakto streamlines the management of images by providing tools for annotations, captions, album creation, and smart albums. Users can perform these tasks within a unified interface, regardless of the storage location of their photos.
Users can export albums that include photos from multiple sources, choosing between high or low resolution, making them ready for sharing or printing purposes. This feature enhances the convenience of sharing and showcasing photo collections.
Peakto is a software for macOS, available now by subscription or one-time purchase on cyme.io and on the Mac App Store.
Peakto can be tested for free for 15 days (no credit card required on cyme.io). Peakto is available on a monthly plan at $9.99/month; a yearly plan at $99/year; or for a one-time purchase of $189.
CYME has developed Peakto and Avalanche in response to the needs and wants of photographers worldwide. Founded by serial entrepreneurs Claudia Zimmer, Matthieu Kopp and Thomas Ribreau, CYME's mission is to deploy innovative features that will both serve the photography community and help protect our planet.
CYME works continuously to enrich our software with solutions to save our best photos, in good quality and without duplication; to encourage digital sobriety by keeping only our best images; and to facilitate the sharing of our best images and memories.