September 26, 2023 – Montpellier, France.
Cyme, an expert in mac software solutions, announces a significant update to its macOS photo management software, Peakto. The latest release introduces seamless integration with the well-established photo editing software, ON1, offering new possibilities for digital photography enthusiasts.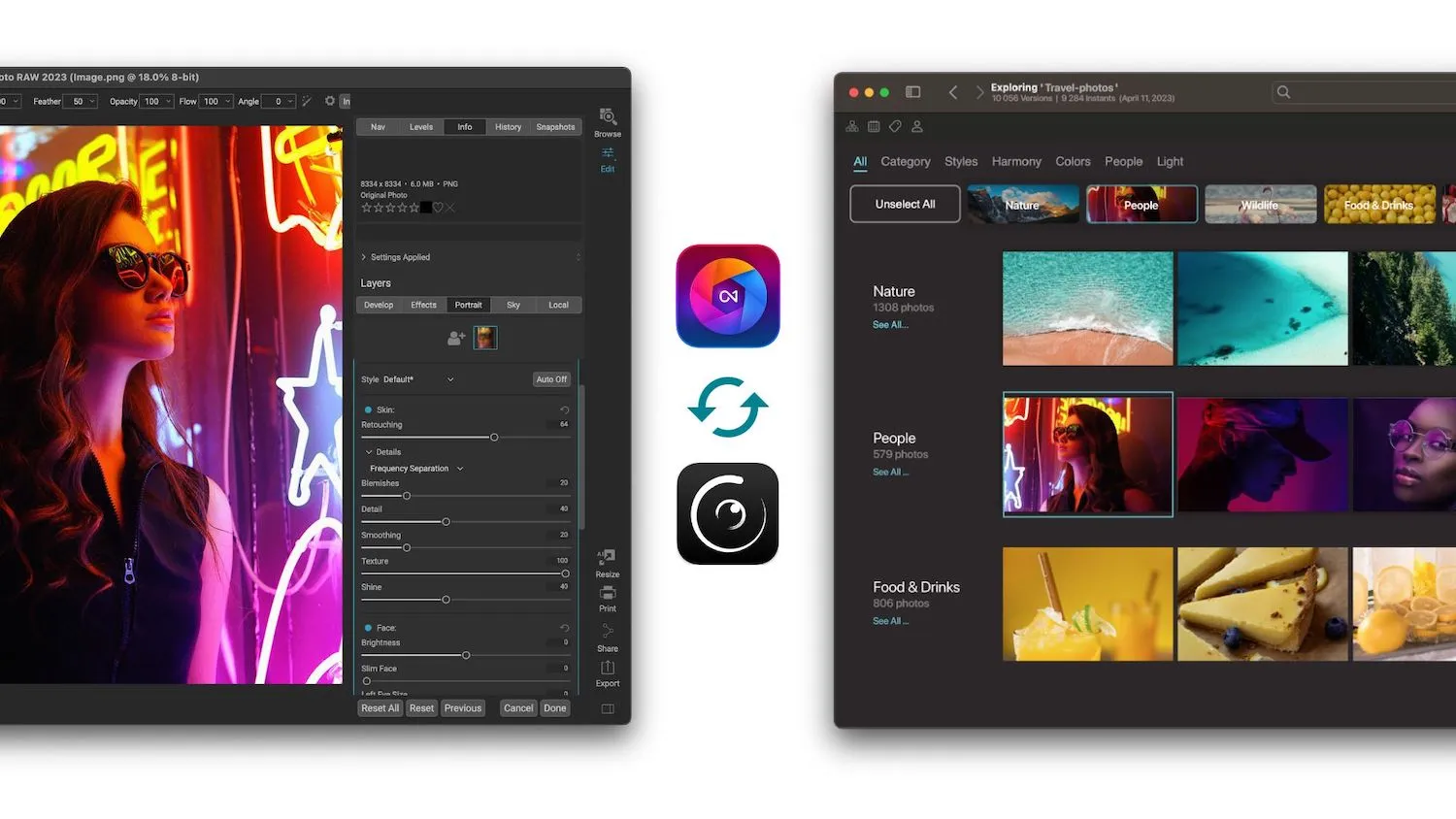 Innovative Photo Management Features
This compatibility offers ON1 users access to Peakto's advanced photo management capabilities. Leveraging artificial intelligence and extensive compatibility, Peakto serves as a highly capable assistant for efficiently organizing and managing photos, minimizing time investment. These features comprise:
Text-based Image Search: Peakto's algorithm interprets natural language and scans image databases to suggest photos that best match the provided description. There's no need to manually tag photos with a limited set of suggested keywords, as is the current practice in ON1. Peakto's advanced image recognition swiftly identifies thousands of situations, moments, emotions, and specific objects.
Automatic Categorization: Photos are intelligently sorted into categories without the need to scan each image or add keywords manually, as is currently done in ON1.
Unified Photo Viewing: A single, adaptable interface for viewing photos in grid, map, category-based, and detailed modes.
For ON1 users, Peakto offers an integrated experience. It serves as a central hub for managing all On1 photo versions, providing the following advantages:
In-Depth Integration: Opening photos in On1 while preserving a complete version history, associated with the original.
Real-Time Previews: Stay updated with the latest image versions for accurate previews.
Universal Photo Cataloging and Enhanced Compatibility
The integration of ON1 brings an expanded dimension to Peakto's role as a universal photo cataloger. It allows users to seamlessly connect with leading photo editing software options, including Lightroom Classic & Lightroom Cloud, Apple Photos, Luminar Neo, Capture One, Pixelmator Pro, DxO PhotoLab, DxO PureRAW, Aperture, iView Media, and Instagram. This makes Peakto a versatile tool for managing photos, regardless of the preferred editing software.
Centralized Search Expands Across Libraries and Folders: With advanced search options available, users can now explore image similarity, function matching, and equipment-based filtering across all photo catalogs compatible with Peakto.
Multi-Source Smart Albums Creation: Photos are now intelligently grouped based on user-defined criteria, a feature seamlessly integrated across all photo catalogs compatible with Peakto.
Cross-applications Photo Annotation: Convenient annotation for photos from various sources or catalogs. Peakto retrieves the keywords from ON1 and allows the user to add new ones.
Unlocking the Potential of Digital Photos
By providing users with an up-to-date view of all their photos, Peakto ensures that digital photos and memories never go to waste, enabling the users to transform them into engaging posts, captivating albums, stunning photo books, or simply enjoy them to the fullest.
Peakto distinguishes itself by its non-invasive approach. It uses previews and doesn't make extra copies or .json files. It refrains from duplicating images or altering photo organization, making it an indispensable ally for seamless photo management.
In essence, Peakto goes beyond traditional photo management; it acts as a gateway to optimize the potential of digital photography endeavors.
Peakto serves as a universal cataloger that unifies images currently scattered across various platforms, empowering photographers to leverage multiple editing tools while preserving a holistic perspective of their projects. Compatible with a wide range of software, including Lightroom Classic, Apple Photos, Luminar Neo, Capture One, Pixelmator Pro, DXO PhotoLab, DXO PureRAW, ON1 Photo RAW, Aperture, iView Media, Instagram, and seamlessly integrated with all photo folders, Peakto distinguishes itself by its non-invasive approach. It refrains from duplicating images or altering photo organization, making it an indispensable ally for seamless photo management.
Peakto is a software for macOS, available now by subscription or one-time purchase on cyme.io and on the Mac App Store.
Peakto can be tested for free for 15 days (no credit card required on cyme.io). Peakto is available on a monthly plan at $9.99/month; a NEW yearly plan at $59.99/year (i.e., $5 per month); or for a one-time purchase of $189.
Optimized for M2, Peakto requires macOS 11 (Big Sur) or later. More info…
CYME has developed Peakto and Avalanche in response to the needs and wants of photographers worldwide. Founded by serial entrepreneurs Claudia Zimmer, Matthieu Kopp and Thomas Ribreau, CYME's mission is to deploy innovative features that will both serve the photography community and help protect our planet.
CYME works continuously to enrich our software with solutions to save our best photos, in good quality and without duplication; to encourage digital sobriety by keeping only our best images; and to facilitate the sharing of our best images and memories.