March 28, 2023 – Montpellier, France & Vilnius, Lithuania
Pixelmator Pro and CYME teams collaborate to release a new version of Peakto, the elegant AI-powered picture manager, that brings organizational features to the award-winning Mac image editor, Pixelmator Pro. Taking advantage of the opportunities offered by Apple to developers (Shortcuts), Peakto is closely connected to Pixelmator Pro and becomes the perfect companion cataloger to Pixelmator Pro. It natively lists all Pixelmator Pro (PXD) documents and displays them in the highest possible resolution without having to duplicate them or even open Pixelmator Pro.
Peakto turns Pixelmator Pro into an editing destination for all images wherever they are located–in folders, Lightroom, Luminar or even CaptureOne–to get pixel perfect editing from any source image. In addition, Peakto provides graphic designers and photo enthusiasts a comprehensive view of all their images together with all necessary tools to manage, analyze, automatically sort and create multi-sourced albums, no matter if the images were taken with a camera, an iPhone, imported or created with Pixelmator Pro.
"Communication is happening more and more through images, in our personal and professional lives. That's why, in bringing together the Pixelmator and CYME teams, we've combined our expertise as editors specialized in the Mac to create companion software that offer everyone professional tools for managing and creating images." Claudia Zimmer, CYME co-founder.
"Through the seamless integration enabled by macOS Shortcuts, users can now effortlessly create designs in Pixelmator Pro while simultaneously accessing, managing, and organizing their images and files within Peakto." Simonas Bastys, lead developer at the Pixelmator Team.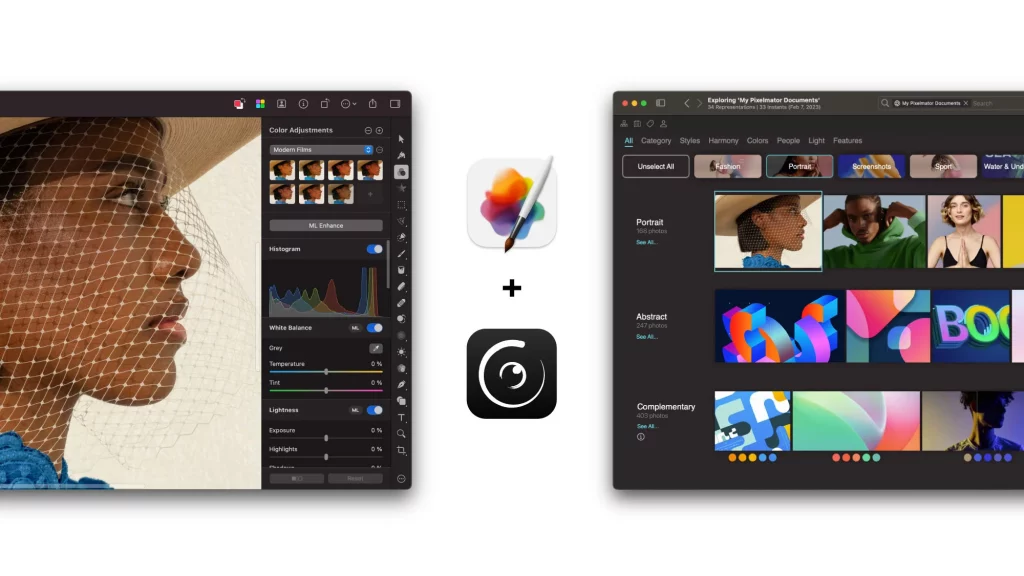 Peakto, the widely compatible cataloger powered by AI
Peakto is a meta-cataloger that gathers in a single interface all of a user's images, thanks to its compatibility with many photo editing software (including Apple Photos, Lightroom Classic, Luminar AI/Neo, Capture One, Aperture,and iView Media), folders and picture files, and Instagram accounts.
Thus Peakto offers a powerful centralized search based on expert filters (date, location, camera lens…) applicable to thousands of images. It makes cross-app annotation possible : from the same interface, users can annotate hundreds of images belonging to different photo editing software and different folders. This borderless annotation and centralized search are complemented by Peakto's automatic AI categorization and keywording. Peakto's AI automatically classifies all photos according to their content (portrait, nature, food, wildlife..) and styles and gives them aesthetic scores. No need to classify, the AI will do it. This intelligent curation and search gives users the ability to find hidden gems in a lifetime of memories and to easily create albums (which can be exported in full resolution!) from multiple sources.
Two Mac apps that make the most of Apple's technology
Apple gives developers and app users the ability to create powerful automations using Shortcuts. A Shortcut provides a quick way to get things done with apps, with just a click or by asking Siri. CYME has leveraged Shortcuts to create a deep integration between Peakto and Pixelmator Pro. Peakto uses Pixelmator Pro's file Shortcuts to open previews of PXD files in full resolution, without duplicating the document or opening Pixelmator Pro. Peakto also uses a Pixelmator Pro Shortcut to create a Pixelmator Pro document from any image (for example a RAW file) and edit it in Pixelmator Pro. Thanks to this deep integration, Peakto becomes the perfect companion cataloger to Pixelmator Pro.
Peakto is a software for macOS, available now by subscription or pay-per-use on cyme.io and on the Mac App Store.
Peakto can be tested for free for 15 days (no credit card required on cyme.io). Peakto is available on a monthly plan at $9.99/month; a yearly plan at $99/year; or for a one-time purchase of $189.
Peakto is the second avant-garde software created by CYME in response to the needs and wants of photographers worldwide. Founded by serial entrepreneurs Claudia Zimmer, Matthieu Kopp and Thomas Ribreau, CYME's mission is to deploy innovative features that will both serve the photography community and help protect our planet.
In the coming months, CYME will enrich Peakto with solutions to save our best photos, in good quality and without duplication; to encourage digital sobriety by keeping only our best images; and to facilitate the sharing of our best images and memories.
Founded in 2007 by two brothers, Saulius Dailide and Aidas Dailide, the Pixelmator Team develops groundbreaking and innovative image editing apps for Mac and iOS. The team's apps have been honored with numerous prestigious awards, such as two Mac App of the Year awards, an iPad App of the Year award, two Apple Design Awards, and many others. Pixelmator for iPad was featured at the Apple Special Event in October 2014.