September 14, 2023 – Montpellier, France.
CYME proudly announces the advanced compatibility of Peakto (for Mac) with Luminar Neo. What sets this compatibility apart is its in-depth interconnection. Peakto now serves as the ultimate cataloging companion for Luminar Neo, offering more than just photo organization and viewing. It takes things to the next level…
Continuously synchronized, Peakto mirrors the latest versions of edited images in Luminar Neo effortlessly. It automatically collates these edited versions with the originals, streamlining the process of resuming photo editing with a single click, eliminating the need to hunt for the correct file. With AI-powered ultra-precise organizational capabilities and powerful conversational search, Peakto complements the already outstanding photo editing tool that Luminar Neo is, making it the perfect partner for a creative journey.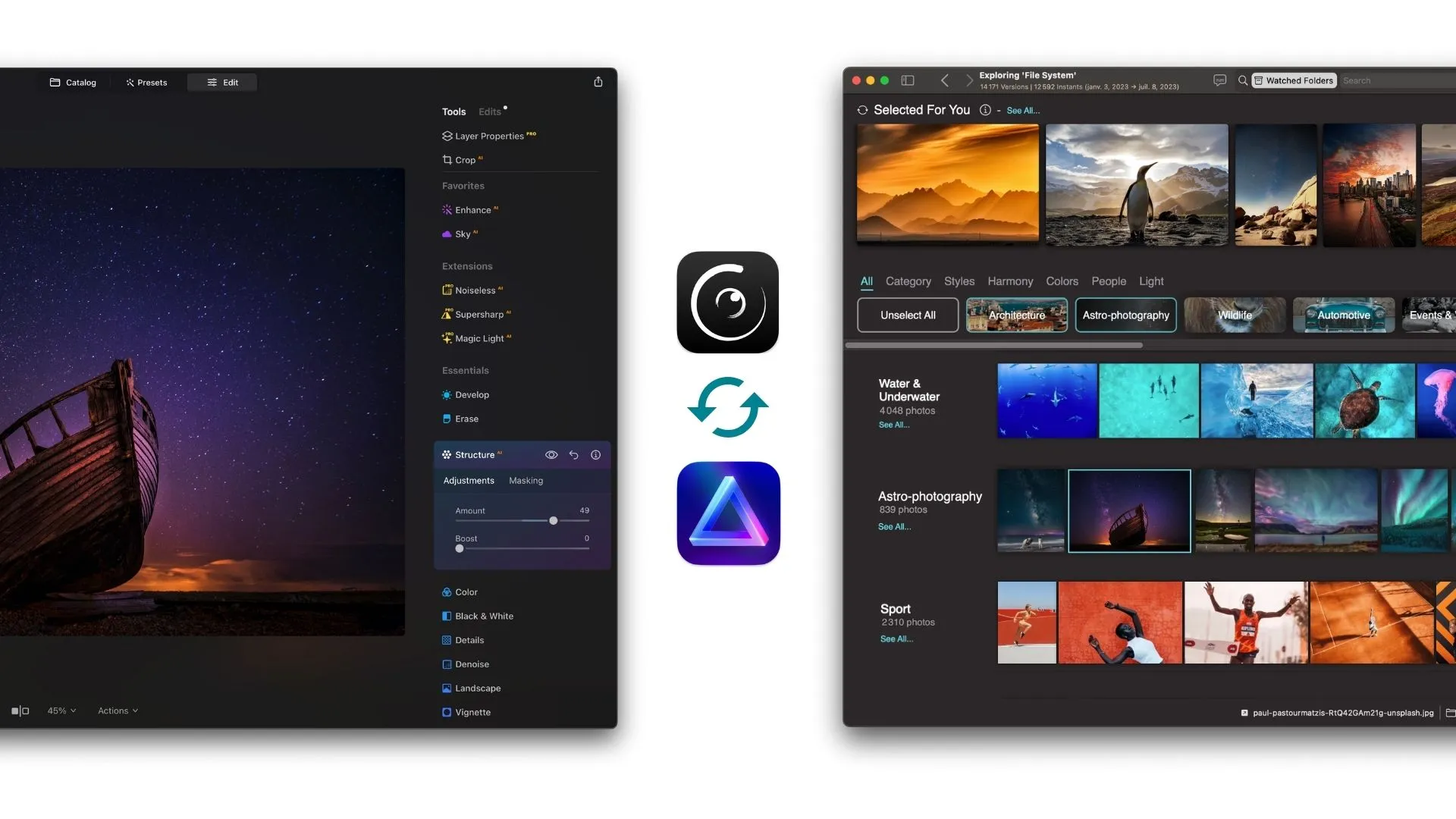 Key Features of Peakto's Integration with Luminar Neo
A dedicated workspace for all your Luminar Neo edits: a simple drag and drop inside Peakto opens the access to Luminar Neo's advanced editing capabilities for any image.
A deep integration for all catalog sources: whether the original file lives inside Apple Photos, Lightroom, Capture One or any other source, Peakto will let you create a managed Luminar Neo version that can be edited and updated indefinitely.
Edits that are not frozen in time: In contrast to the Photos and LRc plugin that ship with Luminar Neo and freeze the edits when you leave them, Peakto lets you go back and refine your edits without limits.
Consistent access to all your Luminar Neo image versions across all catalogs: Peakto provides a convenient access to all your photos edited in Luminar Neo, with accurate previews, whether they live in catalogs or in the work area. And your last edits are automatically displayed at the top.
Versioning across app boundaries: Enjoy the clarity of seeing all the versions of an image, with accurate preview and 1 click access to the editing app.
Advanced Search Capabilities
Conversational Search: Thanks to Peakto's AI, simply describing a photo is enough to locate it, with options to specify people or locations tagged in the image.
Similarity Search: Peakto's AI content analysis feature enables users to find images similar to a given photo.
Feature-Based Search: Users can efficiently group images based on common attributes such as ISO settings, lens types, and thematic elements like landscapes, portraits, macrophotography…
Enriching the Luminar Neo Experience
Automated Image Categorization: Peakto's AI categorizes images, allowing users to locate specific photos quickly or rediscover forgotten ones.
Artistic Selections: Peakto automatically assigns aesthetic criteria to photos and offers a daily selection of images, enabling users to rediscover their pictures.
Cross-Application Photo Annotations: Peakto introduces an annotation system encompassing flags, favorites, colors, and keywords. This functionality is unique because it applies to all images, regardless of their storage location or editing software.
Enhanced Album Creation and Viewing Modes
Album Management: Users can curate selected images and create dynamic smart albums based on user-defined criteria.
Diverse Viewing Options: Peakto offers various viewing modes, including detailed views, map-oriented perspectives, and categorized displays.
Many photographers desire the power and simplicity of Luminar Neo. However, concerns about fragmented photo catalogs scattered across various editing platforms, disparate formats, and the lack of consistent management features have been obstacles for users. As a universal cataloger, Peakto facilitates this adoption by consolidating all photos into a unified interface and enhancing Luminar Neo with exclusive photo management tools.
Peakto serves as a universal cataloger that unifies images currently scattered across various platforms, empowering photographers to leverage multiple editing tools while preserving a holistic perspective of their projects. Compatible with a wide range of software, including Lightroom Classic, Apple Photos, Luminar Neo, Capture One, Pixelmator Pro, DXO PhotoLab, DXO PureRAW, Aperture, iView Media, Instagram, and seamlessly integrated with all photo folders, Peakto distinguishes itself by its non-invasive approach. It refrains from duplicating images or altering photo organization, making it an indispensable ally for seamless photo management.
Peakto is a software for macOS, available now by subscription or one-time purchase on cyme.io and on the Mac App Store.
Peakto can be tested for free for 15 days (no credit card required on cyme.io). Peakto is available on a monthly plan at $9.99/month; a NEW yearly plan at $59.99/year (i.e., $5 per month); or for a one-time purchase of $189.
Optimized for M2, Peakto requires macOS 11 (Big Sur) or later. More info…
CYME has developed Peakto and Avalanche in response to the needs and wants of photographers worldwide. Founded by serial entrepreneurs Claudia Zimmer, Matthieu Kopp and Thomas Ribreau, CYME's mission is to deploy innovative features that will both serve the photography community and help protect our planet.
CYME works continuously to enrich our software with solutions to save our best photos, in good quality and without duplication; to encourage digital sobriety by keeping only our best images; and to facilitate the sharing of our best images and memories.